Here at School of Instagram, we like to think of ourselves as the experts of killin' it online #humblebrag. But… we'll be the first to admit we got nothin' on this innovative, knowledgable lady! Entrepreneur, three-time business owner and best-selling author of 'The High School Survival Guide', @studywithjess has built an empire on empowering students to succeed in school, celebrate their unique qualities and pursue a meaningful and purposeful life.
The ultimate online study buddy, Jess has fast become the voice of many teens and young adults online with her close-knit Insta community and educational YouTube channel, which has amassed over 420,000 subscribers and 24 million views!
As an expert on everything from Instagram and productivity, to mental health and becoming a successful entrepreneur, we just HAD to sit down with the incredible gal behind the grid, Jess Holsman, to tap into her absolute goldmine of advice. Ready to get schooled? Get your notepads ready!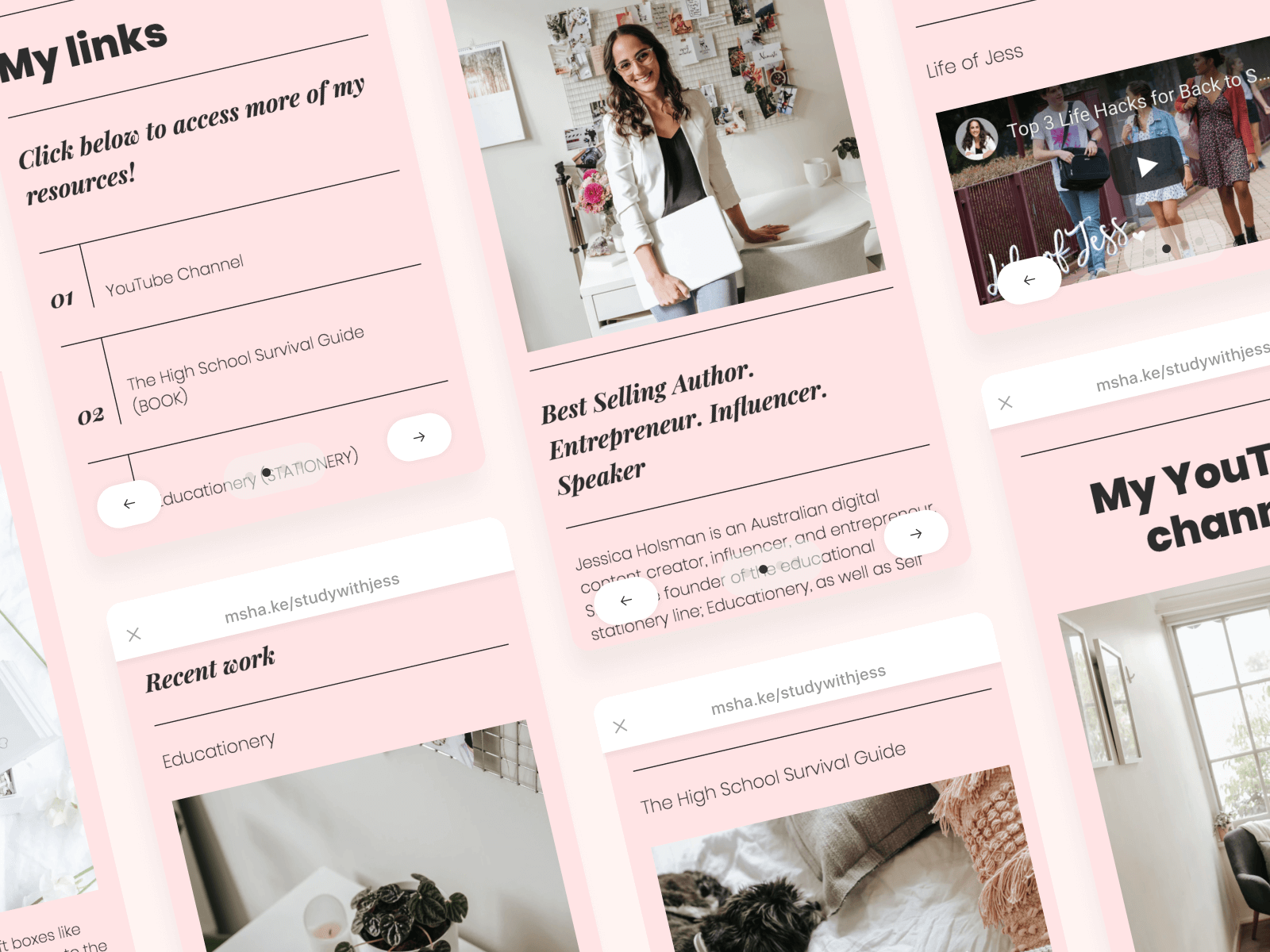 I really just fell into the land of social media. My background is in psychology, and I was studying a PhD at the time on a full scholarship. I realised I wasn't being as creative as I would like, and one day I had this idea for @educationery – a stationary line for students.
As I was designing the social media, I started creating some videos to promote it. Then I thought, why not have a dedicated YouTube channel to help students?
I started my channel just four and a half years ago, and now – 200 videos, 24 million views and 420,000 subscribers later – I'm so proud of how much it's grown.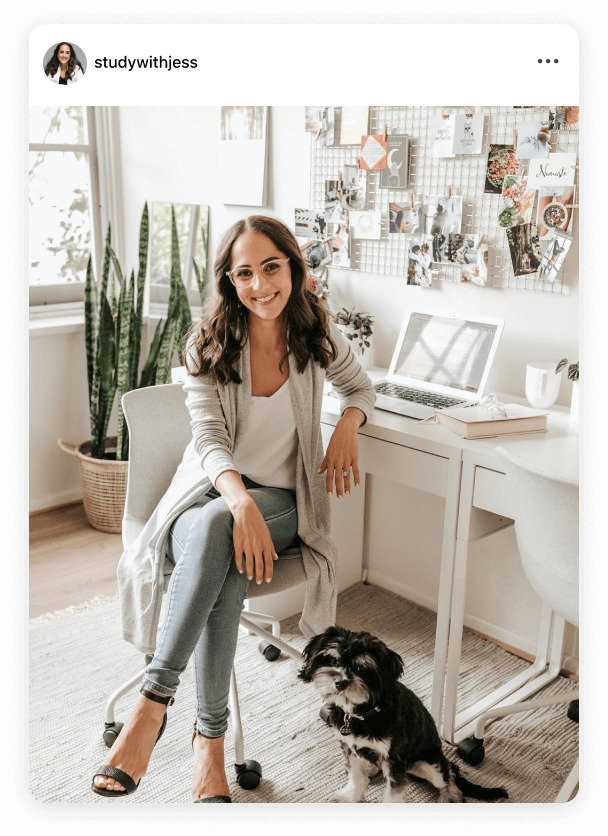 What motivated you to start posting on Instagram?
Originally, Instagram was just an additional platform to complement my YouTube channel. I liked the idea that I didn't have to rely solely on one platform for everything, and that each could have its own purpose without one substituting another. So I decided to start an Instagram account. Over time, I realised that actually, Instagram has its own role to play in building a community, and that you could create content for the platform it's best suited to. So I started posting not only photos, but more detailed captions, Stories, video content, IGTV. 
Now, Instagram is actually my most used social media platform! Its so easy to use. For each YouTube video, I have to set up, film, edit, upload it – there's a lot more work that goes into it. It's simply more sustainable to regularly post on Instagram than YouTube. Plus, I liked how immediate the relationship and community-building was.
As an entrepreneur, what's your top productivity tip? 
My top productivity tip is schedule everything. As an entrepreneur, I have alarms and reminders that go off on my phone all the time. When to check my emails, when to post on Instagram, when to get off Instagram and do other things. Because otherwise, you spend so much time online engaging with your audience (and mindlessly scrolling) that you get nothing done.
If you want to be productive, schedule and then set reminders to avoid being overwhelmed by the 1 million things you have to do as an influencer or entrepreneur. That way, you can just immerse yourself in one task at a time. Otherwise, I'd be on my emails thinking, should I check Instagram? What else have I forgotten? Let technology actually assist you and make life easier.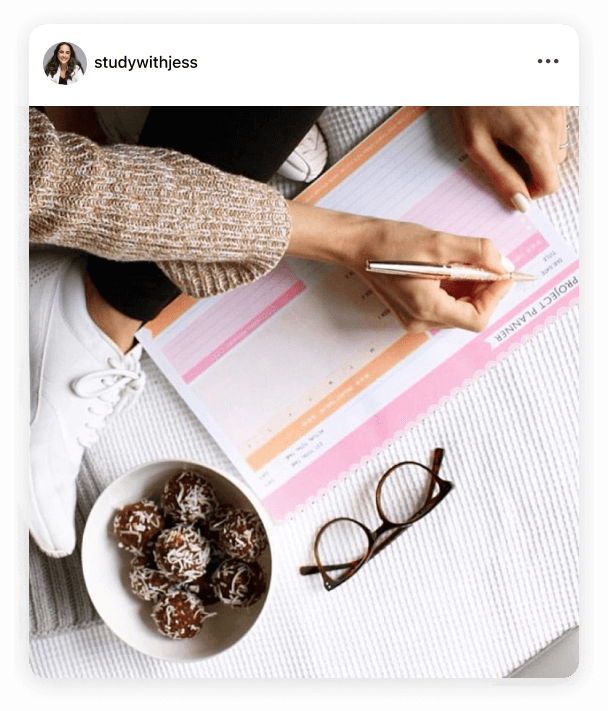 What's your goal and how has Instagram helped you achieve it?
My main goal is to empower young people to embrace their authenticity, and create a future that is right for them. Whether that's helping them to study more effectively, or manage stress, or improve their mental health, or promote self love – it all comes down to empowering others and sharing my story. 
Instagram has allowed me to connect with people globally, which I couldn't have done a few years ago. I even have people following me in the States or Singapore or India. It's a pretty amazing thing to realise that this platform has not only assisted me in building my career as an entrepreneur, but also allowed me to share my resources with people anywhere in the world at any given time and build a really supportive online community.
"It's a pretty amazing thing to realise that this platform has not only assisted me in building my career as an entrepreneur, but also allowed me to share my resources with people anywhere in the world at any given time and build a really supportive online community."
Instagram just amplifies what otherwise would have been word of mouth marketing, but it spreads so much quicker and further. It's just recommendations that are more easily accessible and shareable. Whether it's promoting my book, my stationary line or creating a YouTube video, Instagram amplifies all the work I do. It's supporting me in my business, and it's also enabling me to support other people.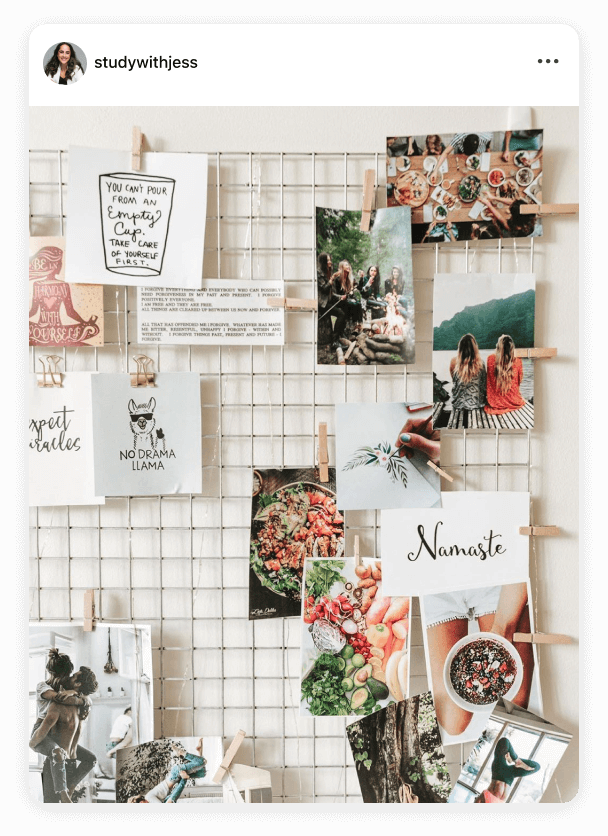 What inspired you to begin helping students with their education?  
What initially inspired me was education. I thought my career was going to take a very different path – I was going to finish my PhD, be a clinical psychologist, and I thought I knew exactly what my career was going to look like. 
When I had this idea for education I realised that I've always been passionate about helping young people, even when I was studying psychology. I just wasn't doing it in a way that was authentically me. Educationery opened up a whole new world for me, and gave me the idea to start using social media to help young people. It's been a very unplanned journey, but a very rewarding one. 
What's the most important thing they don't teach you in school?
Self confidence, self love, self compassion and patience. These are things that I really had to learn the hard way through starting my business and navigating my 20's. It was never touched on in school, but it is so important for living a happy, healthy and successful life.
How has Instagram helped you as an entrepreneur? 
It has helped me grow my business in multiple ways. It's led to publishing my best selling book 'The High School Survival Guide', growing my YouTube channel, laying a foundation for my other businesses. Instagram is like having an online portfolio, so anyone can come across your work. It's amazing for community building, networking, being discovered by other brands, getting new opportunities, and it also gives you credibility. If you can say, "this is what I do and why I do what I do" and show that people find value in the work you're doing, then other brands are more likely to see you as a credible brand. They can see you have a community backing you and validating your work, and that it is necessary and impactful.
Instagram has given me opportunities to work with some pretty cool brands. It's allowed me to promote my work, promote my book, and most recently, it's enabled me to launch a new business. It gives you the strong foundation to continue to grow and build your career.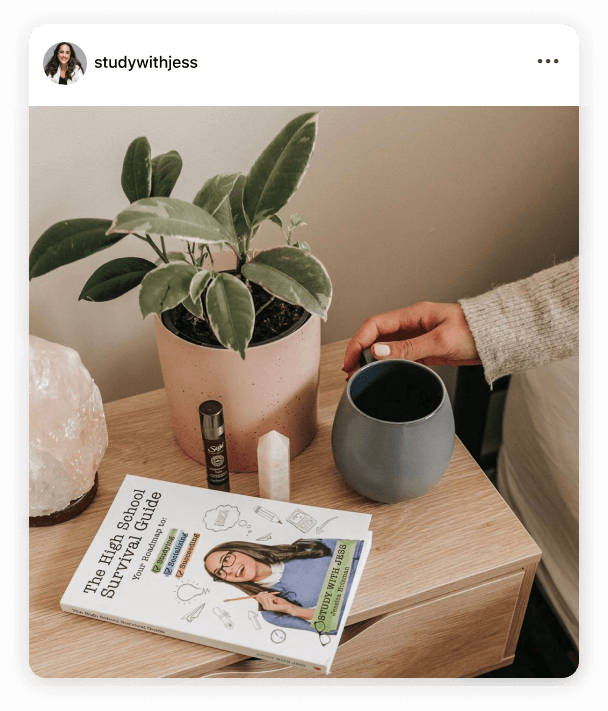 How has @studywithjess changed the direction of your life? 
It's completely changed the direction of my life – how I spend my days, my social life, my work life, my mindset, the way that I view myself, the way that I view my work. With an online career, you have to learn to be a lot more self motivated and you've got to be passionate about what you do. Because otherwise, you don't have that motivation to push yourself. You have to want to make your dream a reality. 
"When you run a business online, there's a lot that it's going to teach you and give you. It's taught me the importance of self confidence and patience – that it takes time to grow an online community. It's taught me to be really clear on your vision and your values and staying true to what your brand is. Because if you're not clear on your brand image, what you're posting and why, you kind of get lost."
What's your advice for others wanting to become an entrepreneur on Instagram? 
First of all, don't rush. Don't be in a hurry to have an idea and instantly get moving. Take some time to reflect and refine your idea, and don't let self doubt, or fear of failure paralyse you.
Don't get overwhelmed. When I was starting my business, Self Love Club Gift Boxes, I wrote a long list of everything that I would need to get done – talking to brands, designing a website, creating social media handles, working out price points –everything. I told myself, 'okay, it might look long, but how do you eat an elephant? One bite at a time.' Just take it step by step and ask yourself, what am I going to focus on this week, today, for the next hour? 
The other thing is to make some kind of marketing plan. Ask yourself, how am I going to launch the business? Do I want to do some little teasers and sneak peeks? 
Being a passionate, creative mind, having someone more grounded in logic – which for me is my husband – was really helpful to balance me out. He sat down with me and made some Excel spreadsheets to lay everything out. What are the startup costs, the profit? The margins? While it's great to have all this passion and fire going on, you still have to ground your idea.
It's all about creating a well rounded idea. Ask yourself how your business is going to come together. It doesn't need to be the most pedantic plan, but just enough to launch and feel like it's stable. It doesn't have to be perfect to start, just start.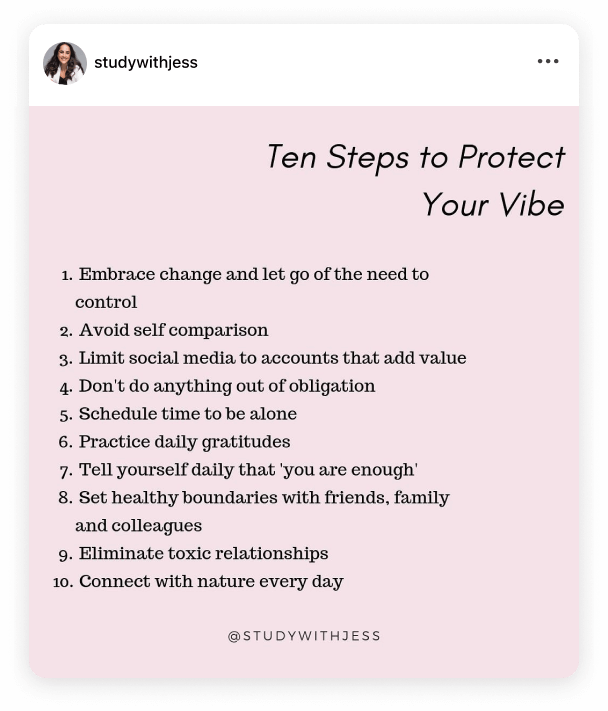 Instagram Stories, for two reasons. The first is because it's a great way to build and nurture your online community. It's really authentic and unfiltered. You can just pull out your phone and share whatever you're doing in the moment. It just makes it more relatable. 
From a business mindset as an entrepreneur,  the swipe up feature is so helpful because it actually converts to sales. So, I like stories for two reasons: one is community building, and the other is sales converting – two of the most important things for building a successful business. 
Where do you find inspiration?
I find a lot of inspiration just through reading. I love to read and be inspired by other authors, it's kind of like food for the soul. But in order to be inspired you have to let your mind rest. Being online and being an entrepreneur, your personal life and your work life are basically the same thing. There is no separation between the two unless you're really consciously trying to make that happen. Create time for where you can't be on your phone, check emails or social media. Allowing your brain to unwind and recharge is crucial for feeling more inspired and energised.
"Create time for where you can't be on your phone, check emails or social media. Allowing your brain to unwind and recharge is crucial for feeling more inspired and energised."
You know when people have those a-ha moments or shower thoughts? It's because there's no other distractions. Your mind is calm, you're feeling the sensations of the warm water, and hearing the sound of the water running. The more activities you can do where you can just be more still and calm, the more opportunities you're creating for those brilliant ideas. Washing the dishes, having a long bath, going for a walk, doing pottery… All of those things are a way of creating space for more inspiration to flood into.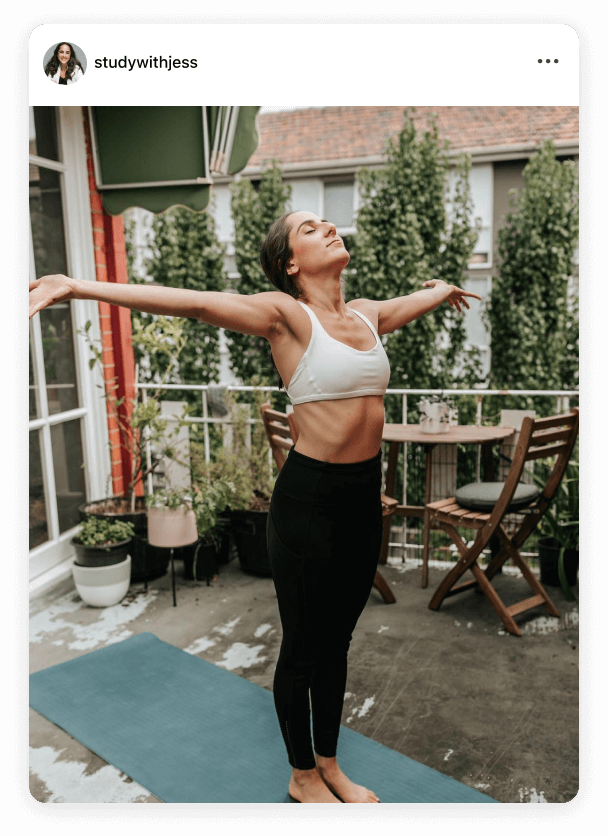 What are your top branding tips?
When coming up with my brand image, the first thing I did was go to Pinterest. I looked at all the people that inspired me, the aesthetics I wanted to draw on, and how I wanted to present myself and my brand. Just make sure that your image really reflects your values and the intention of the work that you're putting out there. 
What are your top Insta hacks, tips or tools for becoming a successful entrepreneur?
Number one is authenticity. If you have a passion for something, there are other people out there that are going to be just as passionate as you. There's no point trying to mimic someone else, because no one can do you like you can. Instagram is becoming really saturated, so being yourself is the best way to stand out. 
Consistency and posting regularly is also really important. When my alarm goes off at 8:30 every morning, I post, I do Insta stories, I reply to comments, I check those DM's, to make sure that I don't get distracted with other things that I do first thing every morning.
Post more videos. Video in general is getting better ranks and better exposure just because of the Instagram algorithm. I try and post little videos on my feed and even IGTV to grow my following.
But most importantly, whatever you post has to add value. If it adds value, that's what's going to bring people in and get them to stay and follow you.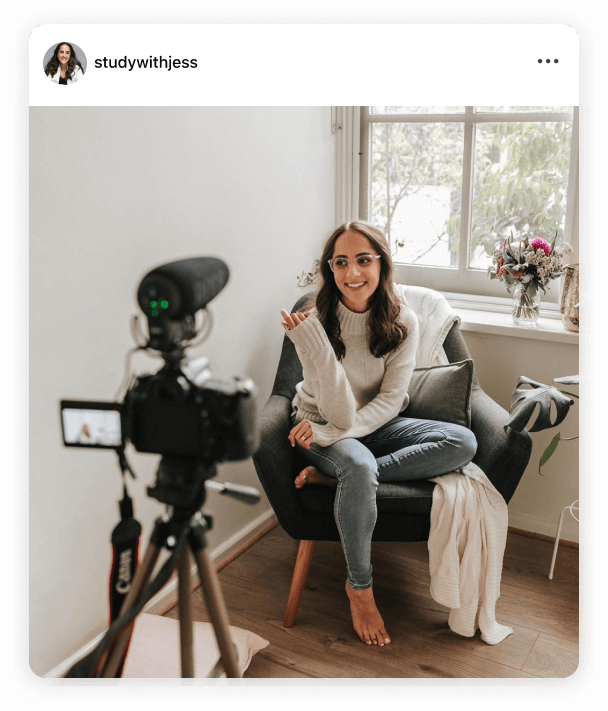 What's the biggest misconception about Instagram?
Still to this day, I don't like saying that I am an influencer. If anything, I would say I'm a digital content creator and entrepreneur, because I think that – at least for a fair number of people – the biggest misconception is that Instagram is all about attention. This unattainable, hectic lifestyle that people are selling online. Some people choose not to be vulnerable and only show the highlights, and not give a well-rounded image of their life, their business or whatever it is they want to share. I think that some people think that being an influencer on Instagram is all just really easy and fun. But it can be really hard as well.
I don't think that people have really used Instagram for business purposes until quite recently. So maybe that's why there's still this misconception that Instagram is all about posting perfect photos and having fun and getting free products and making lots of money. But it's not, so I think that that's a big misconception. It's still too fresh to define that line between business person and influencer, because it's changing so fast. 
What's the biggest mistake you've made or learning you've had from Instagram? 
This has definitely got to be something to do with self comparison. It's really easy on social media to forget that others' feeds are curated very strategically. I've never met anyone whose life is actually perfect, no matter what they present on Instagram. If anything, I would say the more perfect the feed, the more imperfect and challenging their life might actually be. So don't ever fall into the trap of feeling inadequate because of what you see online. It is not the full truth – it is curated and strategised. Some of us choose to share more and be more vulnerable because it's important to our brand; others don't and that's their choice. Everyone gets to use a platform how they like, but it's important to be really mindful of the content that you consume.

If you share your lows with your audience, they will probably be able to relate to you even more and feel better about their journey. It's okay to be human and remember that you're not your brand, you are a person.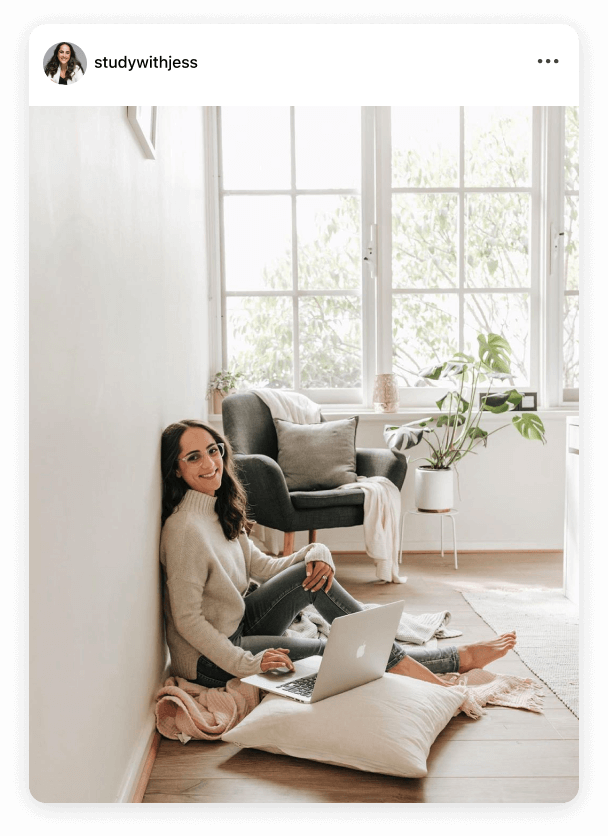 I've just launched my new business, @selfloveclubgiftboxes, and I'm also working on formulating my idea for a second book.
I also really want to connect with people face to face. I've been doing more panels, and things like VidCon. Being able to actually meet people face to face and share my story is always nice. As an entrepreneur, I'm continuing to build a strong and supportive online community, and focusing on building a sustainable, long-lasting and impact-driven brand.