If you're looking for the inside scoop on all things Instagram, you've come to the right place. We sat down with some of Insta's most successful creators to find out the top tools, tricks + features they absolutely swear by on Instagram… Get your notepads ready, 'cause you're about to get schooled!
Top Features: Stories
Use them for: Community building, sales conversions, authenticity, personality.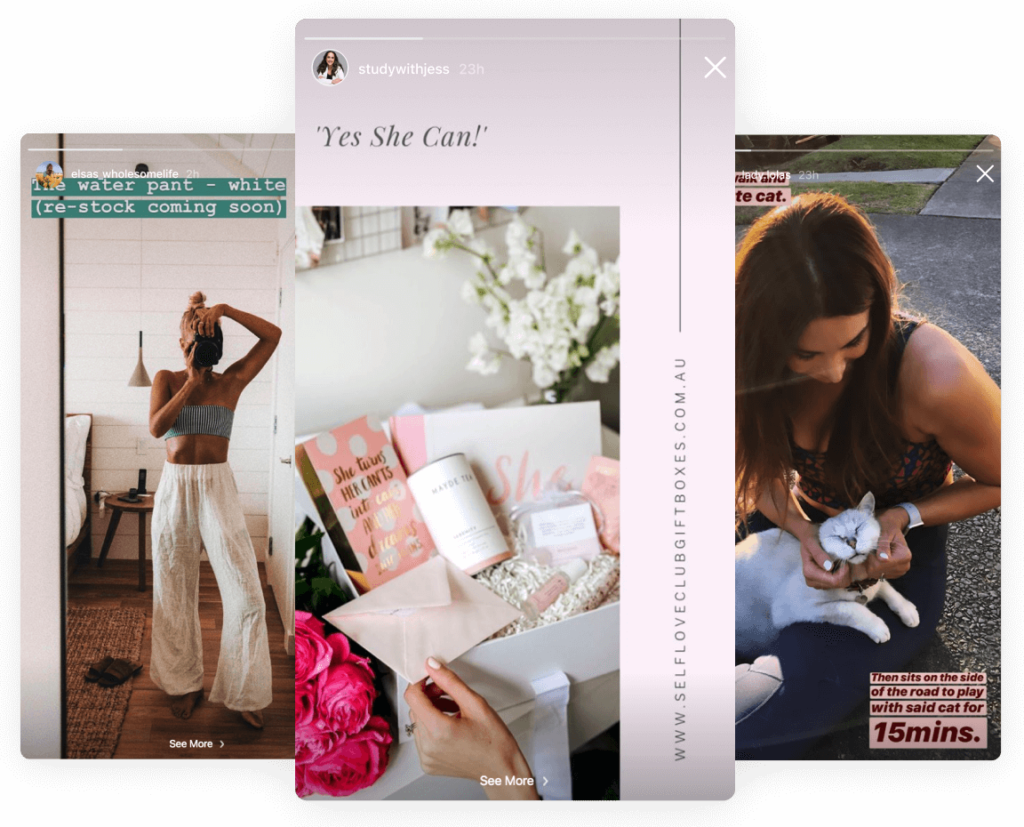 "I love Instagram Stories for two reasons. The first one is because it's such a great way to build and nurture your online community. It's really authentic and unfiltered. You know, you can just pull up your phone and share whatever you're doing in the moment. It's so much more relatable to watch a story than just see a post. Then from a business mindset, the swipe up feature on Instagram Stories is so helpful because it actually converts to sales. 
Stories are great for two reasons: one is community building, and the other is sales converting – which are probably two of the most important things about building a successful business." Jess Holsman, @studywithjess.
"My fave Insta features are GIFS and stickers on IG stories! They're easy, interactive and fun." Ellie Bullen, @elsas_wholesomelife.
"I think my most used Instagram features would have to be Stories. I post maybe three or four times a week depending on what's going on, but I use my Stories every day, multiple times. It's such a good medium to share organic and genuine content in the moment. I find my engagement on stories is really positive, and I think it's because they enjoy that kind of organic element. In my experience, authentic behind-the-scenes Stories make people engage more. People love stuff that's unedited, off the cuff and organic.
People are constantly looking for more genuine, more real in the moment kind of content. While pre-planned content that you're incredibly close to still has value, I think people are now leaning more towards realness."  Katie Lolas, @ladylolas.
Top Features: Insights

Use them for: demographics, timing, location and tracking engagement.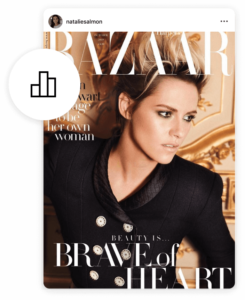 "Insights help me figure out what to post and when, and it gives me really useful information, eg. if most of your followers are from a particular city (in my case London) I know I should be posting at times that people in my area are most likely to be looking at their phone, during their commute for instance." Nat Salmon, social media editor of @bazaaruk.
"Insights and analytics are really great features, you get to see first hand who your demographic is and tailor to who is actually watching. For me my followers are based in Kuala Lumpur which is hilarious because I don't live there! Gosh social media is strange. Timing is crucial as well. Post when people are most likely to be on their phones. I find these times work best 7-8am, 12-1pm and 6-10pm. Anything between and it could get lost in the feed." Shen-Tel Lee, @sereniandshentel.
"There's no denying analytics and insights are invaluable features for tracking engagement, so I use them to maximise my optimum time to post. Now the feed is not chronological, the old rules of posting at 7am, for example, are less concrete, but that immediate, quick engagement on your post will still help to amplify exposure to your followers." Rosanna Falconer, @rosannafalconer.
Editing Apps & Presets
Use them for: enhancing, touch ups, templates and editing on the go.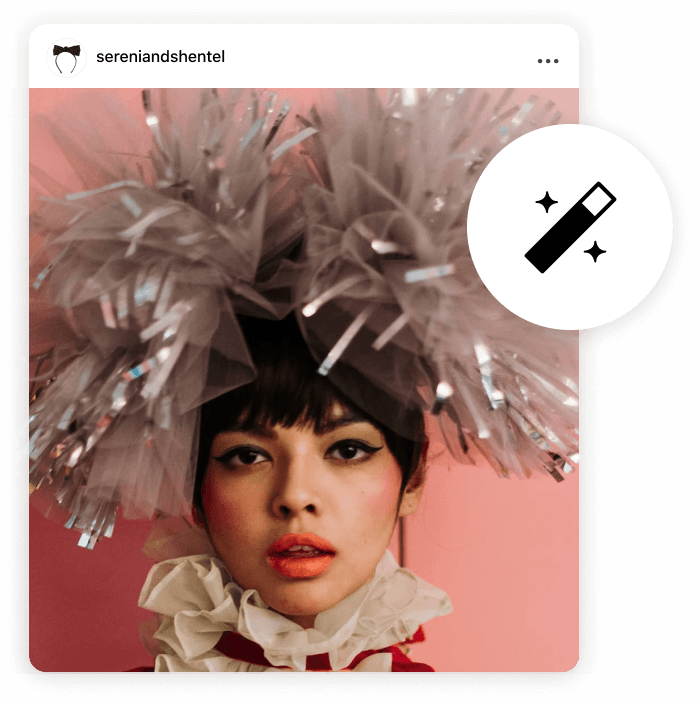 "I love Snapseed to brighten images and then VSCO to add a light filter to warm up my images. I use the C1 filter but drop it right back to only about 10%. Sharing is caring" Shen-Tel Lee, @sereniandshentel.
"A lot of my content is made up of photos I've grabbed on the run, then edited and posted later that night. I prefer to snap a photo and save the editing for later on so that I can just enjoy the moment I've just captured. I love VSCO Cam for filters, and Lightroom for making final tweaks. Lately I've been using a Lightroom preset I put together to keep editing quick." Jordyn Jones, @worrnn.
"My absolute favourite apps are Facetune, for editing pictures (whitening tablecloths, the patch tool can get rid of cigarette butts on the floor which could ruin a shot), I also use VSCO for the amazing filters and StoryLuxe & Unfold for beautiful Instagram Stories templates." Nat Salmon, @bazaaruk.
Top Features: Carousels
Use them for: step-by-step tutorials, recipes, avoiding indecision.

"Multiple videos in one post is fantastic! Especially with workouts, it allows my community to swipe through each exercise in each of my workout videos without having to watch the entire video. It also makes it easier when you save a workout to refer back to it later when you actually want to work your butt off." Louisa Paterson, @trainlikeaballerina.
"I usually collect a week's worth of content at once, then I try to organise the images in a Powerpoint to ensure the colours work together. I love being able to showcase more from one project because I'm awful at making a selection when I love a series of works." Lara Vrcik, @theladiesnetwork.
"When I share recipes, people love seeing the process and watching it come to life. I'll show them how to make it, what products I'm using, putting it in the bowl, step by step until the final product. It makes them think "oh my god, that looks so good and I can tell it's really easy. They're ingredients that I have, I'm going to make this." It's the best way to show how easy it is when they can actually see it in real time." Katie Lolas, @ladylolas.
Top Features: Location Tagging

Use it for: discovering new audiences, driving event participation and reach.
"I'm a Social Media Consultant so I pride myself on Insta-hacks! Tagging is one of my favourite tools. We location tag for events to drive participation and tag users in content to drive reach." Lara Vrkic, @theladiesnetwork.
"When it comes to my most-used features, I really love using location tag. It's the best way of reaching new audiences on Stories." Nat Salmon, @bazaaruk.
Save Feature
Use it for: pinning your fave content, inspo, moodboarding.

"I find the save function really useful, I can create a mini-database of amazing creators and inspirational content to come back to later." Ruth Stephenson, @creativelysquared.
"I really love the save section! It's like a mini Pinterest board helping me keep track of things that inspire and interest me." Roz Campbell, @_tsuno_
"Out of all Instagram's features my fave is Bookmarking, definitely. I give that damn feature a good run for its money. I bookmark the HECK out of everything from good-lookin' yet easy peasy recipes, cute doggos, #inspo quotes, and oh yeah… more doggos." Anita Siek, @anitaonchi.
Top Features: Voice Messages
Use them for: connecting with your community.

"I think one of the most valuable Instagram features is voice notes on Instagram DM's. 
It's 100% underrated but personally I see it as so, so valuable. I feel like as we all live in the digital world, we're all automating and getting so comfortable hiding behind a screen and typing or double tapping that we forget the value of human to human connection. It can be so impactful hearing someone's voice, tone, and emotion through voice instead of just text. 
I'd definitely highly encourage any business, be it service or e-commerce based to take a moment to see how they can go that extra mile and perhaps leave a voice note to some of their most valued and engaged audiences." Anita Siek, @brandfetti.