You can imagine our delight here at Milkshake HQ when Instagram shook up the long-form video game with IGTV. The concept first launched in June 2018 with juicy content created by an array of viral stars, from Lele Pons to Kim Kardashian, making a worthy rival to YouTube. 
It wasn't long before us mere mortals were given access to share on IGTV – hooray! – and the platform skyrocketed. Cut to today and IGTV now offers long-form video content up to 10 minutes, more opportunities to be discovered on the Explore page, in-feed previews, plus the ability to make a running video series! The new updates have resulted in our IGTV videos being more discoverable and boosting their engagement.

Which is why it's time to take advantage of IGTVing, friends! Wondering how to get started? Looking for a little inspo? We got you…
How to use IGTV
First things first: how does IGTV work? If you're not sure how to make IGTV videos, the good news is it's incredibly easy to navigate. For starters, it's worth knowing that there's a few ways to upload a video.
You can do it from within the Instagram app that you already know and love (look for that TV-shaped button in the top right of your home feed). OR you can download IGTV's very own app to make things super easy. The benefit is that the designated app has a few more features and options, and can help to keep your separate endeavours nicely organised.
How to upload to IGTV
Wondering how to post to IGTV? Wherever you decide to upload from, you can view your channel by tapping your profile photo. Now tap the + symbol, choose a video and select Next. Add a catchy title that'll have your followers clicking, as well as a description that includes hashtags to up your discoverability.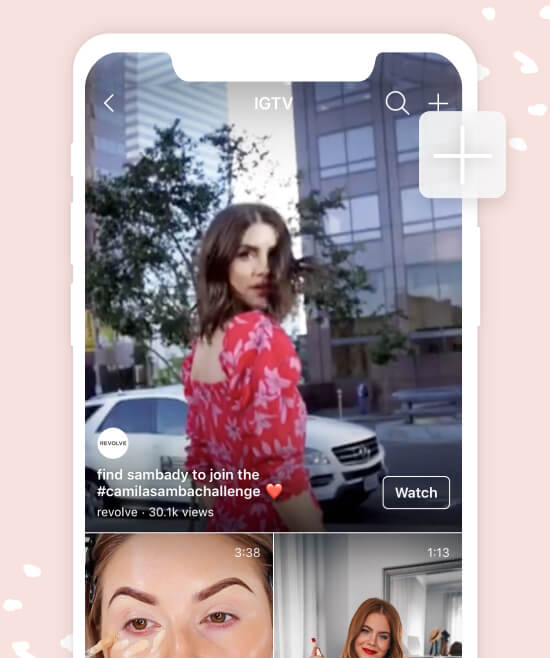 You can now choose to share a one-minute preview to your Instagram grid, which is a good idea if you want to get maximum views. Finally, tap Post.
Not a fan of fiddling on your phone? No problem. Instagram lets you upload from desktop Cool, huh? Firstly, go to Instagram.com and login into your account. From your profile, you can click IGTV and select Upload. Again, choose the + symbol, select a video or drag and drop a file.
Add your title and description, then choose to share a preview of your video to your profile or Facebook page (the more you can cross promote, the better). Click Post and you're away!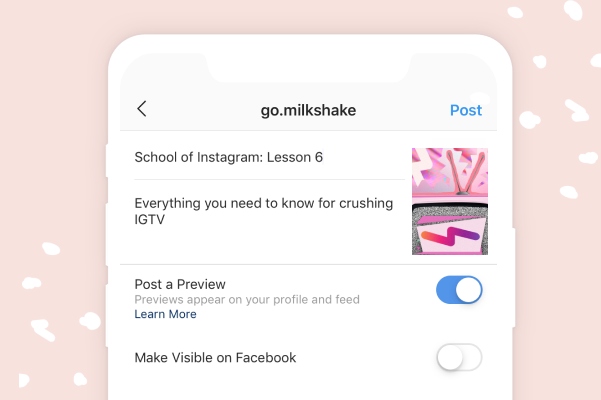 Sharing a preview of your IGTV video
If you do decide to share a snippet to your profile, the first section will appear as a short preview on your grid. FYI: it will show as a 4:5 centre crop. Once the preview is finished, your video pauses and viewers will need to tap Keep Watching in order to continue where they left off. If you want to remove the preview from your profile, you can do so and the video will still be available on IGTV.
Want a shareable link? Simply tap the preview on your grid to open the IGTV video and select the three dots in the bottom left, then tap Copy Link.
A few things to note
According to the powers that be at Instagram, there are a few rules to live by when it comes to the world of IGTV. It's worth taking note of the numbers…

#1 LENGTH: Videos can be between 15 seconds and 10 minutes long for anyone using the app. If you're #blessed with a verified account or have over 10,000 followers, you're able to upload up to 60 minutes worth of content. These meaty videos, which mark a major increase from Insta's former 60-second limit, must be uploaded from a computer.
#2 TYPE: When it comes to the file type, videos should be a MP4.
#3 SIZE: IGTV was designed for videos that are filmed and watched in a vertical, full-screen format. So no turning your phone sideways! This means aiming for an aspect ratio of 9:16. The maximum file size for videos that are 10 minutes or less is 650MB. The maximum file size for videos up to one hour is 3.6GB.
How brands are using IGTV
Many major brands are now investing in creating amazing content especially for IGTV, proving that this is a great way to engage with your followers and increase your community. Here are a few of our faves who are currently crushing it…
Foodies, rejoice! So Yummy's IGTV channel is full to the brim with genius recipes and cooking hacks that'll have you drooling all the way to the kitchen. The brand's IGTV success (hello, over 10 million views) is in the fun and helpful concepts as well as the high-quality footage and some excellent editing with ingredients listed on the screen.
View this post on Instagram
This Australian retailer has become one of our favourite sources for fashion and beauty inspo, so when they started rolling out killer IGTV content, we couldn't get enough. You'll find everything from beauty tutorials to outfit ideas and even dating tips, as well as behind-the-scenes footage that reveals a cheery personality behind the mega brand.
View this post on Instagram
A Quick Recap
Make your videos feel right at home. What's the point in posting content on IGTV that could work just as well on Instagram Stories or your grid? Here you have the space for indulging in long-form vertical videos so make the most of it. Consider the platform and go get creative.
It takes time, consistency, and sharing. Just like many elements of Instagram, it's worth putting the effort into your IGTV. Just considering what your unique content strategy is and staying consistent will have you reaping the Insta benefits.
You don't need to be a professional content creator. Perhaps you've dreamed of presenting your own talk show? Or want to share an entire concert with your followers? IGTV videos don't need to be overproduced, meaning the opportunities really are endless. Happy IGTVing, folks!