Instagram is an essential marketing tool for anyone wanting to build their business, promote their brand partnerships, push their products or capitalise on big calendar events. In fact, 71% of consumers are now turning to Instagram for their shopping inspo, as well as to sniff out the best sales before they shop. So, there's no doubt that it's more important than ever to make your brand, product, service or sale easily available and discoverable on the 'gram! 
Everyone knows that the easiest & most effective way to convert on Instagram is by directing your customers, followers or audience to your Instagram link in bio. So – you gotta make the most of it! 
So if you've got somethin' to sell – whether it be a product, a service or simply yo'self – a Milkshake Insta website is the perfect tool for upping those profits! We're gonna show you how to use every 👏 single 👏 card 👏 on your Milkshake Insta website to build hype for your brand, push your products and see your sales soar 😍
Step 1: Build Hype
When it comes to reaping the benefits of online buzz, building hype is (more than) half the battle. If you wanna see those sales soar, here's a few handy ways to amp up the anticipation and get your followers totally HYPED!
Create a countdown
3…2…1… And we're off! A countdown is an easy and exciting way to build hype for a product launch or sale! Creating a sense of intrigue, awareness and urgency amongst your audience is guaranteed to have them on the edge of their seats. 
We used: Splash Card + 'Avo of My Eye' Look.
Hot Tip: Share your Insta website on Stories and add a countdown sticker to create extra buzz!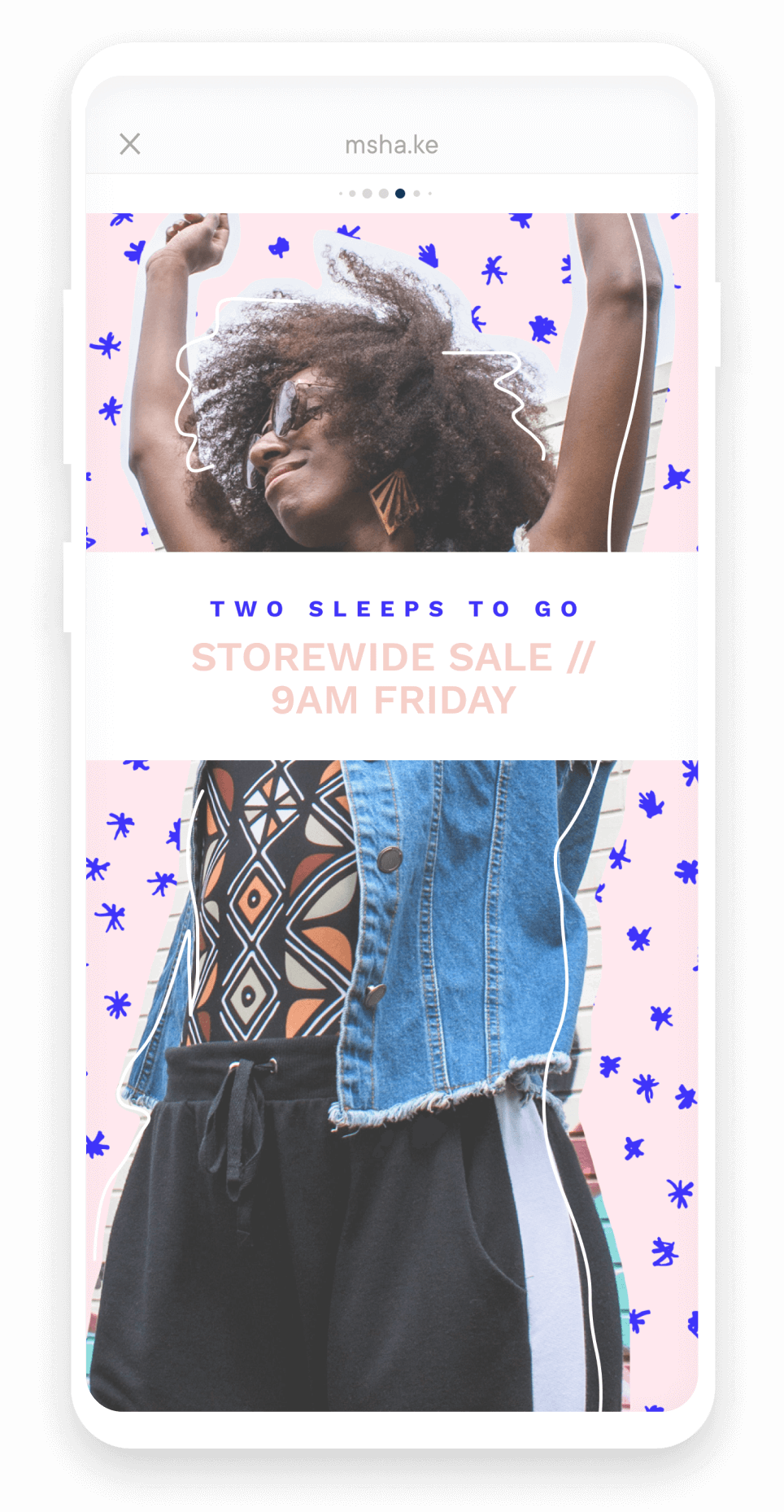 Be a bit of a tease
Wanna keep your audience guessing? Creating a teaser is a super easy way to build anticipation for your sale by revealing to your followers that something is coming… without actually revealing anything at all! Quick win, win.

We used: About Card + 'Mister Ziggy' Look.
Hot tip: Hint at your sales items by adding a GIF (over a static image) to your Card. Or is that just plain cruel? Naaaah.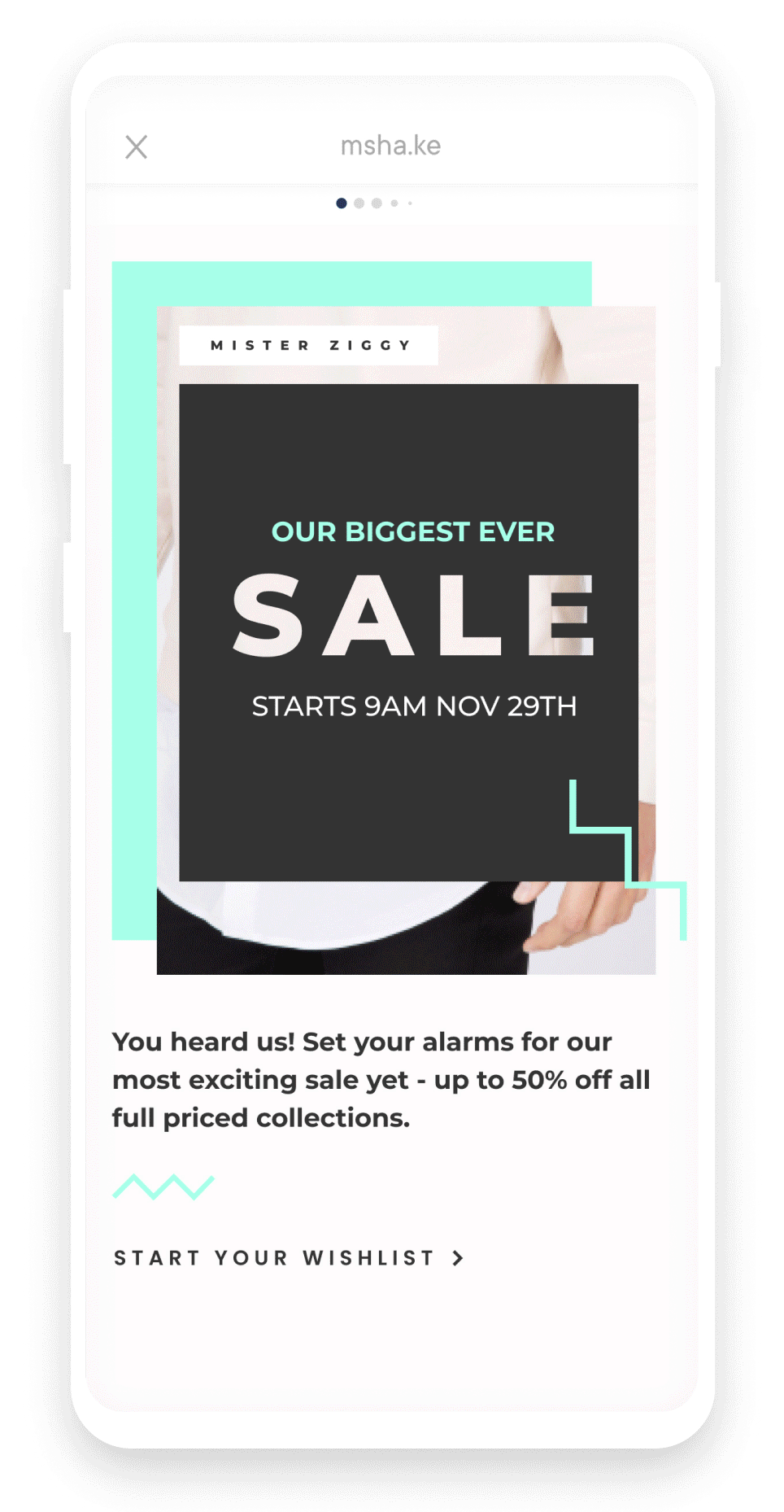 Give a sneak peak

Pique your customers' curiosity with a sneak peak! Giving your audience a glimpse of your discounted product or services, without actually disclosing your discount amount, is sure to get your followers hooked and keep 'em coming back for more.
We used: Top Picks Card + 'Rise 'n Shine' Look.
Hot tip: Keep your Insta website on-brand by adding your logo + brand colours with hexcode customisation.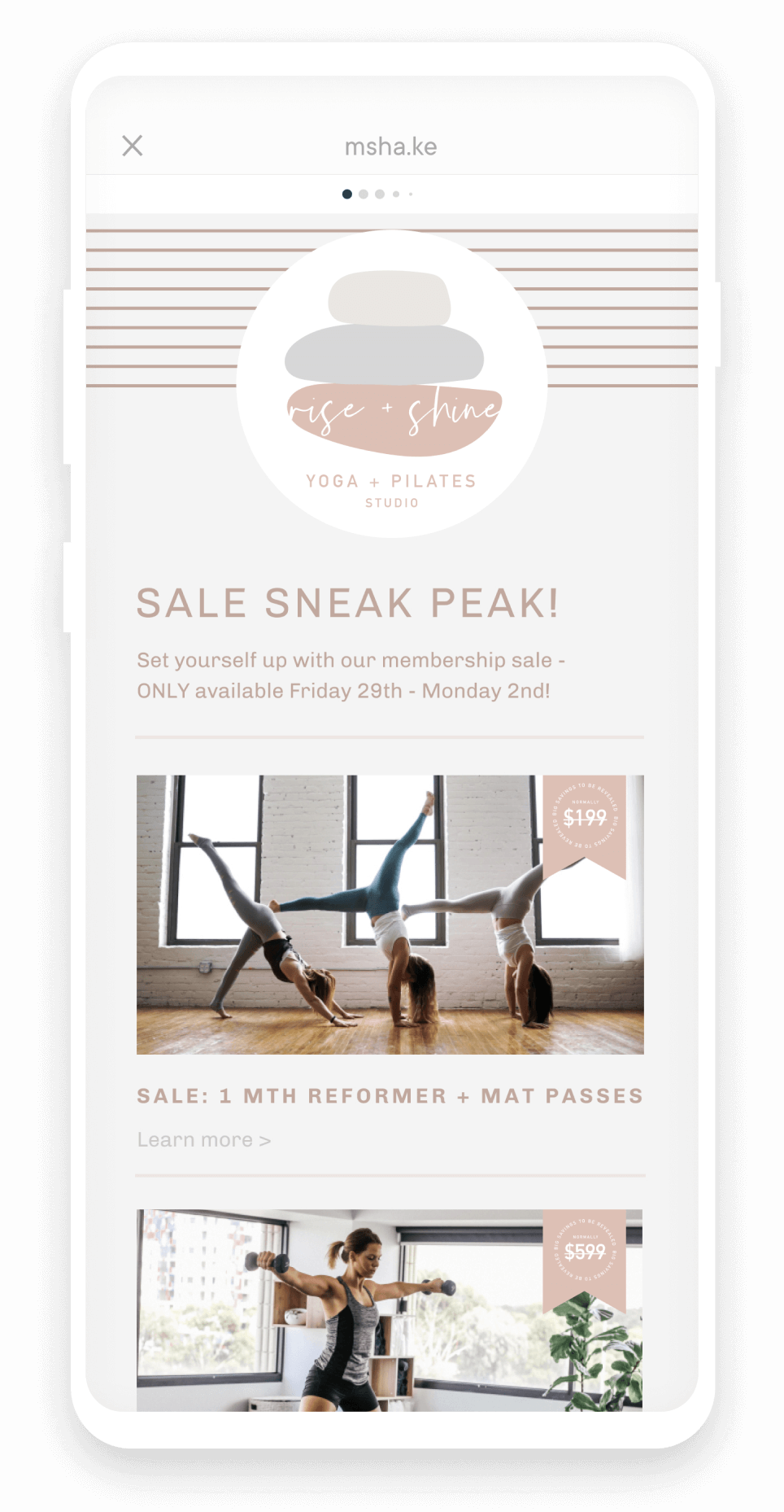 Vamp up your video views

Ready to put those promotions into motion? Feature vids of your Wishlist, Sales to Watch or even sponsored vids. Or on the flip side, simply drive views to your product reviews or clips promoting your services!
We used: YouTube Card + 'Avo of My Eye' Look.
Hot Tip: Hint at exclusive codes or deals in the video title to increase views on your pre-sale vids.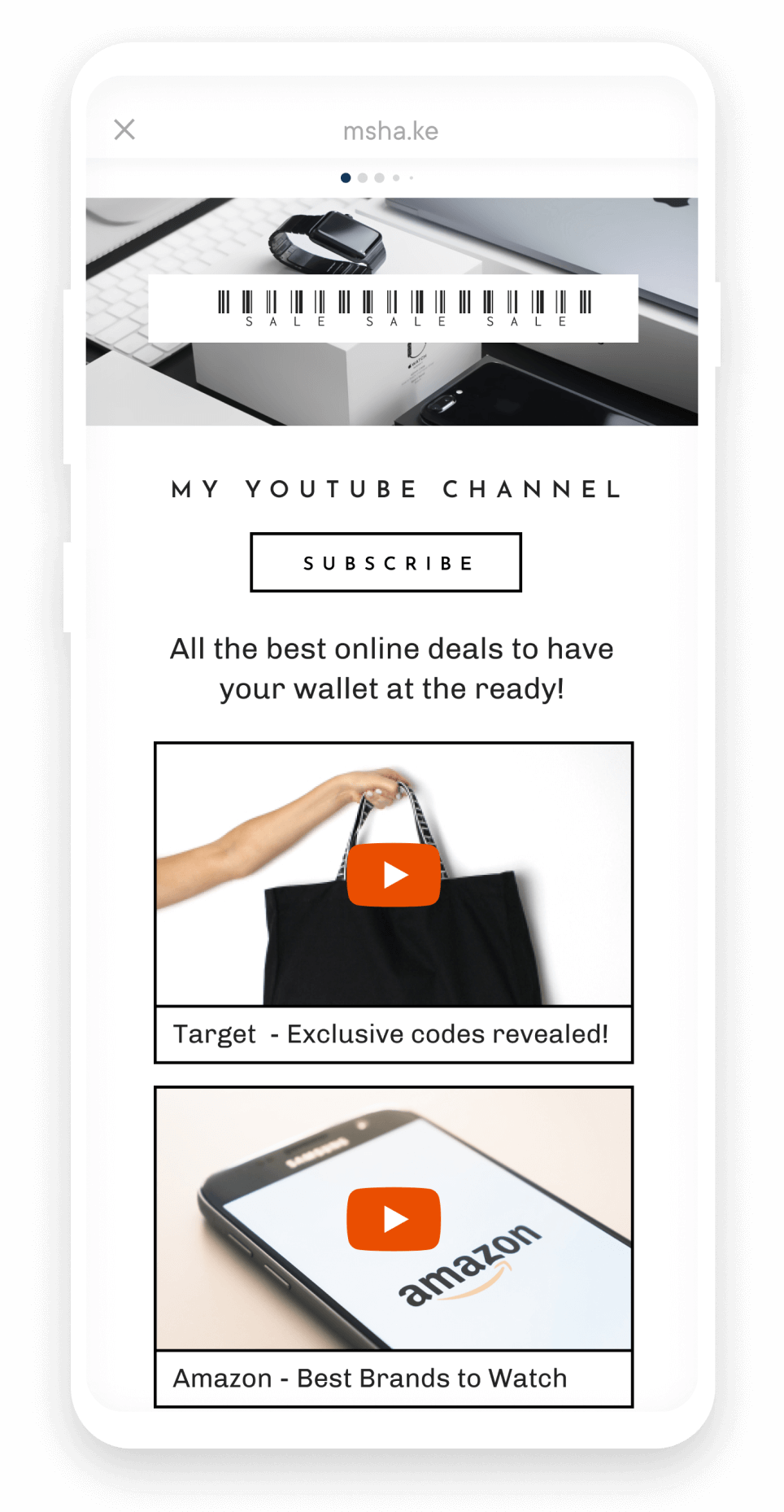 Grow your mailing list
Wanna keep your customers in the loop? Use your Insta website to grow your mailing list and keep your followers informed about exclusive sales and offers! 
We used: Splash Card + 'Avo of My Eye' Look.
Hot tip: Use this Look to showcase your stunning product / brand photography full-bleed.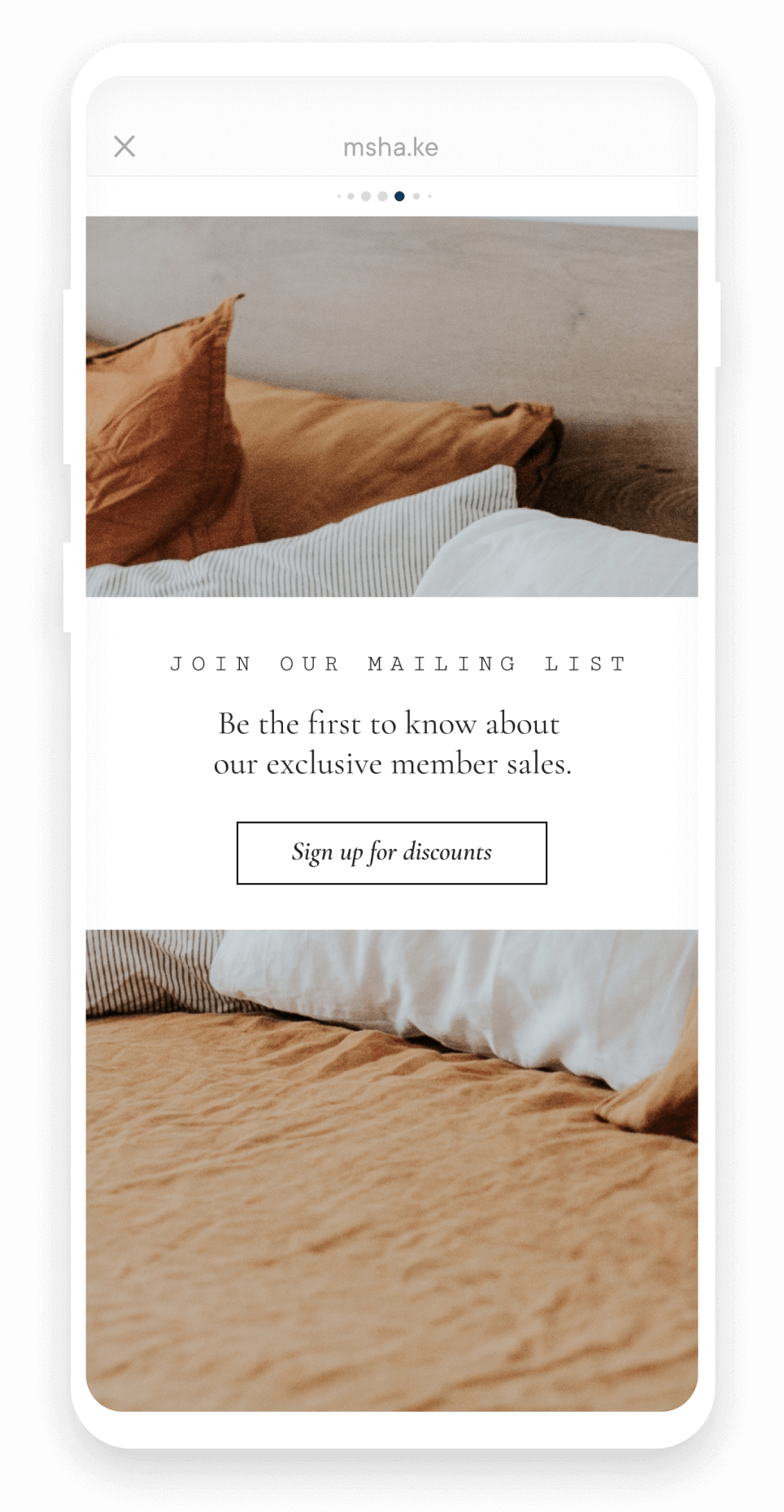 Step 2: Smash Your Sales

Sale away, sale away, sale away! Once you've built some buzz leading up to a sale or launch, you gotta make the most of it! Here's how to absolutely smash your sales…
Feature your main sale or collection

Featuring your best offer front and centre is key to converting those customers. The easier it is for your audience to find, the easier it will be for them to buy! If you're an affiliate, showcase the top products you're lovin' with a link highlighting your discount code. Or, feature your discounted products and link directly to your sale items!
We used: Top Picks Card + 'Blank Canvas' Look.
Hot tip: Let the pics do the talkin' – use an awesome editing app (or a design superstar if you're well connected!) for some killer clickbait.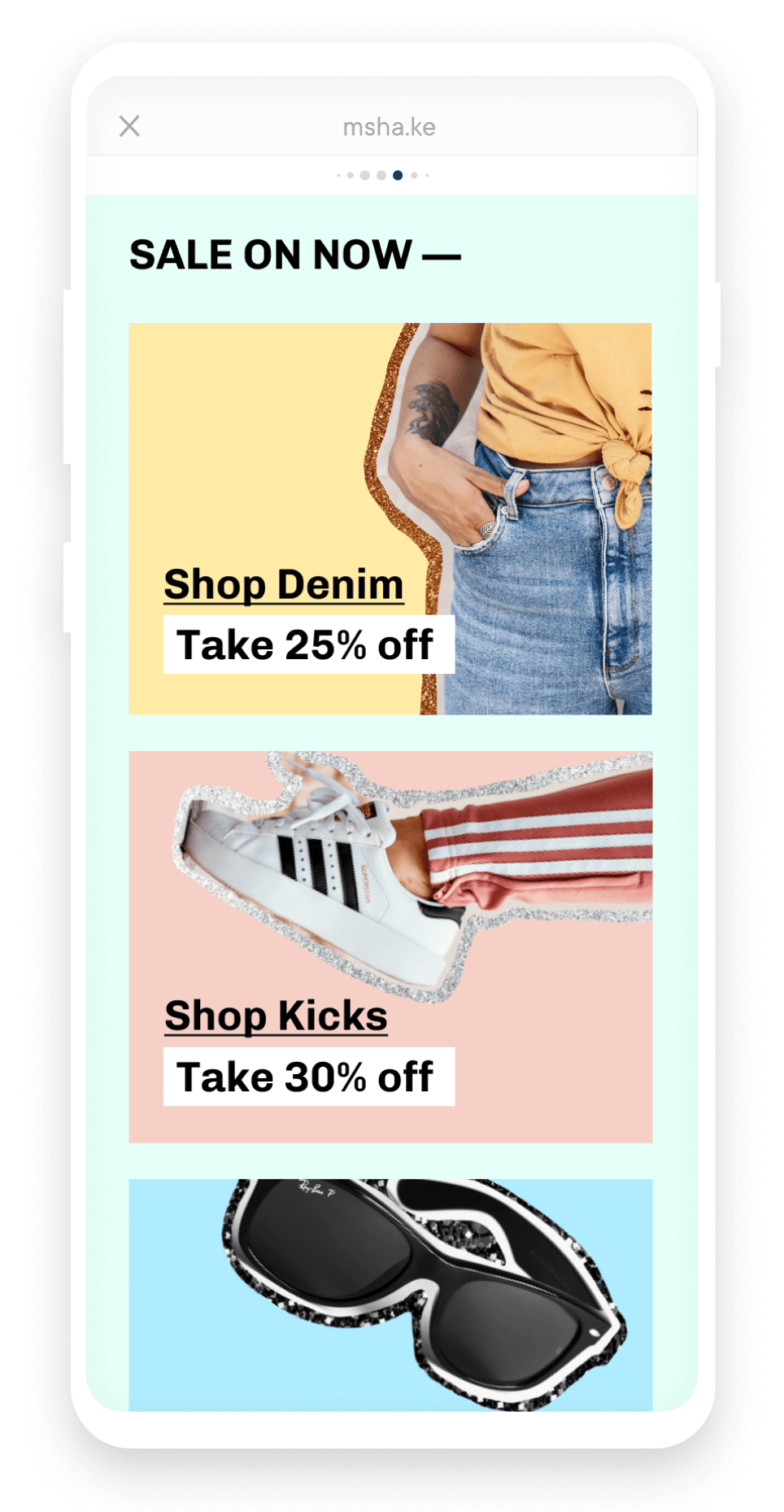 Link to multiple sales or product categories
Have you got a HEAP of offers, codes or coupons, but can't decide which one to feature? You don't have to! Use your Insta website to feature multiple sales, codes or links in one place, or list your offers and sales by category to make it easy peasy for your customers to shop 'til they drop!
We used: Links Card + 'Rosé All Day' Look.
Hot tip: Bump your most important links straight to the top by tapping the 'Add First' button in the link editor.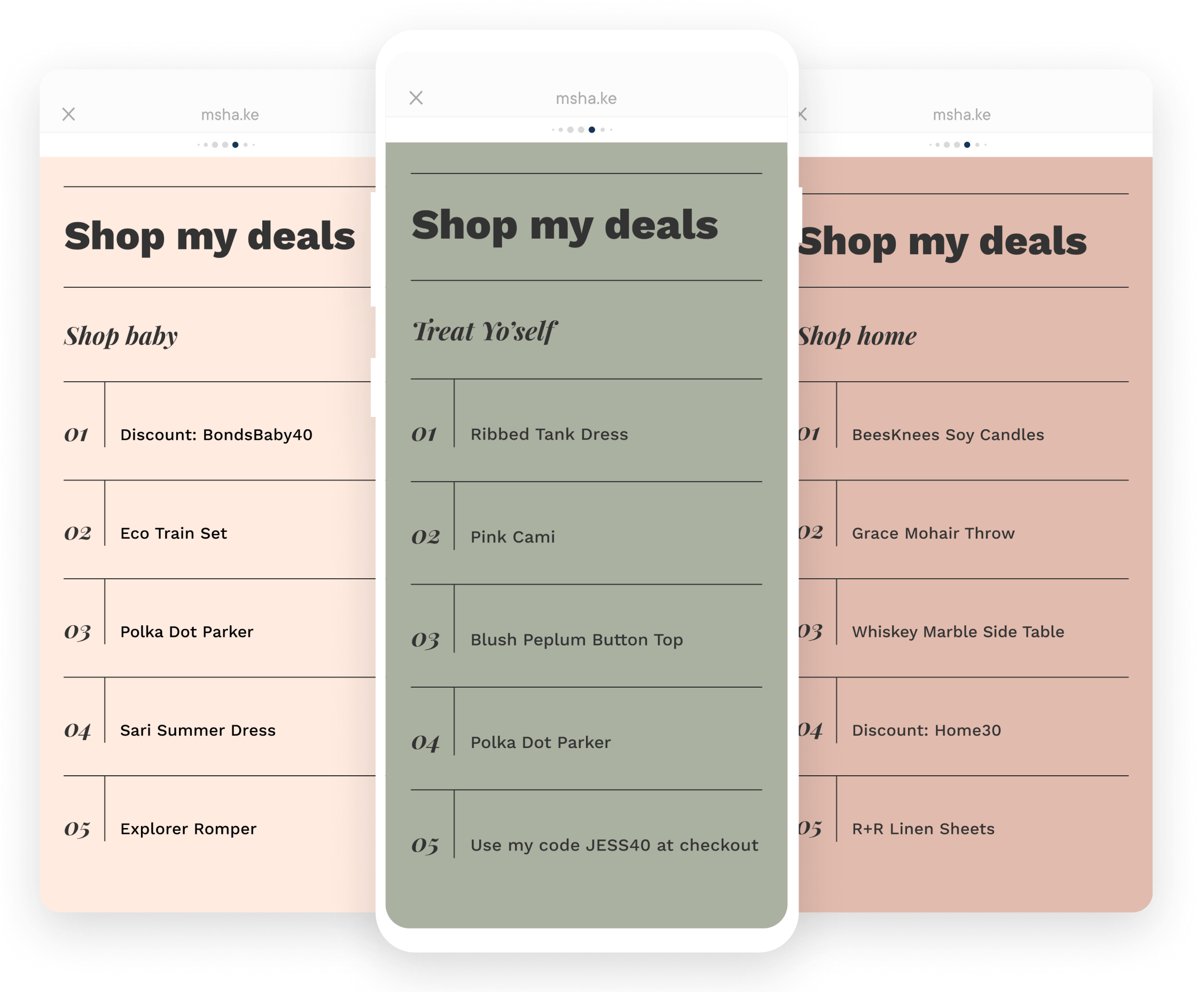 Create a catalogue
A picture paints a thousand words, so use your Insta website to not only tell your customers about your sale items, but show them in all their glory! Using your Insta website as a mini catalogue is the perfect way to showcase all your sale items, promote discounted services or create a look book of your best sellers.
We used: About Card + 'Blank Canvas' Look.
Hot tip: You can also use the Splash Card to hero your sale products – simply clear all text fields and you've got yourself a photographic product catalogue. Ooft.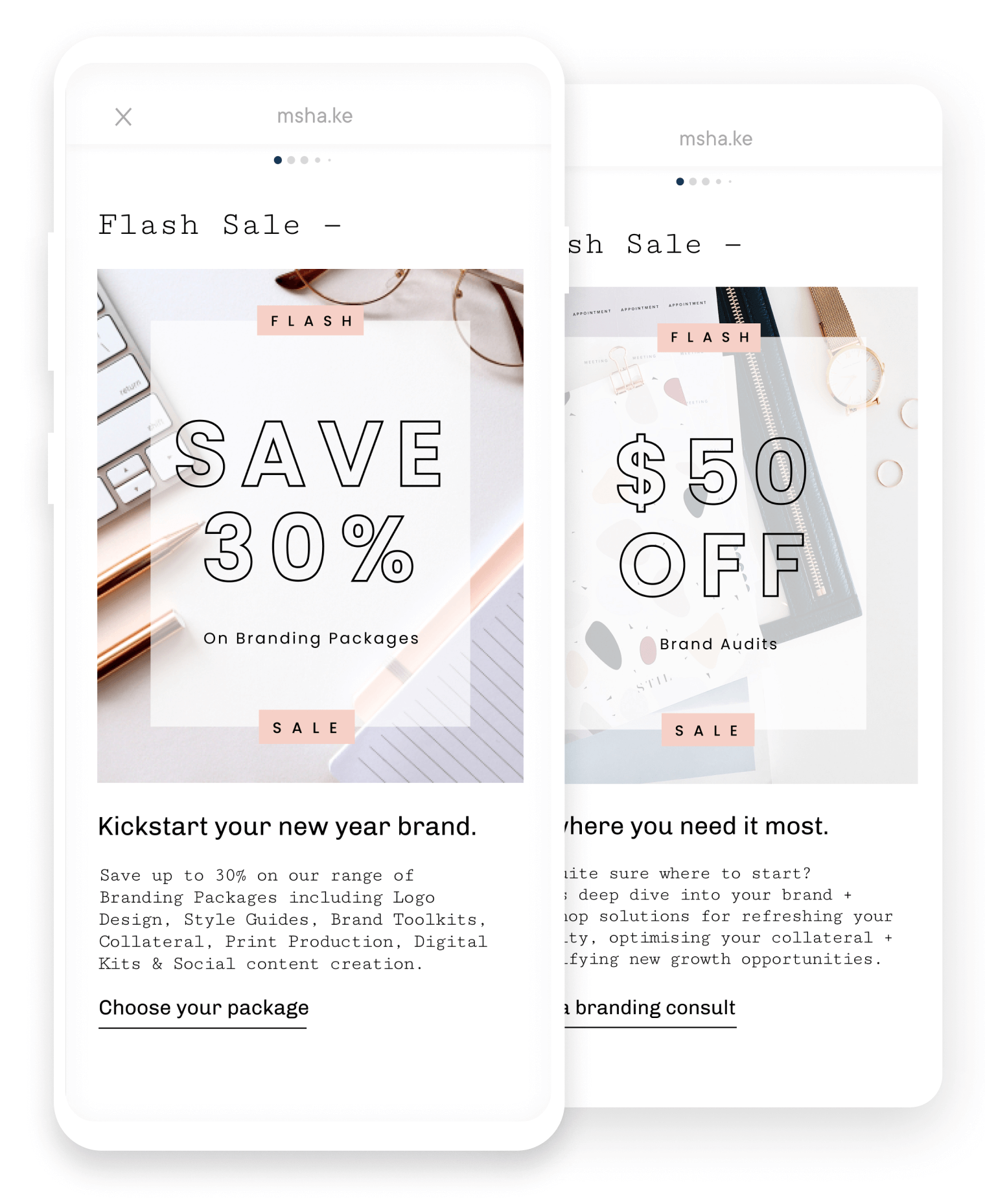 Highlight your best feature 
Glow up by using your Insta website to highlight your best feature! This is perfect for those offering something other than a product, sale or service – such as a free resource, a new release or adding value to something that isn't necessarily for sale. Highlight on fleek!
We used: About Card + Wanderlust' Look.
Hot tip: Use a platform like Google Drive or Dropbox to store your content offers. Copy and paste the file link into your Insta website CTA so your followers can view your resources right there and then (without draining their data allowance). And if you're all 'bout mobile multi-tasking, reduce the file size before uploading for super speedy viewing!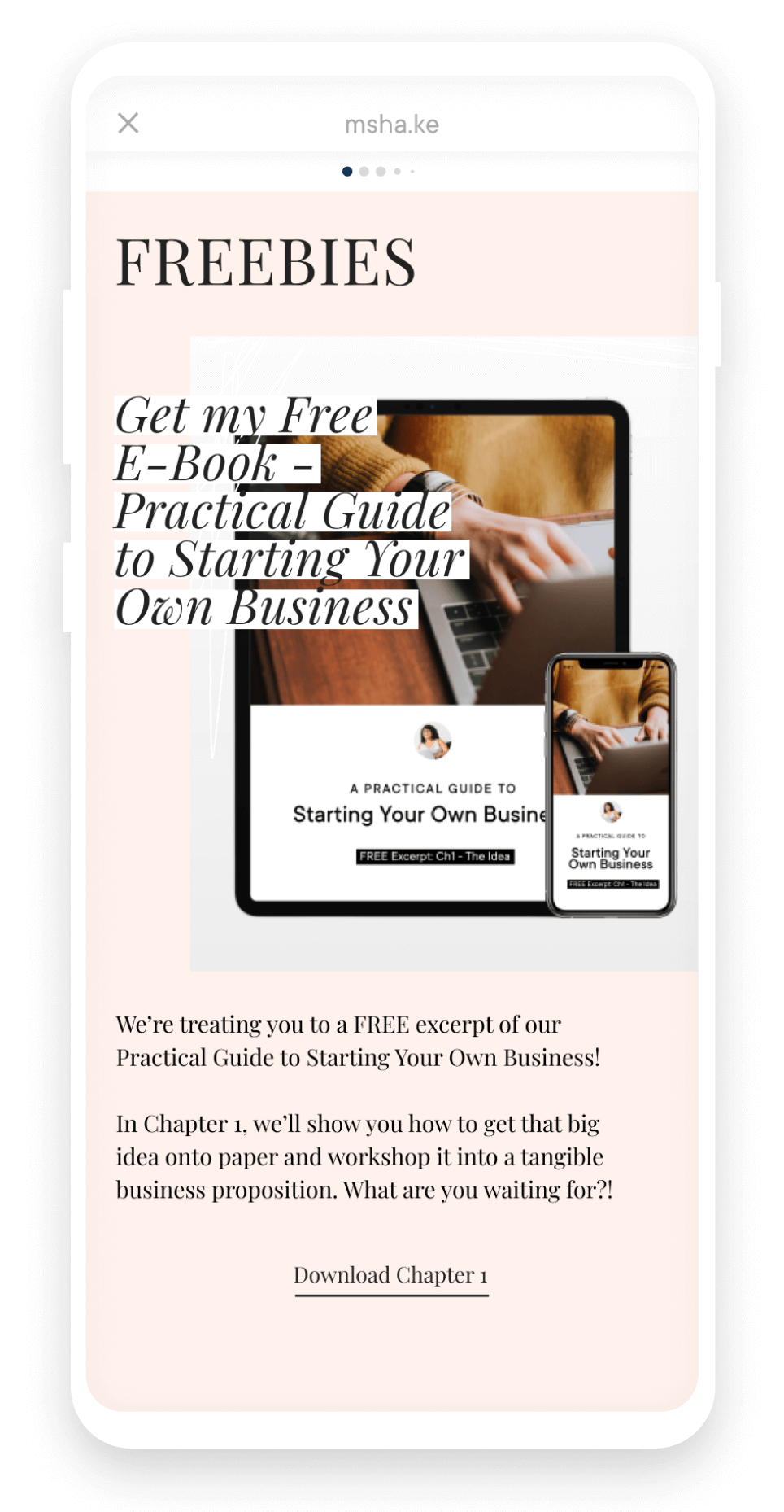 Feature product reviews & hauls
Kill two birds with one stone by using your Insta website to feature hauls, product reviews or top sales picks to push your discounts or affiliate codes Win, win!
We used: YouTube Card + 'Be Zine' Look.
Hot tip: Spread your best deals (or deal-breakers, depending how bruised your bank balance is) with all your followers across Instagram, TikTok, Facebook and Twitter –  just copy and paste your Insta website URL into all your social bio's.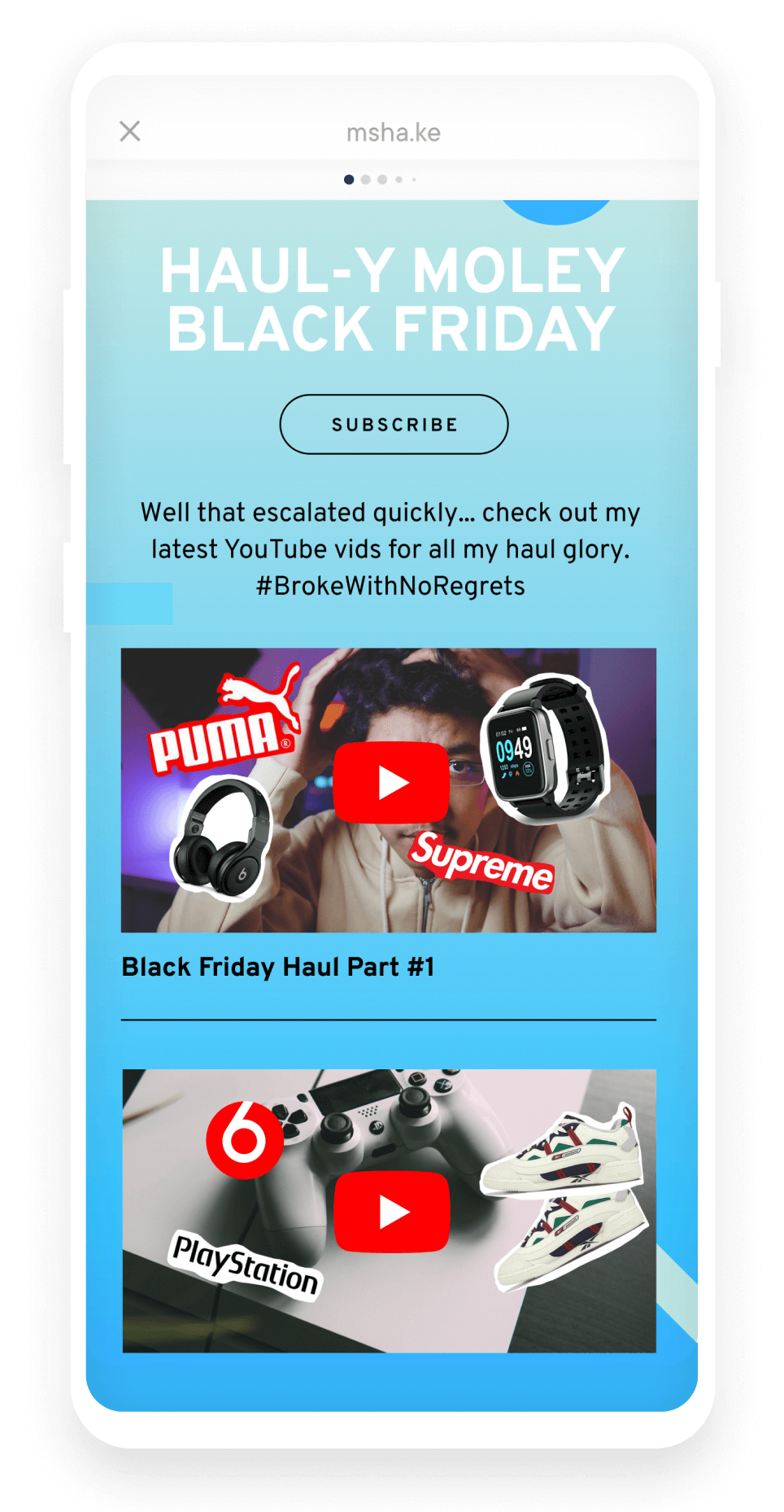 Whether you're a brand, a business, a creator or anything in between, an Insta website is the PERFECT way to turn online buzz into the big bucks! So what are you waiting for?! Go download the free Milkshake Android App or Milkshake iOS App  today 😍