In this day and age, every woman and her dog (literally) are on Instagram. There's nothing quite like settling in for a good 'gram sesh at the end of a long day, scrolling through an endless stream of puppy vids and food pics. Waiting 'til we come across those three lil' words that make our thumbs skip a beat – "link in bio".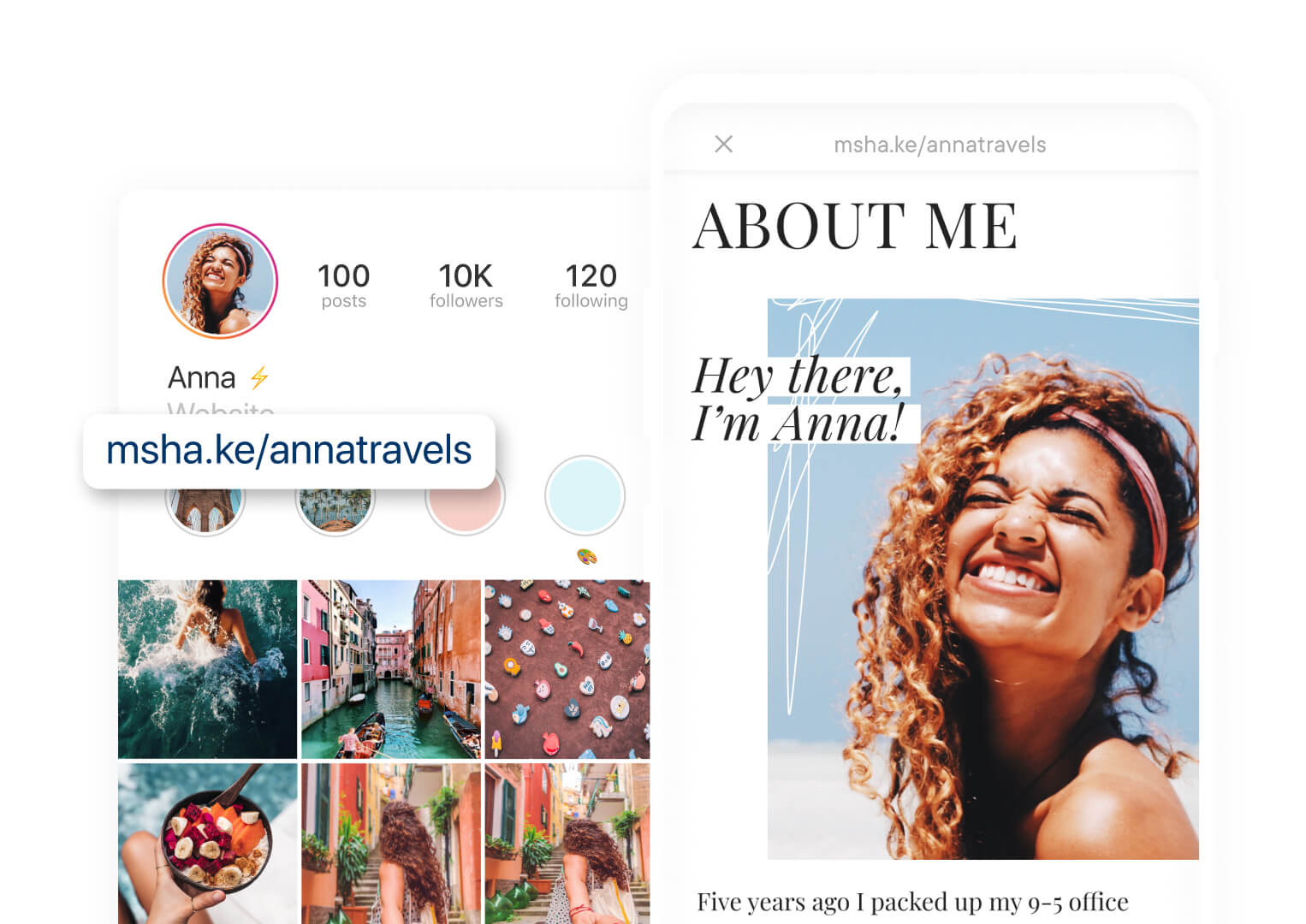 Link in bio has fast become a permanent part of our online vocabulary. Not to mention, an integral tool for building a career on Instagram! In fact, literally entire industries now revolve around people directing followers to their link in bio, making it a necessity for anyone wantin' to build their brand, promote their partnerships, push their products or make some moola from Instagram. 
However, with Instagram only offering us one link and one link alone in our bio, celebrities, creators, businesses and brands alike are all still livin' the YOLO life (you only link once, obvs). Moral of the story? You gotta make it count!
A Milkshake Insta website can open up endless possibilities for that one lil' link, so you can sit back, relax and let your link in bio do the hard work for you. Leaving you time for the more important things – y'know, like sitting on your bed in your wet towel. 😉
Ready to shake it up? Here are some of the best nifty 'n' thrifty ways to use your Insta Website to make the most of your link in bio!
#1 Use your link in bio as a directory
Whether you're using Instagram for art, business or pleasure, it's important to ensure your followers can find what they're looking for quick smart. After all – it's called Insta-gram for a reason! Get down to business by using your Milkshake Insta website as a directory to help your followers find your online store, contact info, location, customer reviews, or booking details with the tap of a finger!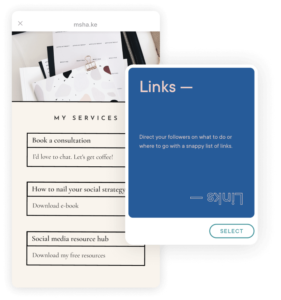 #2 Link to your blog or podcast
Want to get the word out about your blog or podcast? We hear ya! Shout it loud 'n' proud by using your link in bio to drive traffic to your latest blog post or podcast episode. Or, why not use your Insta website to feature both?!

#3 Use your link in bio as an online store
Want to turn your Instagram followers into paying customers? Easy peasy! Turn your link in bio into a one-stop Insta shop by using your Insta website to feature new products, sales, collections, or even your entire online store. Ka-ching!

"As someone who relies on Instagram to advertise ALL of the things I do, including my online shop, my workshops, my Patreon, my website… Oh buddy, is it helpful to have a way to put all those things in my Instagram bio. Milkshake is so helpful for this – and cute!" – @frances_cannon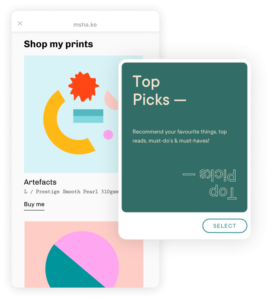 #4 Get up close and personal
Want to build that special bond with your community? Then you gotta get personal! Use your Insta website to direct followers to your About Me page, FAQs, Q&As and BTS heart-to-hearts so they can get to know you a lil' better.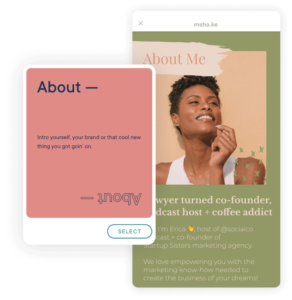 #5 Link to your portfolio 
Want to keep all your photos, art or creative works in one, easy-to-find place? Turn your link in bio into a creative portfolio by using your Insta website to show off your OOTD's, writing, photography, music or artwork.
"As a musician, I feel that I am always trying to push my art via posts and stories. I think its really nice for a person to find your page and have the ability to be directly linked to all of the things that you have most recently released. It is important to have a landing page for your art so that it's all in one place." – Maddy Herbert, @velvetbloom.music

#6 Turn your followers into YouTube Subscribers
Want to turn your Instagram followers into YouTube subscribers using your link in bio? Then you gotta vide-own it! With Milkshake's YouTube card, you can use your Insta website to feature your latest YouTube vids, your top uploads, or your entire YouTube Channel. You can even add a subscribe button to instantly turn your 'Gram fam into subscribers!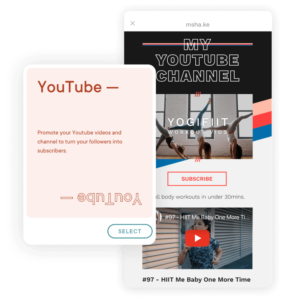 #7 Feature your fave products, reviews & recommendations
Are you a beauty guru, movie buff, foodie, or just someone with a knack for reviews? Use your Insta website to feature your fave products, video tutorials, food reviews, or recommendations of anything else you're lovin'. Yep: 10/10 would recommend!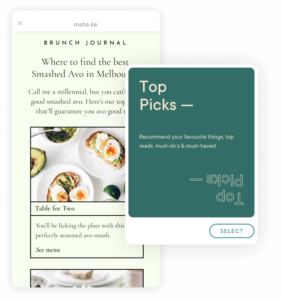 #8 Use your link in bio as a resume or job ad
Are you someone who likes to mix your social networks with professional networking? Then make yo' link in bio werk, werk, werk! Put your skills and experience front and centre by turning your Milkshake Insta website into a stylish, professional resume. Or, on the flip side, use it to feature job openings, available positions or expressions of interest. Work it!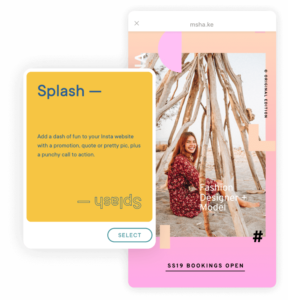 #9 Use your link in bio to drive action
Want to drive action, raise awareness or simply form a long-term relationship with your followers? Use your link in bio to take your 'gram fam beyond the app so they can connect with you anytime, anywhere. Drive your followers to further a cause, sign a petition, book an appointment, schedule a meeting, subscribe to your newsletter, sign up to your mailing list, write you a love letter… the list goes on! Where do I sign?!
"When you're fighting to further the causes you're passionate about, you need to give your community access to further, deeper information – especially if the issues you're speaking about are complex and multi-layered . The best way to do that, is through providing links to other sources in your bio. It's such a beneficial and simple addition to your Insta presence and connects your online community members to real life action! Whether it's to sign a petition, attend a protest or simply to educate themselves further to form their own opinions, we encourage all those online activists to provide this to enrich their online communities and maximise their impact." – Marlee Silva, @tiddas4tiddas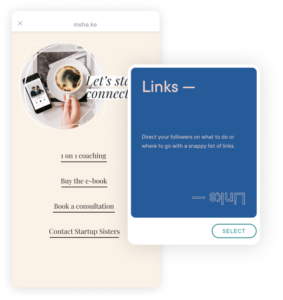 #10 Or… all of the above!
Can't choose just one? Well, they say you can't always have everything… But, this isn't one of those times!
With a Milkshake Insta website, you can truly make the most of your link in bio by featuring every 👏 single 👏 one 👏 of the above styles in one, easy-to-find place. You can entirely customise it to fit your brand, vibe + style… plus, it's preeeeeetty 😍 #humblebrag
Makin' a Milkshake Insta website is as simple as picking your 'card', choosing your look, adding your content, and pressing publish – and it only takes 10 minutes. Easy as that!