Whether you want to learn how to create Instagram Stories, how to use them or even the best Instagram Stories apps, get ready to take your 'gram to the next level with our Ultimate Instagram Stories Toolkit!
As much fun to make as they are to watch, Instagram Stories are fast becoming THE way to get in the Insta-game. BUT, you gotta know how to work 'em. That's why we've put together the Ultimate Instagram Stories Toolkit!  This handy lil' hub contains all the best Instagram Story tools, Instagram Story tricks, Instagram Story tips, Instagram Story templates + Instagram Story hacks… the list goes on!
We've even split everything into delicious, bite-sized parcels for you… So, you can easily find any tool, resource, or technique you'll EVER need to make your Instagram Stories sparkle.
Ready to seriously SMASH your Stories? Let's go!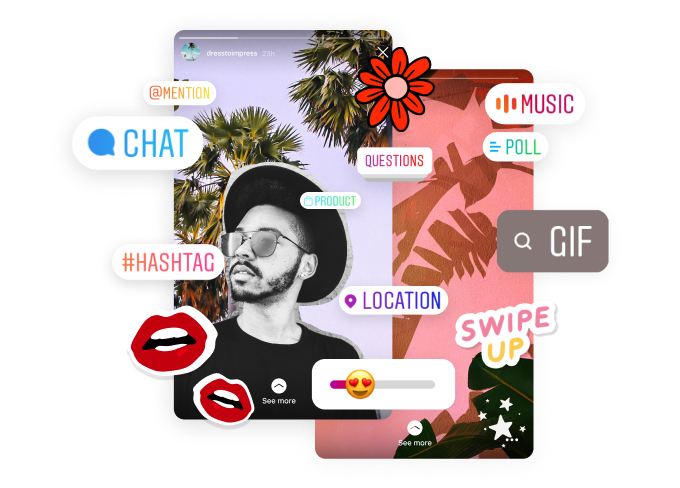 The Ultimate Instagram Stories Toolkit

We'll be covering:
Why should you use Instagram Stories?

Templates

Scheduling Tools

Animation Apps 

Analytics Tools

Top Features

Highlights Hacks

Stories Ads

Instagram Stories Hacks 2019

Tell your Story
First thing's first… Why Use Instagram Stories?
#1 Well… Everyone else is! 
A whopping 500 million users now use Instagram Stories every day. That's half a billion people who are swiping, scrolling, reacting and polling on the daily. So with 1 in 5 Instagram Stories reportedly resulting in a DM, and 69% of 'grammers claiming Stories are their fave way to discover new products and services, you'd be crazy not to cut yourself a piece of that pie. 
#2 They're a killer marketing tool.
Stories are an engaging, easy way to feature your content front and centre. They also allow you to give your followers a sneaky lil' peek into your world without cluttering their feeds. Plus, Stories are an opt-in form of marketing, meaning people actively choose to watch them. This encourages audience interaction, and generates more meaningful and authentic engagement to build that warm 'n' fuzzy sense of community. Win win! Long Story short? If you're not using Instagram Stories for marketing, you're missin' out. 
#3 They get down to business.
Instagram has become an absolutely crucial tool for building a business, and in this day and age, Stories can be so much more than just a cherry on top! Integrating Instagram Stories into your business strategy is key to building sustainable momentum online for your brand or business.
#4 They add more value to your feed
The age long debate… Instagram Feed vs Instagram Stories: which is best? While both in-feed posts and Insta Stories have their individual merits, using both in tandem truly is the ultimate Instagram strategy. However, opinions still vary far and wide on which style is more thumb-stopping. So, get comfy, grab the popcorn, and take a deep dive into this battle of the 21st century: Instagram Stories vs. the Instagram Feed. May the best social post win!
#5 They help you think outside the box 
Wanna be a trendsetter, but not sure you have a Story to tell? The good news is, you might just be lacking a little inspo! There are tonnes of insanely creative ways to use your Instagram Stories in a unique way, you just gotta think outside the box and stay true to you!
Ready to nail your next Story? 
Now that you're sold on all the things that Instagram Stories can do, it's time to put 'em into action. Keep on keepin' on for heaps of handy hints, inspo and strategies for producing stand-out Stories.
The Best Instagram Stories Templates
Whether you're using Stories to promote your products, recommend a brand, or simply interact directly with your followers, templates can be a total lifesaver when it comes to building a quick, beautiful, immediately recognisable aesthetic for your personal brand. Check out some of these killer tools… before it's too temp-late!
#1 Easil
Keep your aesthetic on point with Easil's gorgeous six colour palette generator.
#2 Unfold App
A template app inspired by film and analog photography, Unfold and unleash your inner minimalist with these tasteful templates and elegantly simple tools.
#3 Over App
Over App lets you choose from a tonne of premium Instagram Stories templates, as well as tips, tricks and design hacks to personalise your branding and help you stand out from the crowd. Plus – it's free!
#4 Adobe Express
Benefit from Adobe Express' prestige, design expertise with its vast and detailed selection of free stock photos, fonts and filters.
#5 Canva
Canva makes great design accessible to all, offering a huge selection of templates, saveable designs and cross-platform layouts for consistency across social channels.
The Best Scheduling Tools
Scheduling your Instagram Stories means you can spend less time waitin' and more time creatin'! There are a tonne of platforms that allow you to bank up weeks' worth of Stories in a matter of minutes. So, you can rest assured that your content will go live at the perfect moment – so all you have to do is tap a finger! 
#1 Planoly
A visual Instagram content planner that has been beloved by fashion influencers and L'Oréal alike, Planoly is perfect for keeping your feed consistent and cohesive. 
#2 Later
A visual content calendar as feature-packed as it is user-friendly, Later allows you to pre-schedule your Stories so you can post sooner rather than later!
#3 Sprout Social
As well as allowing you to schedule your Stories, Sprout's Instagram management tool also allows you to manage comments, monitor hashtags and run reporting. 
#4 Preview App
Allowing you to plan, edit and arrange all your Insta posts and Stories, Preview now allows you to schedule all your Stories ahead of time, and simply sends you a notification when it's time to post.

#5 Sked Social
Allowing you to organise, plan and edit all your Stories and posts in one place, Sked posts your Instagram Stories at a scheduled time while you kick up your feet and chill out!
The Best Apps for Animating Stories
With the average human attention span now down to a scary 8 seconds, if you wanna keep those tap-happy Instagrammers engaging with your Stories, you gotta make 'em eye-catching! 
Use these awesome, easy-to-use apps to razzle dazzle your followers with attention-grabbing animations…

#1 Enlight Pixaloop
A free app from Apple Design award winners Lightricks, Enlight Pixaloop injects a lil' bit of magic into your content to bring those static images to life.
#2 Life Lapse
Life Lapse allows you to create remarkably glossy stop motion footage ideal for Stories directly from your smartphone.
#3 ImgPlay
ImgPlay is a simple but powerful tool that allows you to create custom GIFs from the videos and photos already in your camera roll.
#4 Adobe Express
Want to get Adobe-quality results without years of design experience? Adobe Express is an accessible, easy and totally FREE tool for animating your Stories, making them irresistible!
#5 Instories
Creating a unique visual style is key to building a recognisable brand. Instories allows you to express your creativity through beautiful, elegant stories that will take your account to the next level.
The Best Instagram Stories Analytics Tools
Why was 6 afraid of 7? Because 789! If numbers, metrics and graphs have you running for cover – you're not alone. Luckily, there are a wide range of handy tools to help you get on top of your data-driven strategy. If you wanna delve a little bit deeper than your basic Instagram Insights, these apps not only analyse and organise your online data and metrics – they actually tell you what's working, what isn't, what gets skipped, who your followers are, when they're online, and so much more. 
Check out these super handy analytics tools to increase your views, up your engagement, grow your account, and optimise everything about your Stories!
#1 Socialinsider
Get the inside scoop with Socialinsider to find out exactly which hashtags are driving the most engagement among your target audience.
#2 Later
Use Later to sort your Instagram Stories by popularity, and apply these insights to your social strategy.
#3 Squarelovin
Hit up Squarelovin for the inside scoop on the best and worst times to post your Stories.
#4 Sprout Social
Sprout Social helps you discover and target those who have already organically engaged with your Stories.
#5 Iconosquare
Providing you with a free Instagram audit of your actionable social strategy goals, custom feeds for monitoring specific hashtags and users, and scheduled reports delivered directly to your inbox, Iconosquare gets two big thumbs-up from us!
The Best Instagram Stories Features
If you're a Stories expert, you'll know that creating great content means mastering the Instagram toolkit. But if you're not familiar with all the Ins-tagrams and Outs-tagrams of the world's most popular app, not to fear – we'll get you up to speed in no time. Here are some of the top Instagram Stories features that the experts swear by… and that you NEED to be using!

#1 Geo-tag your location
The importance of location tagging your business should not be underestimated! Whether you're running a store online, IRL (in real life) or targeting a specific place, you can use geotags to target specific customers, increase reach and event attendance, and literally put your brand on the map.
#2 Stories Stickers
They're fun, they're eye-catching, they're easy to use… need we say more? Sticker it to your followers by highlighting CTAs, hiding hashtags, promoting paid partnerships, or simply just drawing more attention to your Stories!
#3 Create a poll
Looking for the answer to increasing your Stories engagement? We'll answer your question with another question… YES or NO? Use Instagram Polls to drive interaction, get creative and find out what your followers are actually thinking.
#4 Join the Boomerang Gang
Wanna keep those followers coming back for more? Sometimes, keepin' it simple is key. Bring your stories back to life with a good old fashioned Boomerang. Boom!
#5 Swipe Up Links
Do you have a business Instagram profile with over 10k followers? Congratulations, your Stories are eligible for links! Done right, swipe-up links can be the key to huge increases in sales, site visits, newsletter sign-ups – the sky's the limit! If you're still yet to become the proud owner of that lil' blue tick, here's how to get verified on Instagram.
How to use Instagram Stories Highlights
Starting out as a way for us to simply pin our fave Stories for a lil' longer, Instagram Stories Highlights have now become an incredibly valuable tool for setting the tone for your content and account. With 60% of Instagrammers now using the platform to find new people and products, it's super important to put your best feed forward and hook up those new followers ASAP. Acting as a trailer for your profile, Stories Highlights allow potential followers to suss your vibe in seconds, while giving you an easy way to lay out your content categories, FYI's, or even add a welcome video. 
Here's some of the best ways to keep your Instagram Stories Highlights on fleek. 

#1 Use them to set your tone
Highlights, camera, action! Use your Highlights as a trailer or greatest hits anthology for your stories, to set the tone of your feed and let new followers know what's up ahead. 
#2 Use them to increase engagement
Wanna increase your engagement? Highlights are as versatile as they are powerful and it's no secret that engagement and audience interaction are some of the most powerful and important Instagram metrics. Make like Beyonce and put a ring on it by using Instagram Highlights to up your engagement.

#3 Create your own customised Highlights covers
Want to keep your Highlights on-point and on-brand? Keep your content customised and cutting-edge by creating custom covers for your Instagram Highlights.
#4 Choose from pre-made Highlights cover templates
Don't have time to cook up your own customised covers? Here's 50 free Instagram Stories Highlight icons that other creative geniuses  prepared earlier. No matter your vibe, you're bound to find something special in this stunning compilation of Highlights covers.
#5 Make your Highlights shine bright
You only get one chance at a first impression, and this app ensures that you're making a great one every time! This Instagram Highlights cover maker and one stop Highlights shop lets you choose from a wonderful selection of Highlight templates, backgrounds, hand-drawn icons, and fonts.
How to use Instagram Stories Ads
There's no doubt about it – Gen Z are cynical, they're internet-hardened, and by 2020, they'll account for 40% of all customers. So, how did old-school brand Ralph Lauren target new-school customers and increase product views by 41% among such a tricky demographic? By nailing Instagram Stories ads! And guess what? You can too! Here's how to make Stories ads work for you…  

#1 Get in the know 
The key to success is knowledge. Learn all the best hacks, tips and tricks, how to make them work for you, and everything you need to know about Instagram Stories ads.  
#2 Choose the right ad for you
When it comes to creating a successful ad, knowing what works best for your audience is half the battle! So which is more effective at driving traffic: Instagram Stories Ads or Feed Ads? While studies have shown that Instagram Stories ads are more cost-effective than feed ads, it's important to do your research and figure out which ad is right for you.
#3 Get creative
They key to a successful ad is connecting with your audience – because, people connect with creativity! If you're a little low on imagination, take some inspiration from some of the super creative Instagram Stories Ads out there producing amazing results, and start gettin' creative with your own Instagram Stories ads.
#4 Make them engaging
Want to create eye-catching, thumb-stopping content? The key to making Instagram Stories ads that convert is making sure they don't get skipped! These great best practice tips for creating Instagram Stories Ads that convert will ensure your ads are catching customers' eyes from one end of Insta to the other. 
#5 Optimise their performance
There's no point catchin' eyes if your ads aren't optimised! Crammed with insightful strategies for smashing your Instagram Stories ads, this article also includes a detailed, step-by-step guide to testing the performance of your ads as cheaply and effectively as possible.
Instagram Stories Hacks 2019
With Instagram now home to over 2 million monthly advertisers, it's harder than ever to make your Stories stand out from the crowd. So, you gotta Milk-shake it up! 
We've assembled a weird and wonderful collection of tips, tricks and the most mind-blowing Instagram Stories hacks to help your Stories attract all the attention that they deserve.

#1 Have fun with fonts
Still looking for just your type? Play around with eye-catching fonts to drive your message home. These clever Instagram Stories font hacks and tips will have you sayin' WTF-ont!
#2 Hash(tag) it out
Do you ever wish you could keep your Stories tastefully arranged, while also getting the visibility that comes with hashtag abuse? Well, today's your lucky day! Adding invisible hashtags to your Instagram Stories is the key to increasing your engagement AND stayin' on brand.
#3 Turn your live photos into a boomerang
Transform your everyday moments into unexpectedly beautiful Stories by turning your Live Photos into a Boomerang for Instagram Stories. Mind blown!
#4 Get GIPHY with it
Everyone loves a GIF! Luckily, there are an array of great tools that make adding GIFs to your Instagram Story a piece of cake. Add Any GIF or Image to your Instagram Stories with this super sneaky hack.
#5 Can you hack it? 
Not for the faint hearted, here are some of the most detailed, mind-blowing, and top secret Instagram Stories Hacks that nobody knows about!
So, to cut a long Story short… 
That, my friends, is The Ultimate Instagram Stories Toolkit! Whether you're an IG newbie or an Insta-pro, we hope you've learnt something to help take your Stories to the next level. Feel free to come back anytime and pick out the perfect tool, resource or tip to make your Stories sparkle! 
Ready to tell your Story'? We'll see you on the 'gram! 👋