The new year is officially here, and what better time to revamp your brand than the beginning of a brand new decade?! If you're feelin' a lil' lost on your direction, not to fear… your ultimate brand guide is here.
If you've been waiting for the right time to lift your brand, build up your business or get your creative project off the ground… we have a feelin' this year's gonna be your year! But, if you're serious about making your 2020 vision a reality, you gotta make sure to absolutely NAIL your branding. Not sure where to start? Think of us as your right hand brand 👋
Overflowing with expert advice, tips and tricks & industry insights, we've put together this tried 'n' tested brand guide containing EVERYTHING you need to know to emphasise, optimise, conceptualise or realise your brand this year. Brace yo'selves! Here's what we'll cover…
1. Know Your Purpose
2. Define Your Point of Difference
3. Know Your Brand Identity
4. Be Consistent
5. Nurture Your Brand Fans
6. Constantly Iterate
Ready to turn over a Brand new leaf? Read on for our foolproof guide to crafting a stand-out brand!
1. Know your purpose – and preach it!
Behind every great brand is an even greater purpose. One of the most important elements of crafting a successful brand is knowing exactly what you're doing and why you're doing it. Whether you're discovering, realigning or revamping the purpose of your brand, ask yourself: what are your values? What is your mission? What goal are you setting out achieve? 
"Make sure you know exactly what your brand is. Make a mission statement, brand guide and stick to it. Only use images that are completely in line with your brand ethos. You don't want to confuse your audience or customer, you want them to know exactly what you stand for and what you are selling." – Nat Salmon, @bazaaruk social media editor
If you're struggling to find your purpose, you want to make sure you're creating a brand that solves a problem that not only you, but many people care about. Find something that is truly significant – a problem faced by lots of people – and solve it.
If you find a purpose you're passionate about + build your brand around something you truly believe in, chances are that other people are gonna believe in it too.
"When it comes to creating a brand that stands out, you have to have passion. I just think whatever you're doing on Instagram or in life for that matter – do it with passion! Passion is one of those things that is incredibly hard to manufacture if it's not there organically." – Jenna Hutchison, @loveludie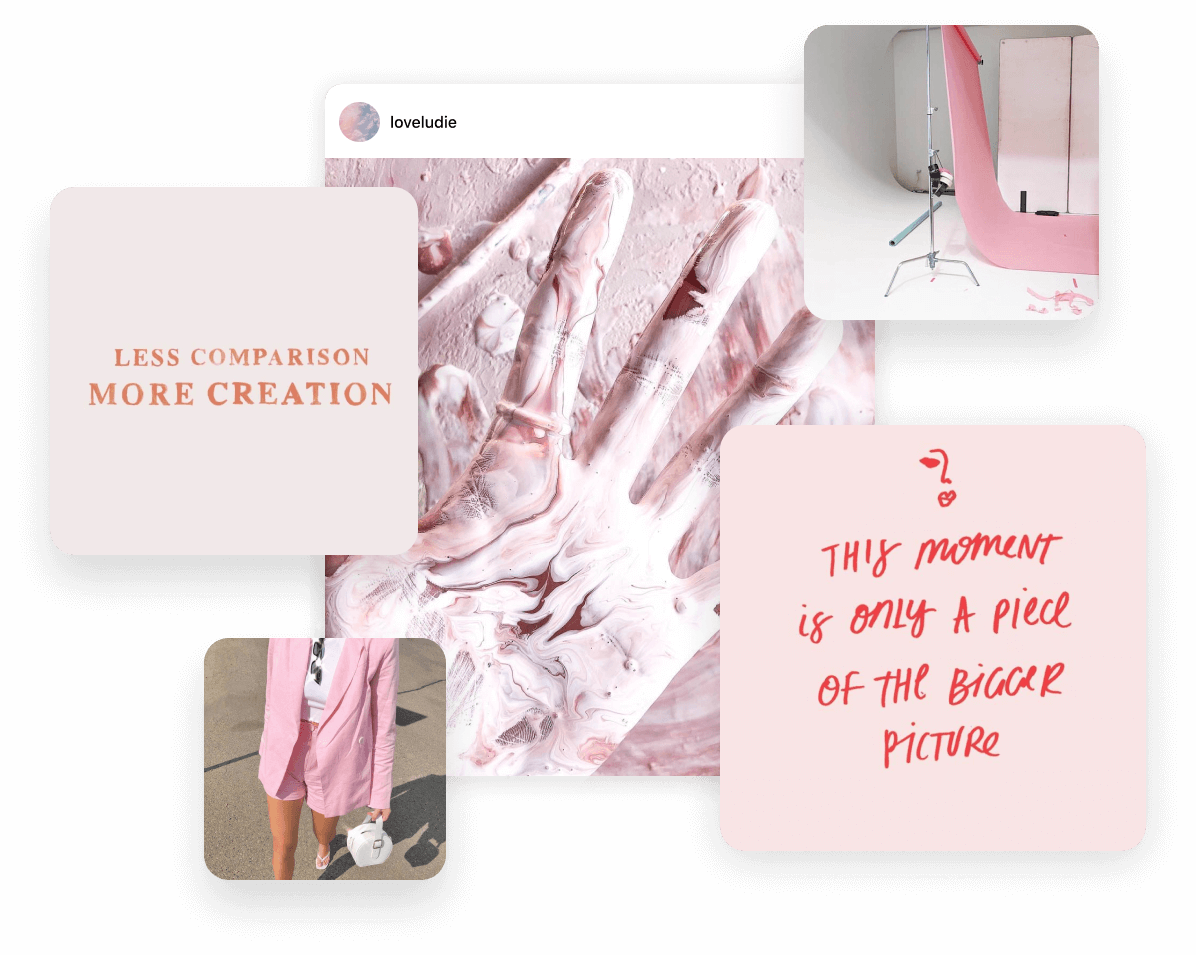 2. Be clear on your point of difference 
Once you've figured out how you're makin' a difference, you've gotta find your point of difference! Due to the saturated nature of today's brand landscape, consumers are craving authenticity and integrity more than ever before. No one can do you like you can, so being you-nique is the best way to stand out!
"In terms of Instagram, it's important to keep in mind that it is quite a saturated market. I think it's crucial to find your point of difference and unique selling point — there are already enough pretty faces on Instagram. So, what is the unique message you're putting out into the world? Once you figure that out, you're already leaps and bounds ahead." – Emma Norris, @_agirlinprogress
If you're struggling to find your point of difference, ask yourself: what does your brand offer that others don't? What do people follow you for? How does your brand stand out from your competitors? How can you do things differently from how they've been done before? 
Once you define that special thing that'll make you brand out from the crowd + keep people coming back for more – make that the centrepoint of your brand message and shout it from the rooftops!
"Be really clear and confident on your vision, your values and stay true to what your brand is supposed to be. Because if you're not clear on your brand image and point of difference, you kind of get lost."
– Jess Holsman, @studywithjess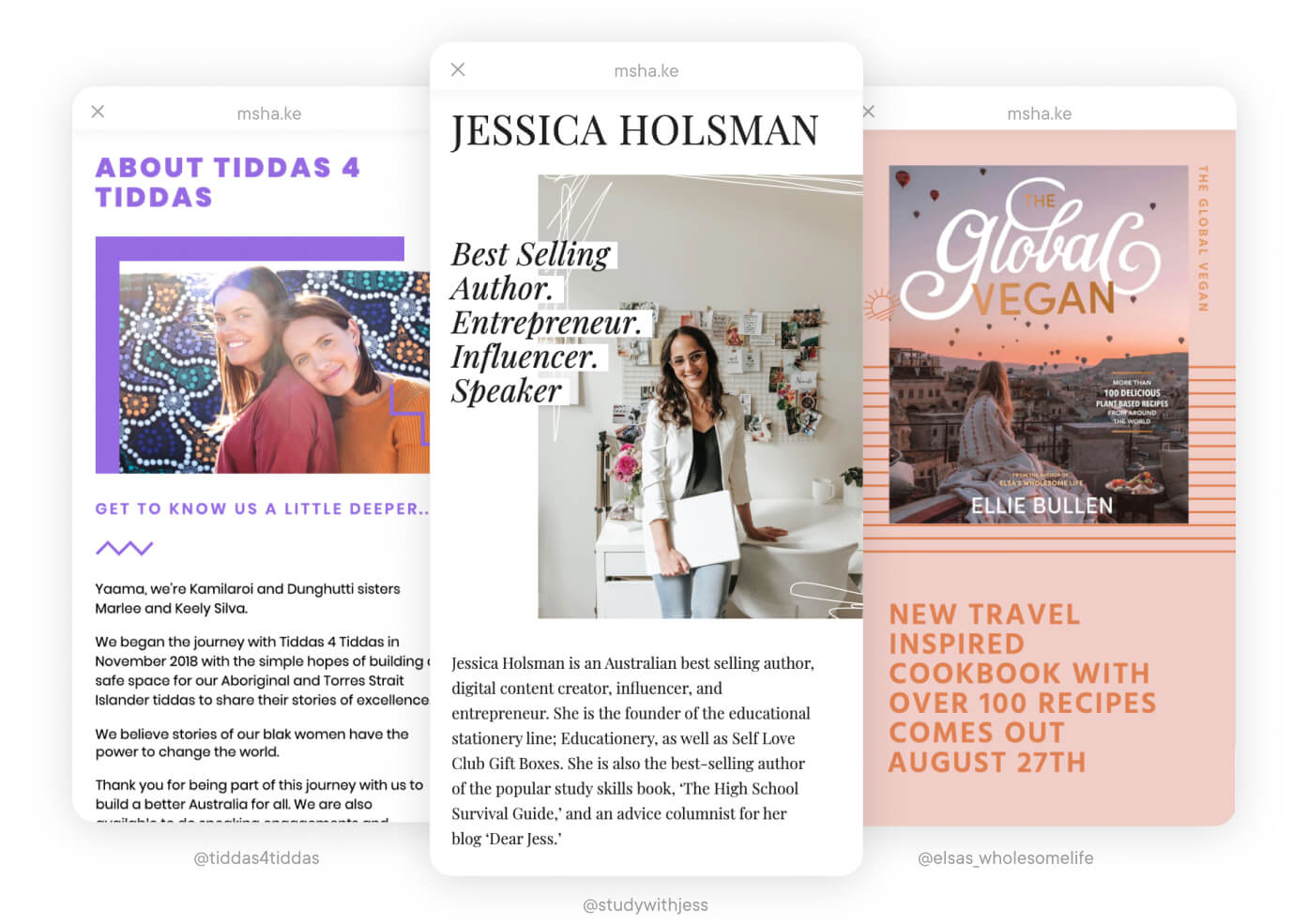 3. Invest in your brand identity
When crafting a stand out brand, clearly defining your brand identity is key. To truly be able to invest in your brand, you should know it like the back of your hand.
There are many components that go into making up 'the brand identity' – brand guide, logo, colour palette, a visual aesthetic, tone of voice, messaging, brand personality. The list goes on. While it's important to define each of these elements, it's also important to remember that one element shouldn't necessarily define your whole brand. Your face doesn't define your whole being, so why should your logo? Every one of your brand characteristics is simply an impression or representation of your wider brand image – a point of difference to help you stand out!
"I think the key to branding is knowing your identity as if the brand was an actual person and keeping things consistent. A brand should have a persona and a clear direction from the very start. Once you have a clear brand guide, it's easy to build anything around it. Successful branding is consistent repetition over time." – Shen-tel Lee, @shentel
Get to know your brand inside out by thinking of it as if it were a real person. You should know every quirk and quality, every strength and weakness. All of the characteristics that make up the substance of what – or rather 'who' – your brand is. And, just as importantly – what it's not. Ask yourself: is your messaging fun or formal? Is your aesthetic detailed or minimalist? Is your brand aimed at a specific demographic, or is it fluid and accessible? 
If you are clear on your brand identity from the very beginning, it will be clear to your audience too and everything else will fall into place. 
"Ask yourself: what do you sound like? How does your brand stand out from your competitors? What are people saying about you when you're not in the room? What do you stand for? Once you have your brand's identity and messaging nailed, everything  – be it marketing, design, social media, copy – all comes together seamlessly." – Anita Siek, @anitaonchi
4. Be consistent
We've said it once, we'll say it again, we'll say it a hundred times… Consistency is KEY! If you wanna build a brand of loyal followers, you need to be consistent with your branding across every single platform that your brand is visible.
Consumers are drawn to brands they can recognise and identify with, so make sure all of your messaging aligns – on your Instagram your Insta website, your newsletter, your blog, your packaging. You can never preach your purpose too many times!
Creating branding consistency not only creates a sense of community and stability for your customers, but will ensure your brand stands out among the 80 or so ads we see on Instagram a day.
"The key to a strong brand is consistency! Making sure you are updating your audience regularly with a consistent content style and core key messages mean they're always becoming more familiar with you and who you are. One of the worst things that can happen is having your audience confuse you for someone else. People need to be able to recognise your brand anywhere they see it. You don't want to put time and effort into generating brand awareness across different online platforms if nobody can recognise the content is actually yours! " – Stephanie Kaye, branding officer @dashofmilkagency
Posting content regularly, engaging with your community + consistently communicating your brand message to your customers is a surefire way to build a strong, sustainable brand. Don't strive for perfection – strive for authenticity, value and consistency.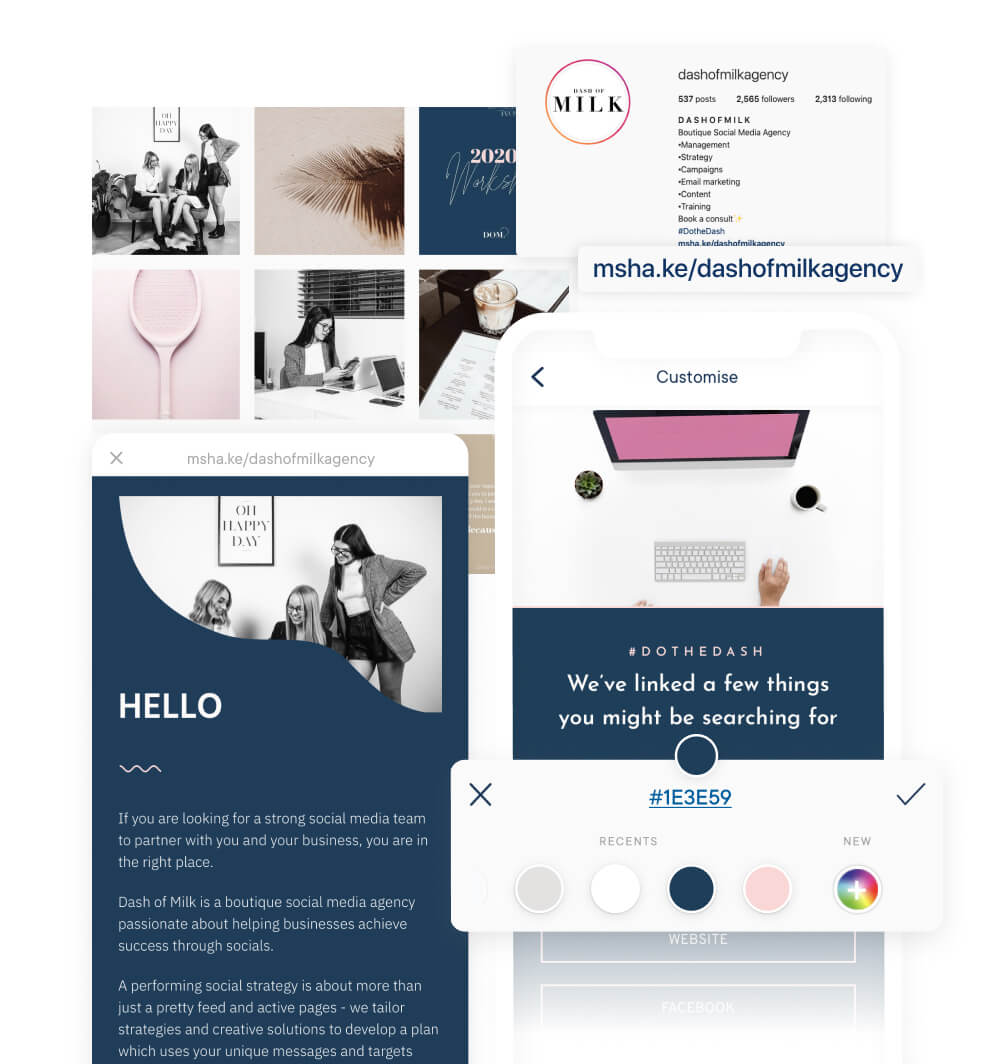 5. Nurture your brand fans
Everyone craves a lil' bit of connection – so, if you want people to really connect with your brand, show them you're human! Building an engaged, supportive and loyal following is perhaps the most crucial element of building a successful, sustainable brand. Your brand fans are the ones who will be buying your products, engaging with your content, fostering your growth. Bottom line – your customer base is gonna make or break your brand.
"Instagram is just one of our brand touch points, and we find a lot of consumers go to Instagram to do their own "credit check" on us to make sure we are the right fit. Knowing this, we use it to create a feeling, so that when our followers see or read our content we make sure we provide value, connection, community and support. Those are key things consumers look for in a co-working space, so if they can experience it on our Instagram they automatically connect with our brand.  It's almost like you are part of the One Roof community just by following us." – Sheree Rubinstein, @oneroofwomen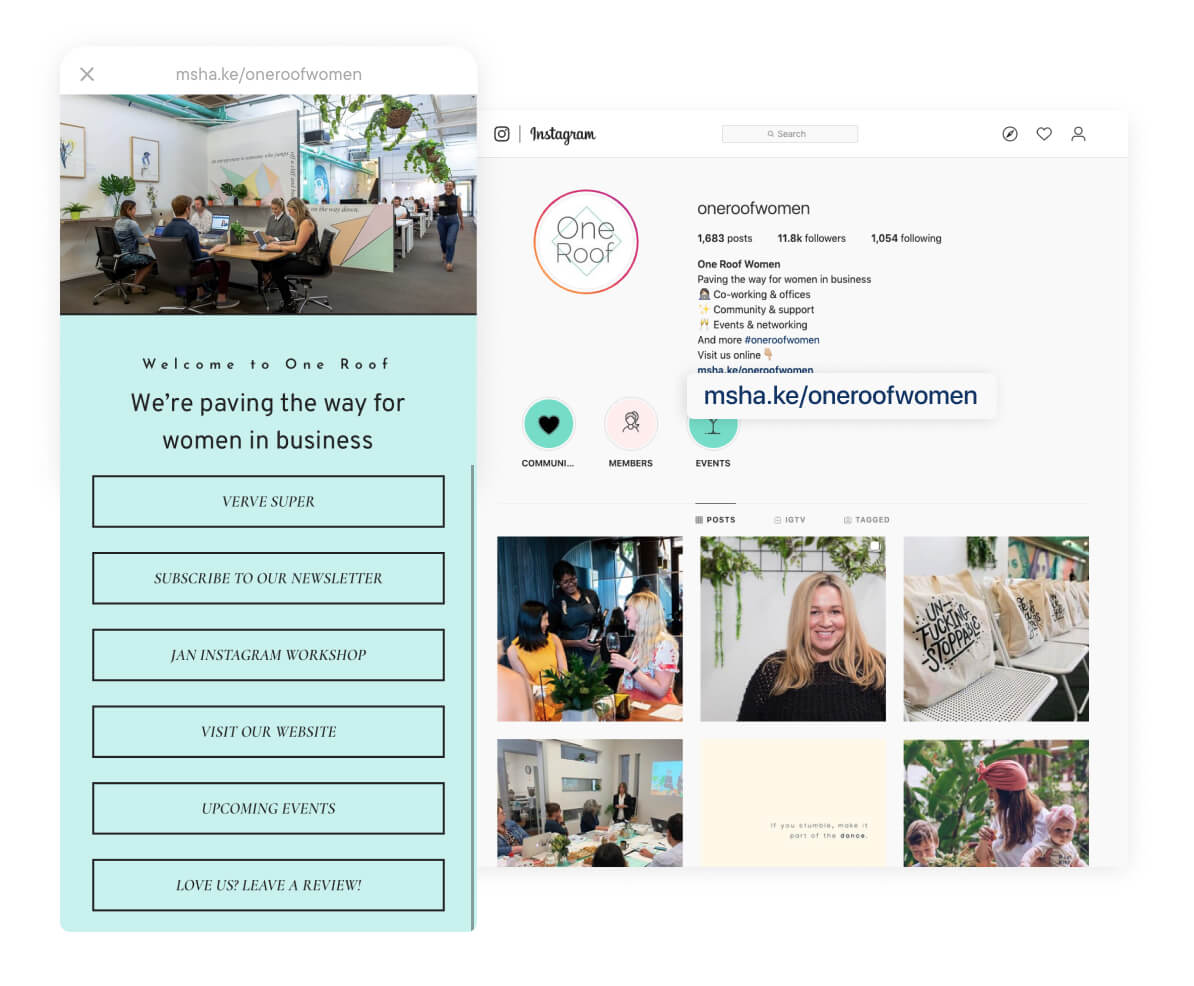 But remember – quality over quantity. Whether your following is big or small, it's SO important to connect with your community + nurture your brand followers to make them feel valued.
Your vibe attracts your tribe, so make sure the unique message you're puttin' out into the world really reflects your brand and what you stand for. Engage on socials, communicate openly with your customers + always strive to give your followers value. Oh, and be HUMAN!
"Know your audience, and know them well. Create human-centred content, and not just "content" for the sake of content. Instagram shouldn't replace in-human connection. As humans, we are wired for connection. Instagram should be a medium to complement this, as opposed to replacing human to human interactions." – Anita Siek, @anitaonchi
6. Constantly iterate
You can't fight progress! As you, your vision and your audience grows, your brand will grow with you. Brands aren't meant to be static. They're meant to move with the times, transcend with the trends and be constantly evolving into something bigger and better. People turn to brands for trust, guidance and stability – so don't be afraid of change, embrace it!
"You change and so will your brand. I think it's a good idea to write down what you're about on paper – what do you love? What's your niche? What kind of content will you post? And very importantly: what won't you post." – Emma Hoareau, @emmahoareau
Trends will come and go, so don't feel like you have to follow every fad to stay relevant. Find which movements align with you. Be selective about which trends you choose to ride. And don't be scared to experiment with new ways of doing things. Test your brand boundaries, constantly question the status quo, ask for feedback, iterate and reiterate – make sure you're always movin' forward to make your brand the best it can be!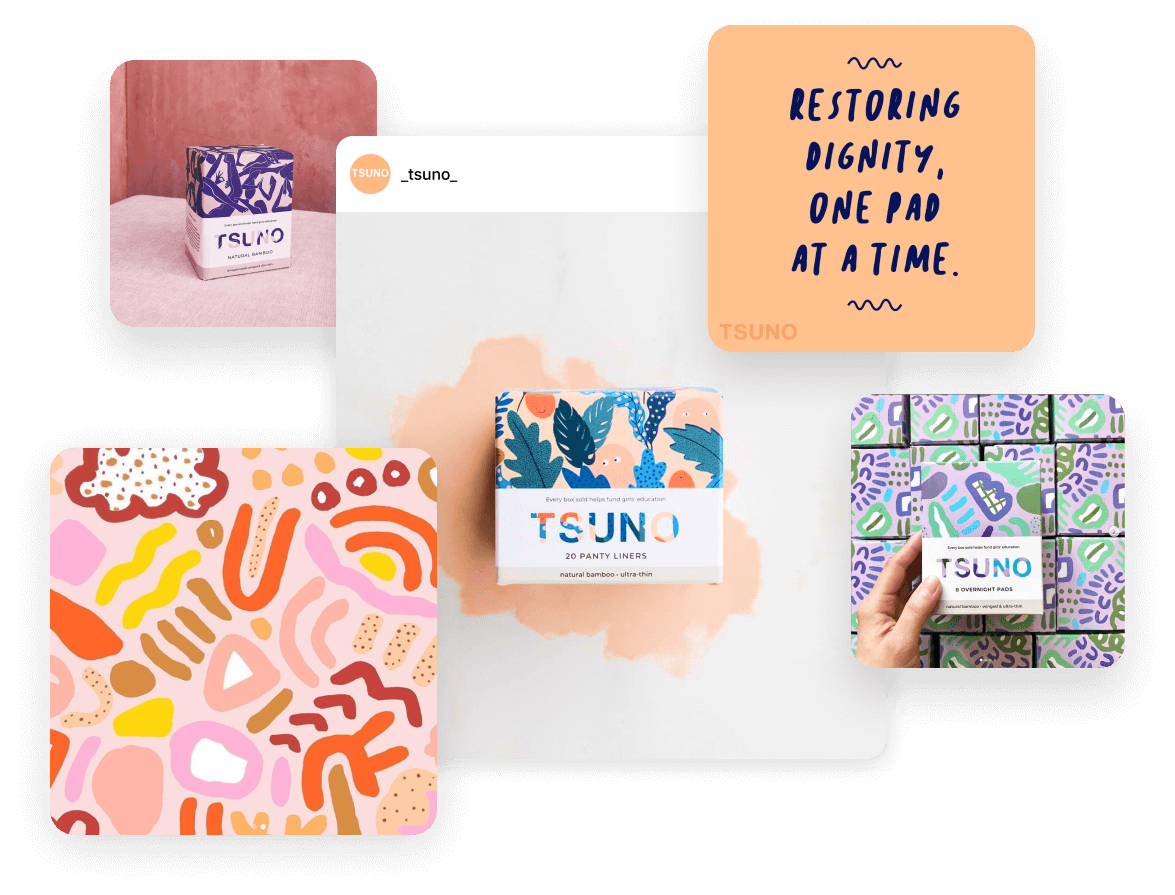 "My brand has come from within me, so up until recently I had never done a 'brand guide'.  It was all just in my head and heart. If you're feeling lost with your brand, my advice would be to take a step back. Strip yourself back to the top 5 things you LOVE, and ask your closest friends to describe you in five words. See how that sits and go from there." – Roz Campbell, @_tsuno_
So there you have it – the ultimate brand guide for 2020! Now that you have all the tools, knowledge and wisdom to craft a stand-out brand, it's time to put 'em into action. What are you waitin' for? It's a brand new day!