They say that a picture is worth a thousand words, but what goes into capturing it says a thousand more. Quirky, up-and-coming Melbourne photographer @bratwuurst is an absolute pro at documenting her surroundings and capturing the essence of others with her intimate, dreamy portraits. We spoke to the modern-day Holly Golightly about her creative evolution, her photography techniques and her advice for capturing the perfect shot… 
The name @bratwuurst was a joke I had with a friend which became my Insta handle. I was tossing up whether to create a new account for my photography when I started, but wanted to keep myself a part of my work so I kept it as one. I've been tempted to change it a few times ,but @bratwuurst is easier for people to search for than my actual name which is hard to spell correctly.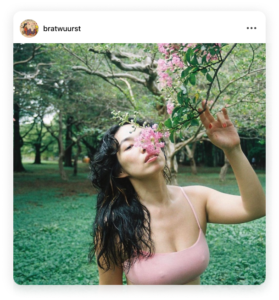 How did you become a photographer?
I played around with disposable cameras as a kid. We would always get one at the start of school holidays and that was our treat. My dad had a few old cameras lying around which I picked up when I was around 15 or 16, and from then on I've always had a collection of cameras. I love the way they all show a different perspective. 
I've always loved documenting life around me and hearing people's stories, and when I realised I could do something meaningful with the things that intrigue me… I did! 
What's your mission? How has Instagram helped you achieve it? 
My main mission is honesty. Honest portraits and honest people. As a photographer I have spent so much time in my subjects' homes and spaces, and a lot of them have become good friends of mine. The portraits are always as much theirs as they are mine, for them to reflect on and grow from. 
"Instagram has helped connect me to the right people. As much as I want to live in the real world, being an online creative is something I'm settling more and more into. It has the power to hold so many conversations and communities you wouldn't usually find yourself in." 
My goal is to empower women from every walk of life, to end body shaming and help awaken people into thinking non-judgmental thoughts about other people, and especially themselves. I just want to create a real and meaningful platform for whoever comes across my work.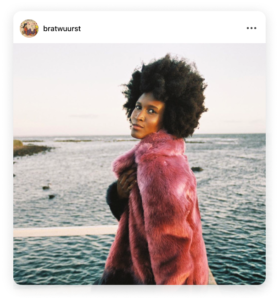 What's your background and how did you develop your current style? 
Like most people, I had a hard time in school as a teen. Never felt good in my own skin. I was raised religious, in an incredibly artistic community church, but was always questioning and pushing the boundaries. I left the church and my family home at a young age and left my whole life behind to start a new one on my own, but a lot of trauma and experiences early on left me with pretty bad mental health.
I'm a much stronger person now because of it and don't regret any part of my life, no matter how grim. The variety of people I grew up with helped widen my eyes to the world around me and how many stories people have within them.
What drives you to create?

PEOPLE. I need people to keep me inspired and I love them for their willingness to let me into their lives. As the people who I've photographed will tell you, I get all giddy when I find the right location for the right person… there's a lot of squealing involved! I follow lots of other photographers and people who I could only dream about shooting. They always inspire me to create!
I also love cinema and films, and I try to watch something new each week. Maybe it's the narrative or the way people seem so mysterious, but anything pre-1990s is a big yes. 
Are your shoots planned out or spontaneous? What's your creative process? 
They're usually brewing in my mind for a long time before they're brought to life. Either I'll find the person or the location first, then I'll work hard to find the other. Sometimes my subjects and I will just roam until we find the right spot, or we will hang out at their home and shoot there.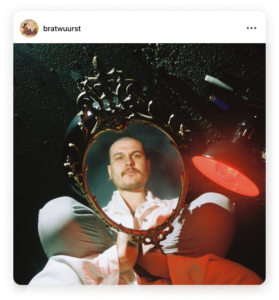 What's your advice for capturing the perfect shot?
Get out there and take it! Unfortunately you can't control the weather so you may as well get out there and go for it. I am 100% a 'go with your gut feeling' photographer. I don't work with run sheets or set-in-stone plans. Some of the best shots you will take are the ones you don't plan!

What are your top editing apps or programs?
I sometimes use Photoshop but mostly just use the editing tools in iPhoto… very basic stuff. Anything else makes me feel like I'm lying to my viewers and altering the truth of the images. 
How do you feel like your craft has evolved since its beginning? 
As a photographer I've gotten so much better at communicating with subjects and working in different environments. I work hard to create a safe relationship between myself and the subject – that has taken lots of time and practice. You can feel it in an image if a person is truly comfortable or just posing. I can always be doing better and can't wait to see how I evolve in this practice.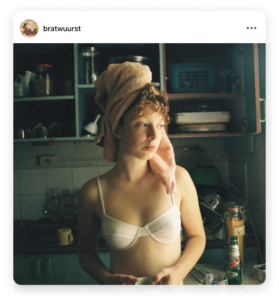 What is the hardest thing about being a creative in the public eye?
Thinking that you always need to be creating. That was the hardest thing for me to get over – accepting the ebb and flow of my own creativity and working when it's best for me.
I also get very nervous when people approach me in public because they know me from Instagram, I'm getting better at it though.
Do you find Instagram to be a platform for positive change?
Most days, yes! You can learn so much about the world around you so simply. There are incredible communities of support for like-minded creatives, you have the chance to meet people with similar beliefs and be inspired by other creatives works, and it's also full to the brim with astrology memes!
"My content will always align with my own views on the world surrounding us. As the social climate changes, so will my work. I hope to encourage people to not just stick to the status quo. Question more often, rebel more and stand out from the crowd. "
How do you think people can better support female creatives?
Hire them! Pay them for their work! Buy work from them! Comment on their work! Recommend their work to friends! Share their work!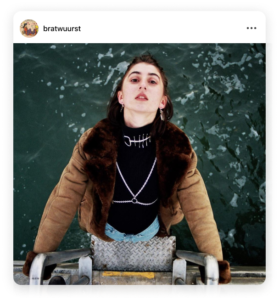 Who are some creative women on Instagram that inspire you?
 This list could go on for years, so I'll keep it to my top 8: 
@bad.gal.rene (and their pup @an_gap_toothed_bitch)
Words of wisdom for others wanting to become a photographer on Instagram?
We are so lucky to be in an era where we can share our work online, and to such a welcoming and diverse community! You will always be evolving in yourself and your work, nothing will be perfect in your own eyes straight away but getting feedback and taking the step to share your work will be the best first step.