Are you a born #foodporn junkie? Whether you're hungry for inspiration or just plain hungry, you've come to the right place. Home-cooks turned professional foodie 'grammers @inspiredtaste have people drooling from one end of Insta to the other with their delicious content, easy recipes and mesmerising step-by-step tutorials. We chatted to the brilliant minds behind the scenes, Adam and Joanne, to get a pizza their mind on how to cultivate a truly mouthwatering feed…
How did @inspiredtaste come about? 
We started @inspiredtaste in 2009, so we've been around a while. We've also worked with other brands and developed recipes that have been published on other websites, in magazines and even in cookbooks. While we love working for others, our passion is our blog 'Inspired Taste'.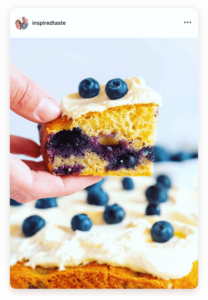 How has Instagram helped you take being a foodie to the next level?
We love it when someone shares an experience or photo of them making one of our recipes. We have comments and reviews on our blog Inspired Taste, but Instagram makes it easy to connect with home cooks and foodie fans making our recipes. The time we have spent on Instagram has encouraged a thriving community. We chat with our followers through comments and even in private messages.
What inspires your delicious foodie content?
We love food! Getting up each day and focusing on new recipes, reviving old ones, and communicating with other foodies is pretty awesome. We eat out a lot and travel, we follow lots of talented cooks through social media, and we both love flipping through food magazines and cookbooks. 
Your feed is absolutely mouth-watering (pun intended)! How do you create such vibrant, high-quality content? 
Honestly, food is beautiful. We love eating colourful and vibrant food ourselves and so that's what we share it on Inspired Taste and on Instagram. We love natural light for photography and videography. We also try to incorporate lots of colour and texture into each shot, which is why so many of our recipes include vegetables and herbs. Great photos and videos take practice and don't need to always look perfect! We aren't the best food stylers or photographers out there by any means, we just do our best to let the food shine.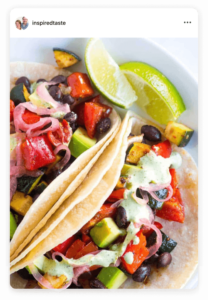 How did you build your foodie following?
It took a long time. Adam and I make our income through our blog and use Instagram to find home cooks and foodie 'grammers that might like our style of cooking.
We don't do sponsored posts at the moment and don't really plan to start (not that it's a bad thing, it just isn't our goal). Instagram has been really effective at gaining new and engaged followers. It's also an excellent medium to communicate with them. The best advice we have is to appreciate and covet the followers you gain. Numbers aren't really what matters, it's engagement and how much your followers care about what you share.
Do you find IGTV + Stories to be a valuable tool?
We use IGTV, but as for Stories – we love them! We share mostly recipe content, but when we travel, we have found that our readers love it when we share where we went, what we ate… We don't get overly personal on Stories, but that's our choice. I know some other Instagrammers that are quite personal and they get a fantastic response for doing so.
Your videos are on-point! What's your secret?
Early on we decided on a style of videography for our brand, and since then we have tried to keep a similar feel to our recipes and the way they are photographed or filmed. We like our videos to flow and move a little. We want our videos to show that we are actually making the recipe ourselves and in our kitchen – it's always Joanne's hands in the footage and Adam is the one filming. We've shot every video we've ever shared. Since we do everything ourselves, we know our style and aesthetic will come through.
"Videos are fun to watch. All we are trying to do is to convince more people to make our recipes. We like lots of "likes" just like the next Instagrammer, but at the end of the day, we want people to be inspired to go home and make something delicious."

Do you plan your foodie content or do you just wing it? 
We never wing anything, but we don't necessarily write down a shot by shot plan. We talk through the recipe before hand and since we always create videos for our own tested recipes, we've made the recipe plenty of times in the past.
What are your go-to Instagram tips and tricks?
We find that simply sharing one video or photo to our feed each day and keeping up with Stories most days is all we really need. We do our best to keep our content on brand and consistent, and Stories have helped us tremendously. 
What equipment and programs do you use?
We use one Nikon D850 with a couple of lenses. We photograph everything for the blog with that as well as use it for filming our videos. For editing, Adam loves Photoshop and Final Cut Pro (for videos), and we do use Later for scheduling.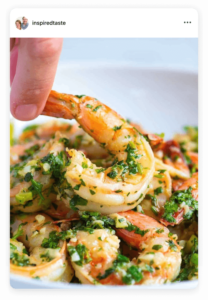 Which other Instagrammers inspire you?
There are so many! We love @halfbakedharvest, @heartbeetkitchen who also has the adorable @heartbeetkittens account. While it isn't food related, We LOVE following nature and travel accounts. Right now, we love @washingtonexplored since it encourages us to get out of the kitchen every once and a while and explore our beautiful state.
How do you manage to stand out in a sea of foodie accounts?
We share food and content that we love. Since it's just the two of us, everything we share naturally has our spin. Try to have fun and share what you think is great content. There are so many people on Instagram, someone is going to agree with you! Just keep going and be true to yourself.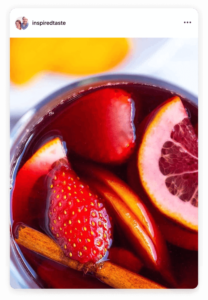 What do you wish you could tell yourselves when you were just starting out?
Don't compare yourself to other accounts. You have no idea what they feel. Everyone has their own struggles and what seems like success to one person is probably not the same for another. Just do what your gut tells you is right, then look back and check to see how it went. If you need to make an adjustment, go for it. Running a business and having an online-based career is hard. Stop beating yourself up!