Instagram comparison is a trap we've all fallen into. While social media has an amazing ability to connect us, it can also cause us to compare ourselves to people who we may think have it better. The grass always seems greener – and better filtered.
So how can we stop falling into the dreaded comparison trap and embrace more of the good stuff?
Enter Lucy Sheridan. As the world's first – and only – comparison coach, Lucy offers advice on how to tackle the pitfalls of today's modern world, aka: an uplifting reminder that you really are great just as you are.
Sounds sweet, right? We couldn't resist the chance to chat to Lucy about all things Insta and how she uses the platform as a force for good…
For starters, how did you become a Comparison Coach?
It has been a case of teach what you need to learn! Comparison is something I have experienced all my life and it was following spikes in my anxiety in my late twenties that I decided I needed to really take action. This started with reading books from the self-help shelves then going to mindfulness events to take back control of my thoughts, watching TED talks and motivational videos to make me feel inspired about my life again, and ultimately, enrolling in formal life coaching training to take my learning broader and deeper.
A few changes at what was then my full time job led me to decide to take the leap to self-employment and take on comparison as an area of study and work. That was six years ago.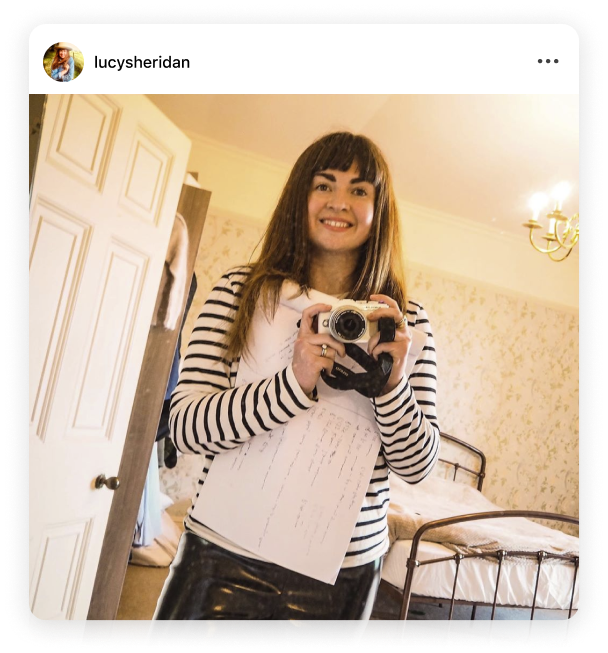 How did you develop your positive voice?
I knew it was important to choose a specialist subject and stick to it. When I came back on Instagram a couple of years ago and switched to a business account, I threw myself at it. Posting every day, twice a day and building conversations and sharing free advice and tips about comparison.
I was naturally a bit nervous at first and questioned whether I was being too niche. But when people like Zoe Sugg and others started following me and sharing my thoughts and posts, I knew I was onto something.
Stories and IG Lives have also been invaluable in helping me connect and grow the community as the ad-hoc, natural style of content lets people know the real me and builds connection.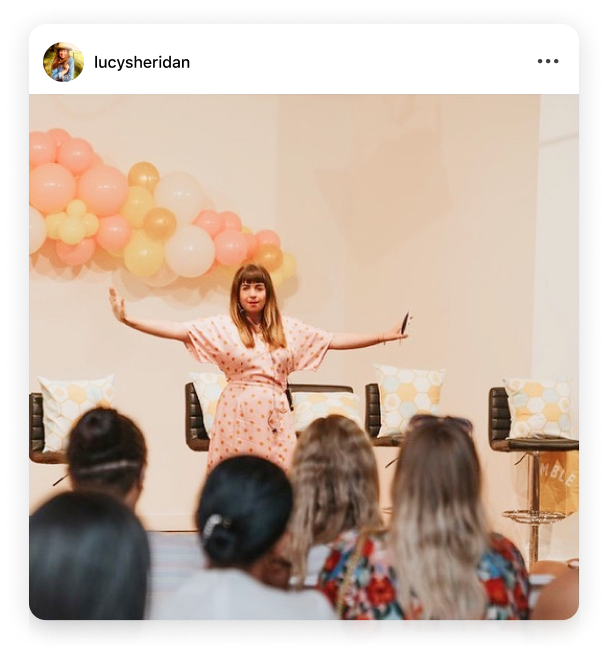 Do you feel the pressure of having a large following?
I do feel pressure to come up with new and interesting ideas sometimes and if that happens and there's a creative block, I take a couple of days off to let my creativity to start bubbling again. The app isn't going anywhere, and I don't want to ever get pulled into churning stuff out.
I always follow the criteria of "Does it entertain? Does it inform? And is it relevant to comparison?" (my specialist subject). This centres me and helps me feel confident and like what I share will hit the right notes and give people what they would like to see and expect.
"The app isn't going anywhere, and I don't want to ever get pulled into churning stuff out."
Ultimately I post for me and try not to think too much about numbers. I'd be posting what I post if I had 40 people or 40k people in the community. The numbers may come and go, but I need to stay true to myself or I'll lose my flow.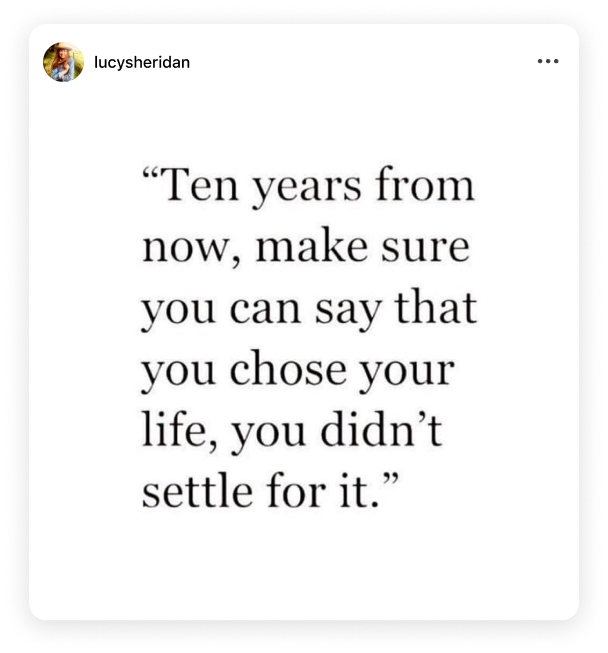 So what are your tips for avoiding the comparison trap?
#1: Notice what you notice
Your comparison is trying to reveal a hidden jewel of insight to you, so notice what you notice. For example, if your comparison is triggered when you see someone off on holiday again, what does this tell you about your need to travel? How are you serving that? In reality, someone else's air miles have zero to do with the fact you have been ignoring your own need to get a change of scene.
"If your comparison is triggered when you see someone off on holiday again, what does this tell you about your need to travel?"
#2: Stay aware and course correct
Sometimes our comparison is a false flag. Do you actually want what they have? If no, draw a line under it and let it go. If you do, then what are the reasons that are motivating you and driving you forward? Getting clear on these is rocket fuel for your dreams and cuts the oxygen off to comparison.
#3: Connect with your true self
If you can, take your left hand and place two fingers on your right wrist and feel your pulse, let your life force tickle your fingertips. Then take your right hand and slowly but firmly rub your heart in a circular motion, which will soothe your feelings. This also increases your capacity to love yourself and others and, ultimately, is an incredible comparison calming tool.

What's the best thing about growing your IG?
Definitely the people I have met and the conversations that have opened up through what I share. That said, I also think it's amazing to live at a time on earth where it is possible to earn a living through being present on an app and sharing what you feel is important. That blows my mind!
How do you deal with negativity?
I am pretty lucky that I have not had much negativity on social media. I think that's partly because I curate and create a positive space on channels. A key part of this is following and hanging out with positive people with good energy, as it can be contagious and keeps me feeling good on the whole. I also use Purdey's Positivity Check-Up – it's a very fun and easy way to find positive accounts to follow so your feed is filled with inspiring and uplifting content.
If I ever feel like it's becoming negative, I take a bit of time out and focus on boosting my mood so I can come back feeling more open and optimistic.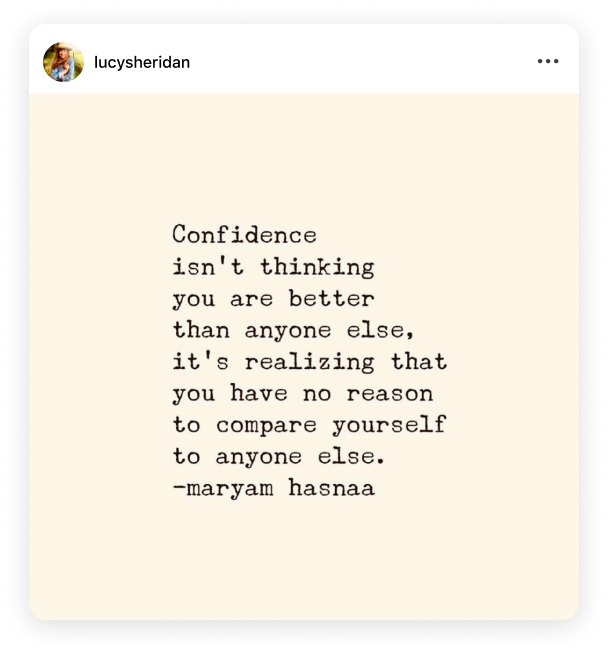 How can we build a positive community online?
Keep showing up and define your own consistency. I don't post every day twice a day on my grid anymore, but my community knows that when I do show up, whether that be daily on stories or in my grid, that I'll be sharing something that will make them think and feel better.
Also, don't filter yourself. The posts that I thought were a bit direct or specific – and made me hesitate – are the ones that have done the best and have been shared far and wide.
"My community knows that when I do show up, I'll be sharing something that will make them think and feel better."
Finally, what will make social media a better place?
If we consciously look at how our content can be mood-boosting, then we have the opportunity to set off a positivity chain reaction and good vibes are contagious! Purdey's Positivity Check-Up has helped me be more accountable to this – I scored 75 % but I thought I would be higher and I'm excited to see how I can increase my own score. Go and try it for yourself.
I think it's so important that we each take responsibility for our own little corner of the Internet. We can do this by being the energy that we want to be and see through our content. I think being really natural in our approach and words is key to making social media a better place.