Want to get your Instagram Stories Highlights on fleek? You've come to the right place.
It's no secret that we're all Instagram Stories junkies. When the feature first launched in 2016, we were deeply excited to have a place to get creative. And also share our daily vibe without obsessing over the right caption or number of likes.
The one downside? All that golden content disappears in the blink of an eye. Or within 24 hours to be exact.
Enter Instagram Stories Highlights. After the app rolled out this major update, we had the opportunity to assemble the best of our stories to be watched again and again. Basically a greatest hits reel that lasts *forever* (or at least as long as you want it to).
With stories no longer a disappearing act, they've become the millennial version of immortal art. Now content creators are upping their game with gorgeously-curated designs, nifty apps and custom covers. On the other hand, brands are using them for everything from shoppable products to educational lectures.
This is why it's so worth joining the highlighting collective. They're the perfect way to showcase your brand and let followers know what you're all about. If you're wondering how to add highlights on Instagram, here's your need-to-know…
How to use Instagram Stories Highlights
Highlights are basically thumbnails for your profile. You can combine as many as 100 photos and videos into one highlight and name it using text or emojis. Here's how to make highlights on Instagram…
To create a highlight, simply tap the circle with a "+" sign underneath your bio. This will automatically take you to your archived Instagram Stories. Select the content you want to group together, and add a name (it's best to keep it short so others can fully see it on your profile). Select the image you want as the cover photo, and tap "Add". The highlight will instantly appear on your profile.
If you want to edit or delete an Instagram Story Highlight, you can do that too. Just go to your profile and press on the highlight you want to change. To delete an Instagram Story Highlight simply tap "Delete Highlight." This will remove the highlight from your profile, but deleted stories will still be saved in your archive.
To edit one of your Instagram Story Highlights, tap "Edit Highlight." You can now change the cover image, edit the name of the highlight, and change or remove the stories that appear in your highlight. When you select "Archive", you can tap more pieces of media to add them to that highlight. Tap "Done" et voila!
How brands are using Instagram Highlights
Instagram Story Highlights are as versatile as they are powerful, giving you a handy tool for showcasing your style in a crystal clear way. They essentially let you highlight your best bits, from behind-the-scenes footage to swipe-up-able shopping lists that users can return to on repeat.
Need a dose of inspiration? Take note of these accounts who are using Highlights to make their profiles even grabbier…
#1  GLOSSIER
This beauty brand has been nailing the Insta game ever since blogger-turned-girl-boss Emily Weiss launched it back in 2014. @Glossier is always a winning account to turn to if you're in a creative rut because the brand has truly nailed its signature theme (hello, Glossier pink!) and uses the latest IG updates in a cool, fun way.
As for Instagram Story Highlights, we love how Glossier has a sequence for each of the key products. Have a watch of "The Supers", for example, and not only do you get the full rundown of what the products actually are (ie: amazingly good serums) but you can follow a real woman's daily skin journey.
This mixture of realness with the all-important science stuff makes for a highly engaging and informative story. Plus there's a swipe-ups to shop as you go, naturally.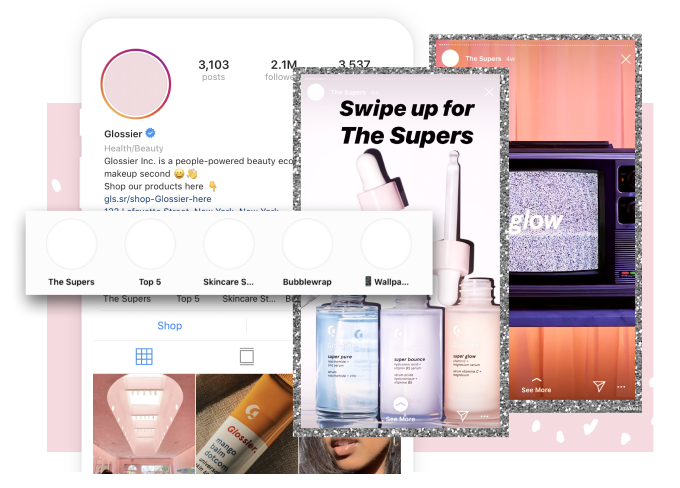 #2  NIKE
There's no denying @nike is all about the athletes. The sportswear company has a grid filled with a variety of striking ad campaigns, empowering videos and shoppable posts but when it comes to Instagram Story Highlights? They are super streamlined.
Each highlight is reserved for an individual athlete, giving us an insight into their inspirational story via custom-made video snippets. The sequences don't go on too long and are powerful, snappy and emotive way with the final slot offering a call to action to discover more and get shopping on the Nike website. Just do it? Yes, we will!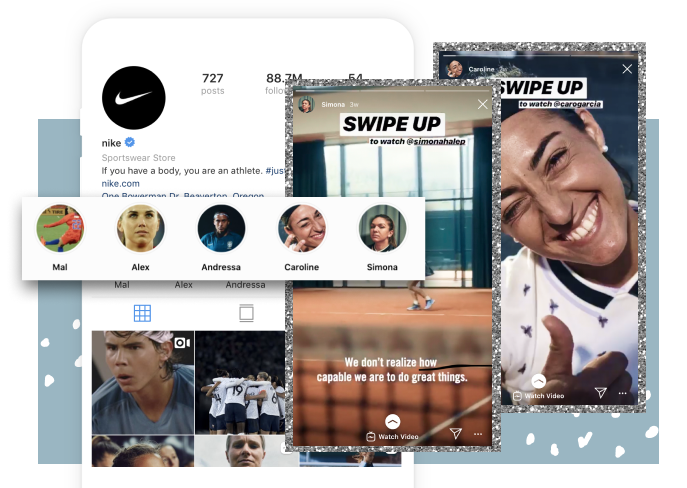 #3  The Honest Company
It's quite incredible to see what a behemoth The Honest Company has become. Co-founded by Jessica Alba in 2011, @honest has fostered a community of predominantly mums looking for safe and effective household products. Instagram was the key platform for this and the brand's stories prove how a little personality goes a long way.
Rather than just a stream of product shots, the Highlights are a collection of motivational quotes (great for reposting!), real stories and practical recipes you can screen shot for later. But the real winner here is the behind-the-scenes content, showing what it really takes to to build a mega brand. It's a great way to humanise your brand, especially when you have a celebrity founder, allowing users to connect to the people behind the profile and ultimately build an engaged audience.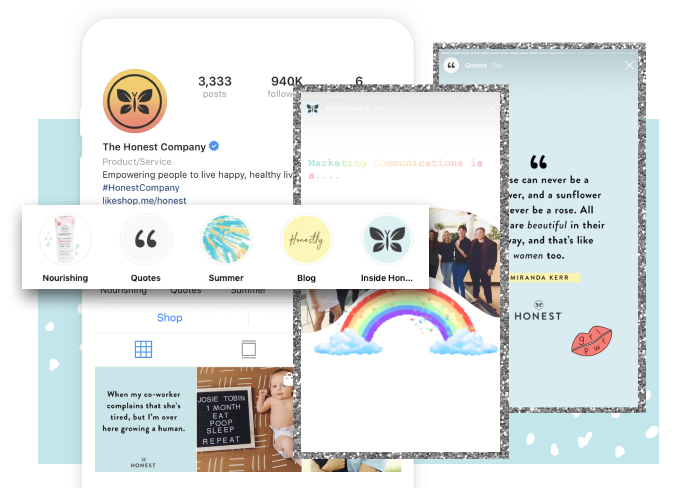 #4  ASOS
If 9 million followers are anything to go by, @ASOS is doing something right. The team's strategy of spotlighting user-generated content and brand ambassadors has worked wonders for building a loyal following and ultimately, boosting sales. So when it comes to Instagram Story Highlights, it's hardly surprising to see they've adopted a smart approach.
The first thing to notice is the cover images. Each one is a fuss-free black and white icon that instantly tells you what the Highlight is about, whether "Insiders" or "Activewear". It creates a consistent and unique aesthetic that has become hugely popular and is easy to emulate (more on that later).
When you watch the highlights themselves, ASOS has made great use of text to extend their brand identity, often using the "Strong" font in a variety of colours. As for the content, the Highlights offer a range of ideas for fashion lovers, including styling advice, shopping hacks and sustainability tips, as well as a few celebrity LOLs thrown in for good measure. It's a winning combination.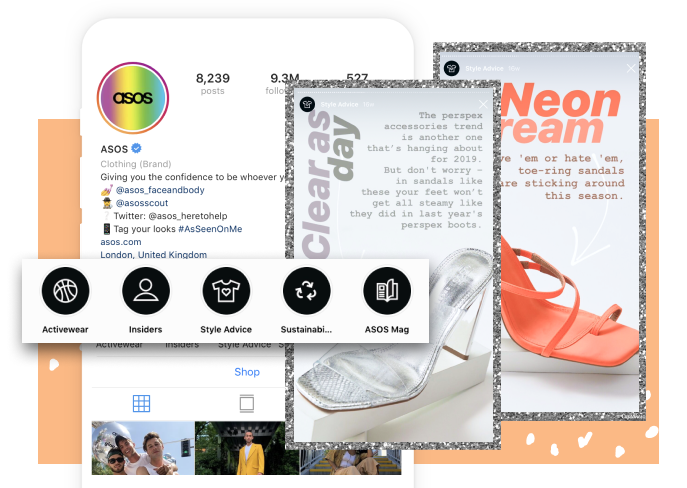 How to make Highlights on Instagram
This neatly leads us onto the technique for using a custom cover image on your Instagram Story Highlights. The default cover is the story in that highlight which you posted first. This is an easy option, but as you've no doubt noticed from your favourite brands and influencers, custom covers are now all the rage and can take your profile to the next level.
Not only do custom covers give you the chance to be creative, they will generate a more cohesive, stylish and personalised profile. Plus, they make your highlights super clear so followers can quickly find what they're looking for.
Logos can't be created within Instagram (more's the pity), but there's plenty of third-party apps and websites out there that can help. These are our current faves…
A Quick Recap on Instagram Stories Highlights
Use your Highlights to wow. While stories is brilliant for sharing in-the-moment content, Highlights is your opportunity to spend some time deciding on what works best for your overall profile and curating a narrative that you can build upon in the long term.
Decide on your goal. Do you want to share behind-the-scenes footage of your daily life to create an engaged audience? Are you into tutorials that are practical for your audience? Perhaps you want to increase sales of your product and boost your income through Instagram? Whatever the reason, figure out what it is you want your Highlights to do and keep a focus for each category.
Find your aesthetic. Getting creative with the cover art allows your profile to truly pop and grab people's attention. Choose a style that aligns with your branding, whether that's pretty illustrations or bold logos, and keep it cohesive for maximum impact. Now go forth and happy highlighting!