'Earth' without 'art' would just be 'eh'…
As an aspiring astronaut, a talented artist, an environmental activist and the founder and CEO of both Hutch Store + A Cleaner Coast, not even the sky is the limit for the amazing Jenna Hutchison. One of our most creative 2019 Instapreneurial Women to Know, the creative genius behind @loveludie is inspiring people all over Instagram with her creativity, unique art and experimental style.
Between her passion for fashion, her artistic aptitude and her self-proclaimed obsession with outer space, this amazing lady is an absolute expert at reaching for the stars. So, we simply HAD to pick the brain of the creative genius to learn how she's perfected the art of being truly unique, both on and off Instagram…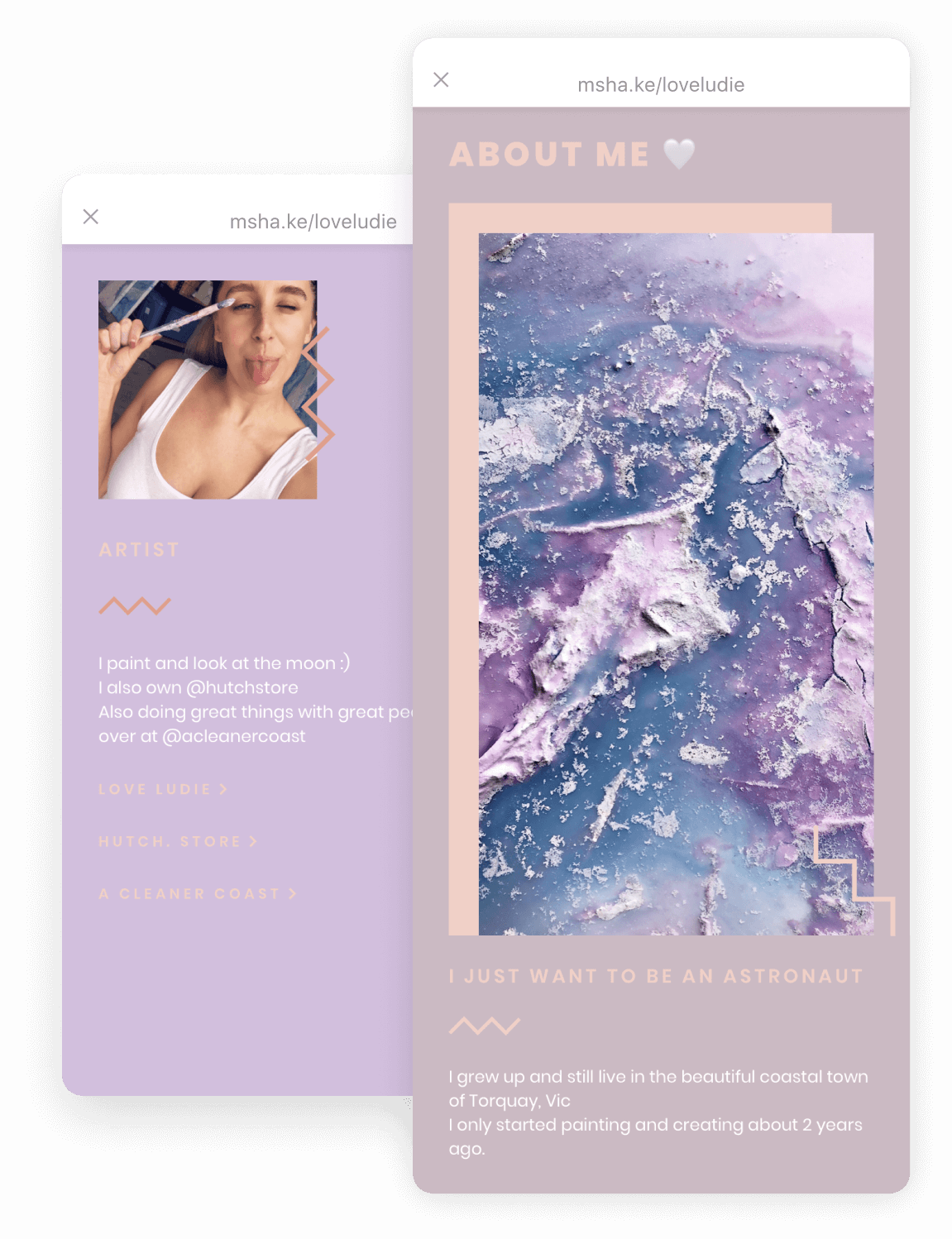 I'd had a Tumblr blog for a year or two before Instagram came about. I still remember the moment I was trying to find an 'available' name. I wanted it to be something different, and something that meant something – with a bit of a back story.
Ludie was the name of my imaginary friend when I was little. So I guess the name is essentially LOVE from my imagination. I've had that handle for about 7 years now and I've never stopped loving it. It's something that I can work into everything I do in life as I grow and change. The name will always be relevant to how I'm sharing my ideas or creativity. I actually won the ANZ Creative Branding award last year. It was so amazing to not only win something like that, but get recognition for something I have built purely from my imagination and creativity!
The candle aspect of Ludie came about when I was working in a design firm in Melbourne. I was buying candles every week for the office and really wanted to learn how to make my own. My boyfriend at the time had a very good friend that was getting married, and long story short – she asked me to make candles for her wedding. The wedding was then photographed for Vogue and… I became a candle maker. It was always something I wanted to do and something I loved doing, and from there it grew and grew.
The artwork aspect came about when I was designing boxes for the candles. All the candles' elements had been hand-painted or hand-drawn, so I wanted to keep that aesthetic. I started painting and loved it. I'd post progress shots on my Instagram and people asked if they were for sale. I absolutely loved painting – the candle boxes never got finalised, but the painting direction of my life sure did.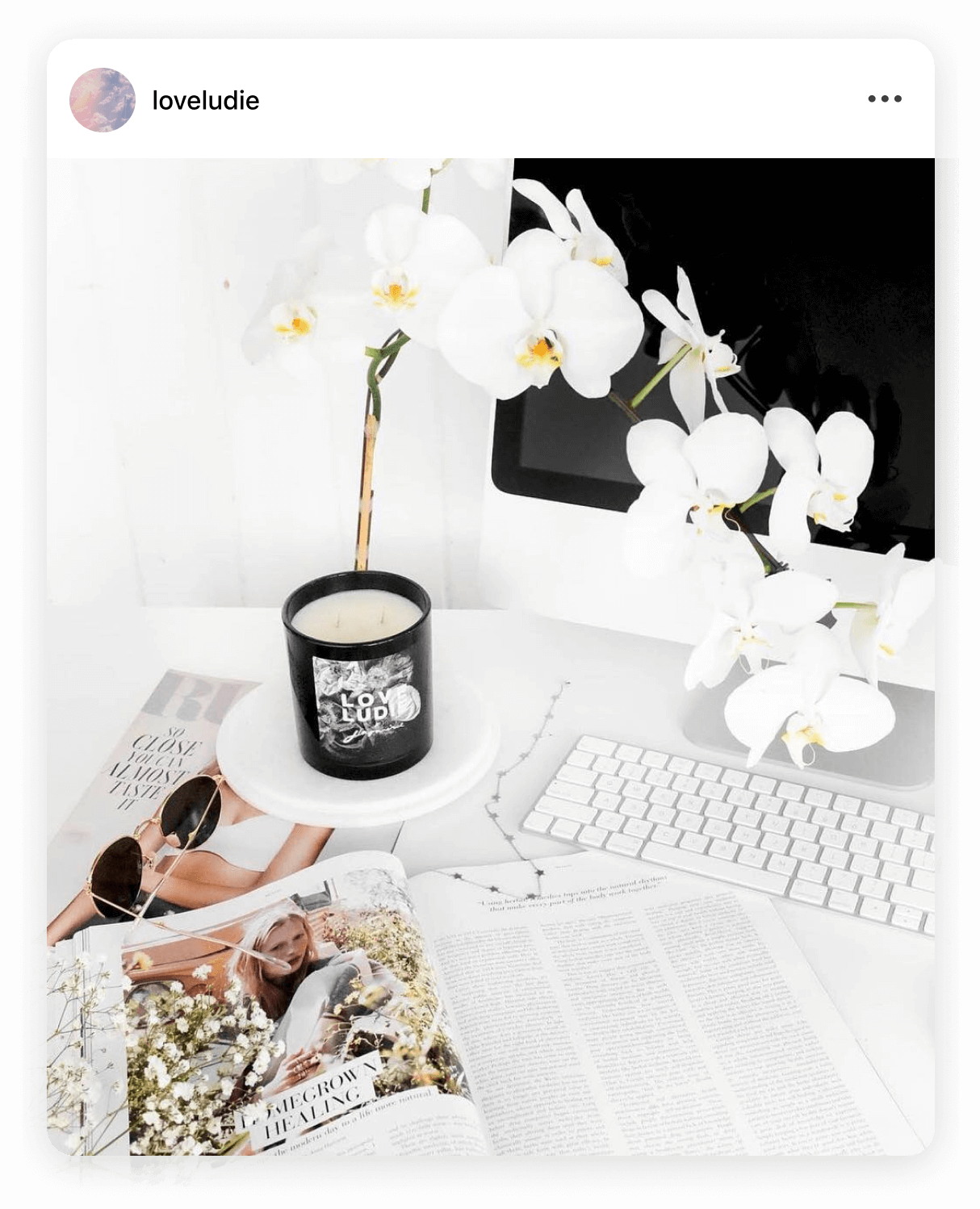 Your art is beautiful! What's your artistic background and how did you develop your current style?
I never studied any sort of 'art' as such – I did photography and visual art in high school, but I loved biology and chemistry. I loved figuring out how elements worked and why. How things would react with certain chemicals and what would happen if they were used differently. I think that's how I've created a really unique style and process of creating artwork.
The moment that I knew I wanted to do things differently was when I was in the art shop and I was asking about a certain product I was purchasing. The girl working there said to me "whatever you do, don't get it near water". I remember driving home thinking to myself… I'm going to mix it with water and see what happens. So I got home and I spent the entire afternoon mixing this product with water in all different ways.
I wasn't just experimenting for the sake of it (because those products are bloody expensive). I was doing it not only to find a way to do things differently, but because I found it so much more creatively compelling. To carve out my own art style and way of doing things rather than just watch some YouTube tutorial. I think for me, being an artist is about using the products how they're not meant to be used.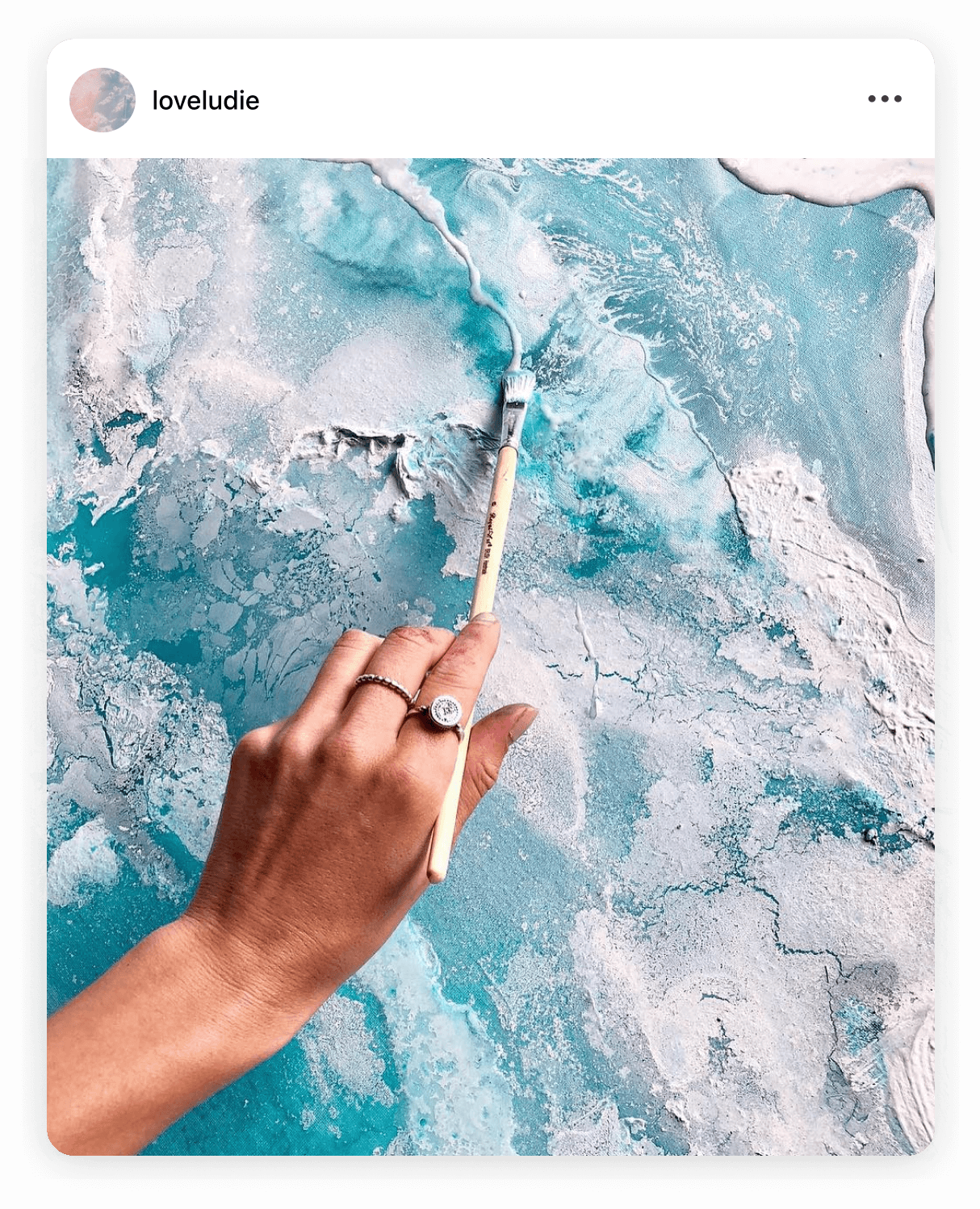 What do you think makes a great Instagram account?
Authenticity is huge. Point of difference is also huge, and you have to have passion.
I just think whatever you're doing on Instagram, or in life for that matter – do it with passion! Passion is one of those things that is incredibly hard to manufacture if it's not there organically.
As for doing things differently, I'm unsure if there are many people on Instagram wanting to be astronauts. Or making art by painting what they think they would see if they were in space. I have always stayed true to myself and have been consistent with the energy I'm putting out into the world. I feel I have somehow managed to give insight into my life,  the things I love and the things I am passionate about, without giving away parts of myself that I'm not really comfortable sharing with 50 thousand people.
One thing that I am slowly learning (and it's something that I really admire in others) is that even though I have an account where curation is often expected, I don't have to constantly present this compelling version of myself all the time. It's okay to have moments of vulnerability and uncertainty, and it's okay to share that.
Tell us about @hutchstore! How has Instagram helped you grow your business?
hutch. is a labour of love in so many ways. My dad passed away almost 7 years ago now (if anyone's paying attention, you may have noticed that it's around the same time I started @loveludie). His nickname was hutch, and it's also a shortened version of my last name, so the company almost feels like a bit of a legacy.
We had a shop for 4 years and have now just moved hutch. entirely online. I want hutch. to be something that I am doing for years to come – I absolutely love it. I started it with my little sister Em, and I honestly can't imagine not having it and not having done it with her.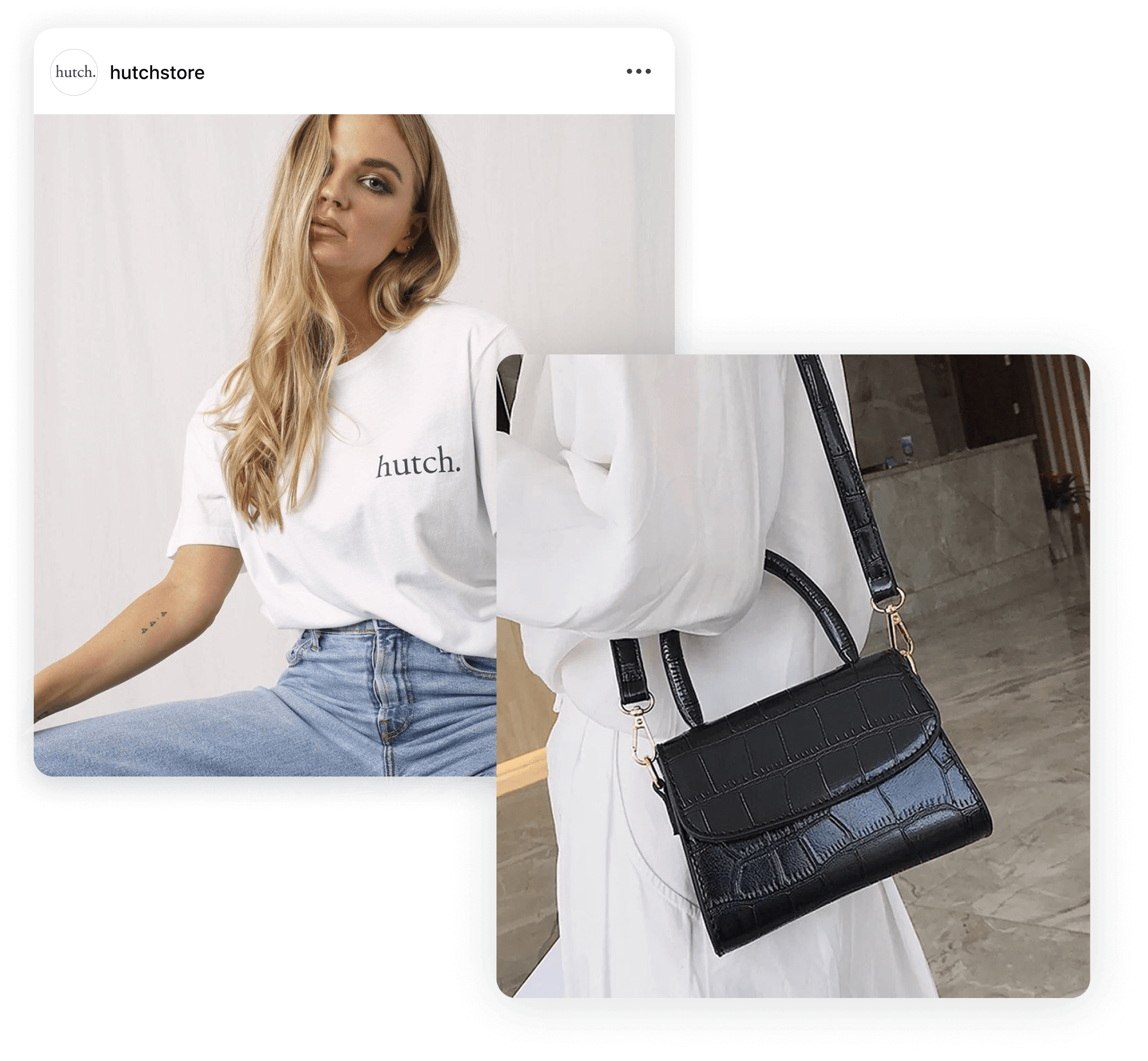 What's your main goal and how has Instagram helped you achieve it?
My main goal is to inspire people to become the best and most organic version of themselves, and to follow their dreams – as wild as they may seem. Instagram for me is also a huge creative outlet. Being able to share my life and my creations with people and see their reactions and feedback is one of the best things ever. I have always loved love and making people feel loved.
@acleanercoast is an amazing initiative. How has Instagram helped you to spread your message and make a difference?
So far, the entire organisation has grown through Instagram and community. I had the idea for A Cleaner Coast back in March with one of my good friends Damien Cole, who was running for the federal election at the time.
It's so important to not only focus on world issues as a whole, but to focus on the power of partial solutions. Getting communities and local schools together to play their part in their hometowns is so important.
The first 3 cleanups we raised funds for Ocean Mind, which is a not-for-profit organisation providing therapeutic surf lessons for kids with mental health issues, social isolation and disabilities.
There are now 8 people on the board for A Cleaner Coast, and I can tell you now it would not be what it is or moving at the pace it is if it wasn't for every single one of those people. They are all absolutely incredible and each bring so much to not only the events that we run, but the organisation as a whole.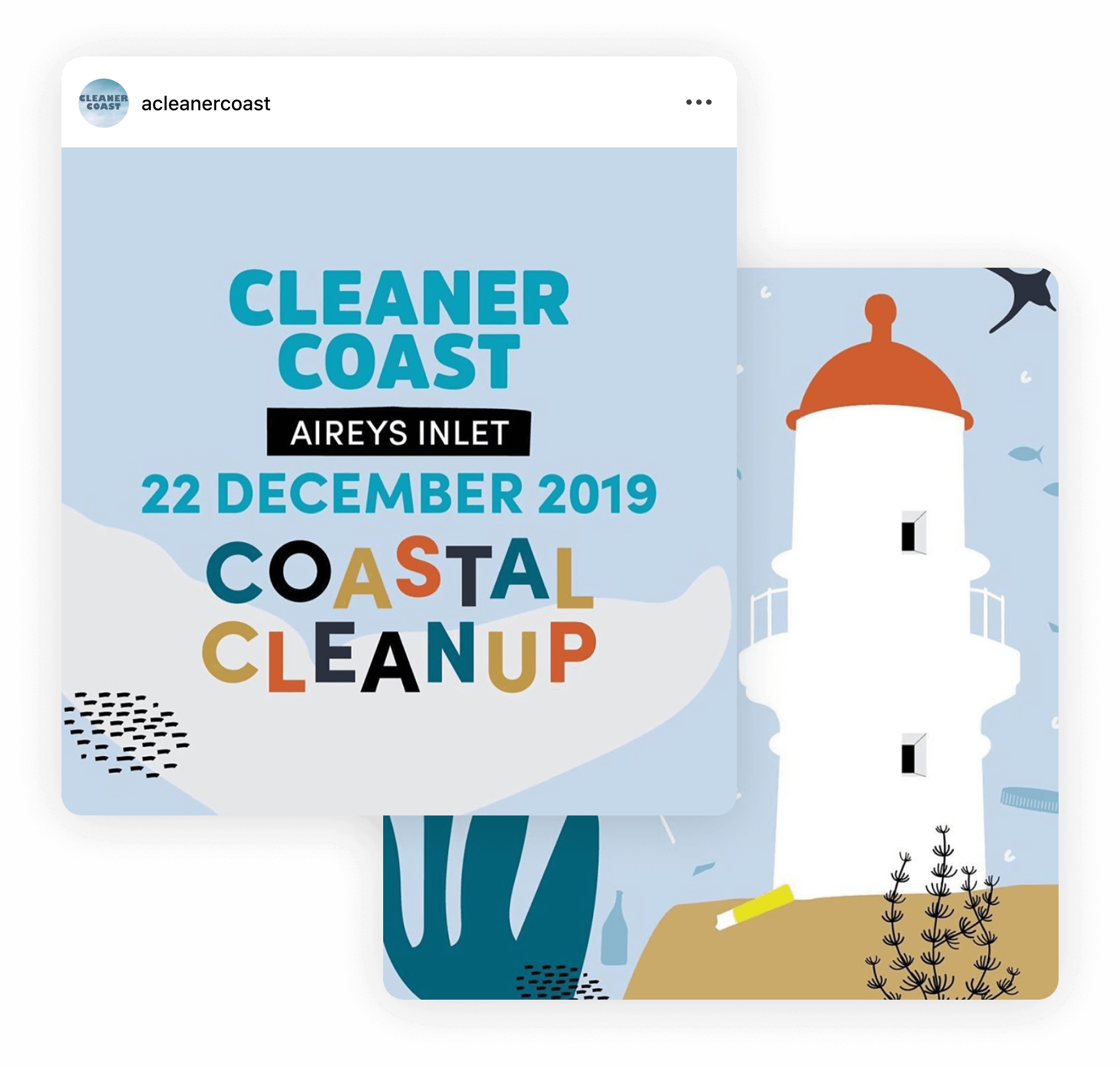 A company founder, a CEO, an artist, an activist, an aspiring astronaut… What's your advice for staying sane while reaching for the stars?
Salty Rim Margaritas haha… kidding (not).
I do a lot of yoga, a lot of beach walks and listen to a lot of meditation apps. I try to eat really healthy too, I find when I'm putting nutrients into my body, my mind is so much clearer. I'm not ALWAYS all hustle though. I still have moments where I'm sitting on the couch binge-watching a Netflix series and eating tim tams, because life is about balance. Right?
It seems crazy to ask this as you're already doing so much. But do you have anything else in the pipeline?
I have just launched Art Workshops for @loveludie. I'll be doing intimate workshops in Geelong, Melbourne, Sydney & Perth (if you're in one of those areas – come paint and drink wine with me!) I mentioned the idea on my Instagram Stories the other day, and the response was HUGE.
I'm also working on another A Cleaner Coast event to be held on October 5th, and then there will be 3 or 4 more events over the summer.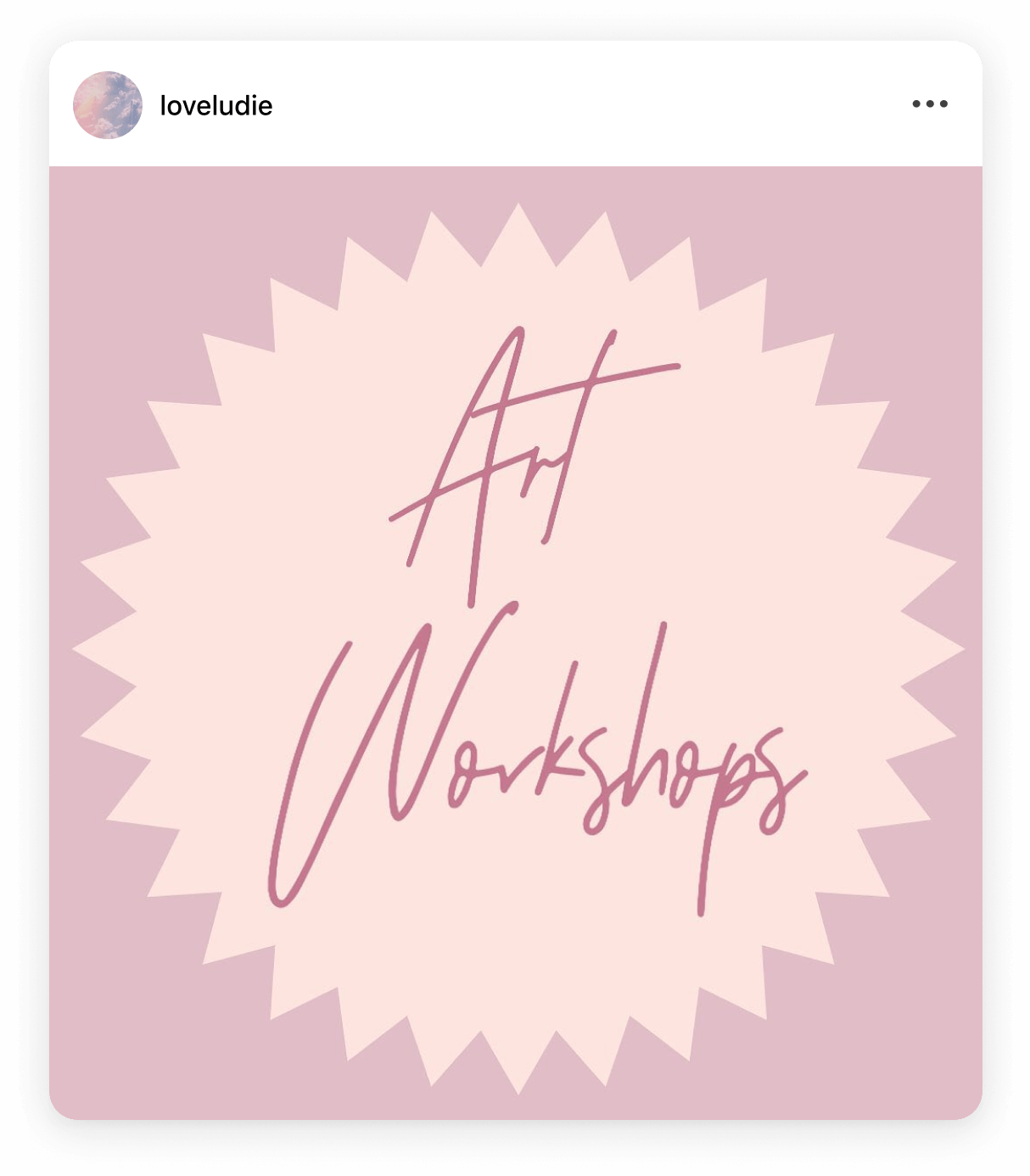 How has Instagram changed the direction of your life and career?
In every way possible. I don't think Ludie would be what it is today if it wasn't for Instagram. In fact, I don't think my life would be what it is today if it wasn't for Instagram. I know that's a huge call, but I genuinely believe it. @loveludie grew purely through Instagram – if I didn't have Ludie, I wouldn't have Hutch. And if  I didn't have Hutch, I don't think I'd have started A Cleaner Coast. I honestly have no idea where I'd be.
How do you re-inspire yourself in a creative block or motivate yourself when you're feeling low?
I watch a space documentary. I think it's important to not force things creatively. It's okay to have those moments of nothingness and feeling stuck. Let yourself feel that, but don't let yourself get stuck in it.
I honestly find it so inspiring to go outside and take a long walk, or delve into things that will give me that creative boost, whether that be podcasts, documentaries, cooking – anything.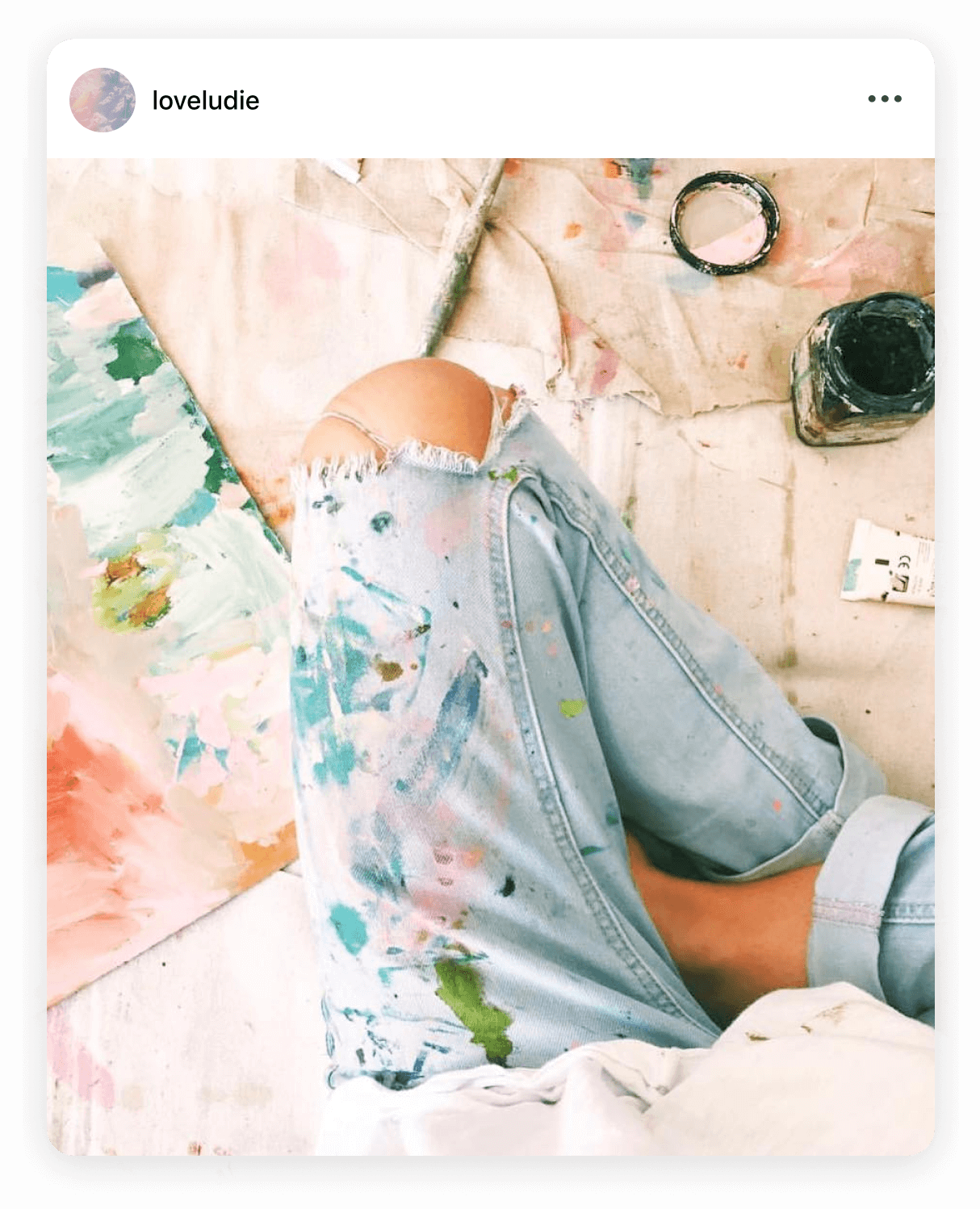 Okay look, we can't just skip past the astronaut thing. How did this idea come about?
I was always obsessed with space as a kid. I've always wanted to go to NASA and had an obsession with what it would be like to look down on our planet from outer space.
I actually flew over to NASA in the US last August to watch a rocket launch and try to meet my favourite astronaut – Ed Gibson – at a NASA Q+A.  I arrived at NASA and, long story short, I was told I wasn't allowed in the conference centre. After looking around for a while, I got some lunch and went and sat at the cafe.
Just as I sat down with my food, I saw Ed Gibson walk past on his way to the conference centre. I grabbed my bag, stood up and RAN, asking if I could just have 2 minutes of his time. After I told him how much he'd inspired me and he ended up inviting me into the Q&A as a guest, and I got to speak to him while we walked around the Rocket Garden. I posted a photo of this moment on my Instagram – it was pretty bloody amazing. It's a very interesting emotion getting to experience something you've wanted to do your entire life.
I honestly can't remember the first time I let my nerdy obsession slip on Instagram. I think I was playing with my telescope one night and put it on my Stories. It got a lot of interest and from there, the flood gates opened. I'm now known as that "astro girl that paints".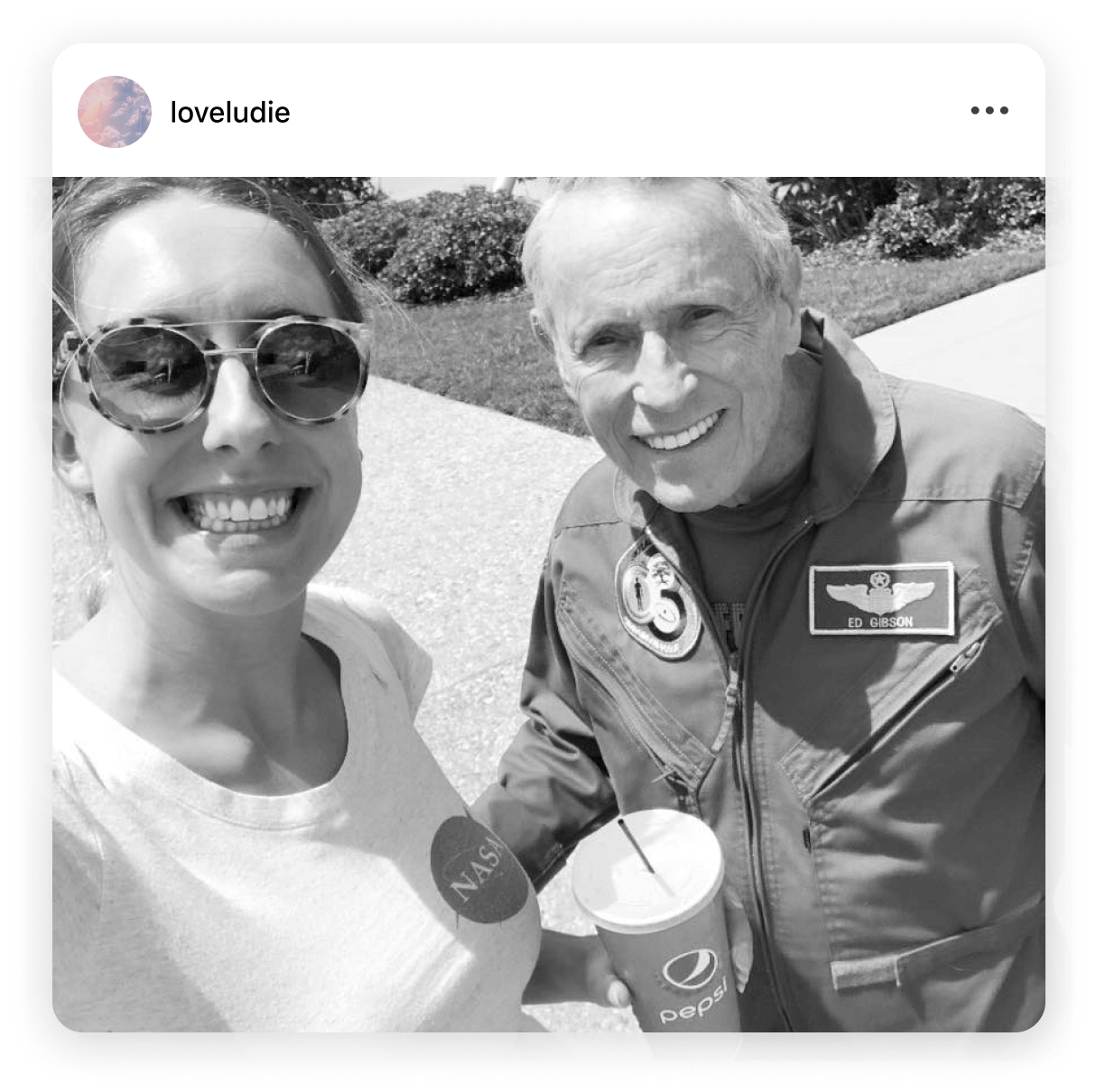 What's your advice for other women wanting to follow their passion, share their dreams or make a difference with Instagram?
Stay true to yourself, commit yourself to the things you care about, and most importantly, make sure you love what you're doing. Love the message you are putting out into the world and enjoy doing it, because it is going to be the most sincere form of success.
Your content is so aesthetically pleasing! What's your top tip for planning your feed and creating beautiful, unique content?
As an artist, my art posts will always be somewhat unique. I think I've always had a really strong brand aesthetic without being creatively boxed in.
My top tip would be make sure your colours work as a whole. The overall layout of your feed is just as important as each post and each message that comes along with it.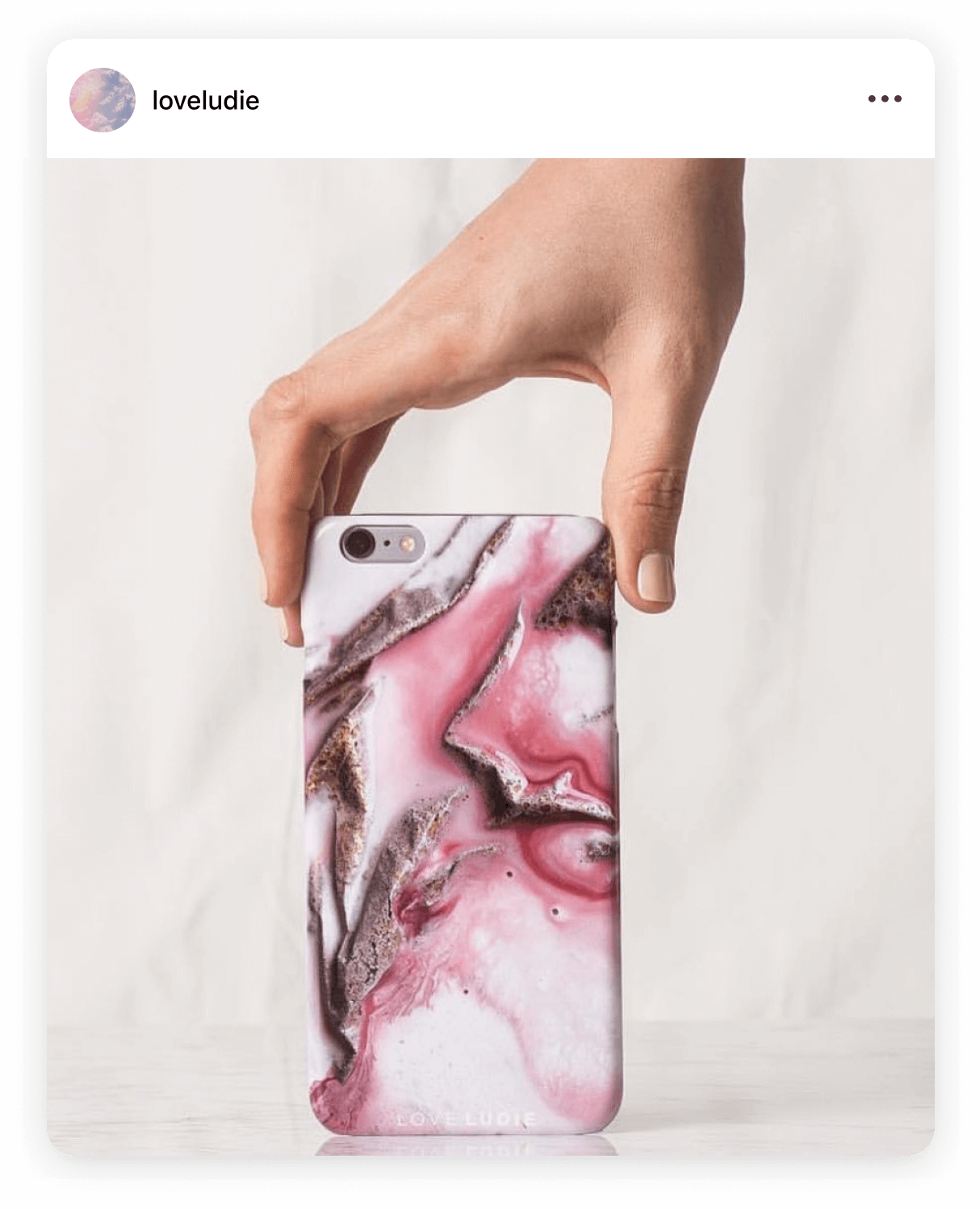 What's next for you, @loveludie and all your inspiring projects?
I've actually just released another series of Art Workshops that will run through Feb & March in Geelong. Tickets are still available via my website. Workshops are something I never thought I'd do but I absolutely love running them. They're so rewarding and fun.
Hutch. is now entirely online which is absolutely amazing, so I'm still in the transition phase of becoming a full-time office gal.
A Cleaner Coast is moving at an amazing pace, one that I hadn't originally predicted. It's amazing to see something like that snowball with such love and engagement from the involved communities. We'll be working on more events over the Easter period and continuing to work towards getting our plastic recycling machine.