With a passion for plant-based living and almost 700 thousand followers on the 'gram, vegan influencer @elsas_wholesomelife is certainly doing her part to plant the seed of change. And we might be a little plant-biased – but we think she's doing pretty darn amazing!
As a fierce foodie, business owner and published author, vegan Insta expert Ellie Bullen is on a mission to encourage people to eat more plants, be conscious of their food choices and live a healthy, wholesome life.
Straight off the back of publishing her second cookbook 'The Global Vegan', we sat down with the gal behind the grid to find out how it all vegan…
How did @elsas_wholesomelife come about? 
When I was studying nutrition and dietetics at university, I created @elsas_wholesomelife as a hobby in my spare time to share photos of my food and nutrition information. Since then, I've started my own blog, released an eBook, published two cookbooks and opened online store, The Wholesome Store.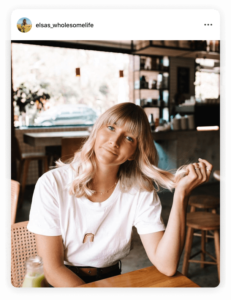 What inspired you to start sharing your vegan lifestyle on Instagram?
I transitioned to a vegan diet about 5 years ago. It was a slow 2-year transition period where I began cutting out meat, and then dairy and then seafood, and finally eggs. Learning at university that only 5% of Aussies eat their recommended serves of veggies inspired me to go plant-based.
After that, I learnt more about nutrition and began to slowly cut back on non vegan foods. I also felt great about the ethics and environmental aspects as well, so this helped to motivate the changes.
"Instagram has allowed me to influence and inspire people to eat more plants! Through doing this, I was able to publish two cookbooks which people can use as a tool at home."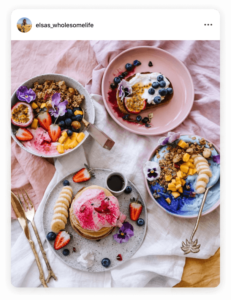 How has Instagram changed the direction of your life and career? 
It has actually created a whole career for myself and my husband. I was studying at university, and nervous about graduating in the next 12-24 months. I wondering about my job possibilities after studying, and my husband was working full time managing a retail store.
By the time I had finished studying, my Instagram had turned into a business and I had a cookbook due to be released the next year. So I was able to transition into this as my full time job and my husband was able to quit his job to be my business partner.
What's the biggest misconception about what you do?
The biggest misconception would be people thinking we don't have a 'real' job. We moved back to Australia earlier this year after 2 years overseas travelling and living in Bali. Many of our family and friends were asking if we were going to get real jobs, or worrying about what we would do 'if all this social media stuff ends'. 
I think it's a generational concept of work and 'real' jobs. But, we just remind them that although it's a new field of work, it's ever growing. We are continuously working on new projects and campaigns.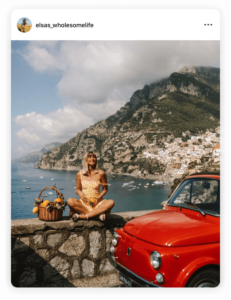 What do you do when you're not killin' it on Instagram? What gets you out of bed in the morning?
Since moving back to Australia, we have found a lot of joy in the small everyday things. Like a good morning routine or cooking dinner and watching TV at night.
My husband and I always start our day with a coffee at our local coffee shop before heading to the gym for a workout. This two step routine always makes me feel so much more energised and motivated for the days work.
Tell us all about your new vegan cookbook, The Global Vegan! What should we expect and what was your favourite part of creating it? 
My new cookbook, The Global Vegan, hit the shelves in Australia August 27th. So we are still very excited about this new book being released to the world!
The Global Vegan is my second cookbook. If you're familiar with my first book, Elsa's Wholesome Life, then you can expect more of the same delicious and healthy vegan recipes. However, this book has been inspired by 24 months of travels to over 20 different countries. There's over 100 world-inspired vegan recipes and loads of beautiful travel imagery to transport you to places around the world while you cook!
My favourite part about creating it was the shooting days. We buy a tonne of ingredients and make and photograph chunks of the recipes at a time. We usually invite friends over for dinner so they can taste the recipes too!
How did you transition from being a budding vegan foodie to a professional published writer? Tell us your secrets!
Well, I self-published an eBook called The Wholesome Life on my blog while I was at university, which enabled me to make some passive income while I studied. However, I had always dreamt of becoming a published author. I just wasn't sure how I could make this possible!
I printed out a few copies of my eBook and mailed them to various authors in Australia, but I never heard back. Around the same time, I was contacted by my publisher – to whom I was already planning to send my eBook. They had found my blog online and wanted to publish my work! This was the most exciting email I ever did receive. I was still at university at the time, so I was absolutely overwhelmed with the excitement of publishing a new book straight after graduation.
I guess I have no secrets as it seemed to happen for me out of luck. Or maybe it was the intentions I was putting out into the universe!
Your content is stunning! What's your top tip for creating beautiful, high-quality content that connects?
Thank you! It's all about high quality images, edited beautifully in your own style and niche – which in my case is healthy lifestyle and food. I edit all my images with my own presets that I developed, and now sell through my sister's business 'Do You Travel Presets'.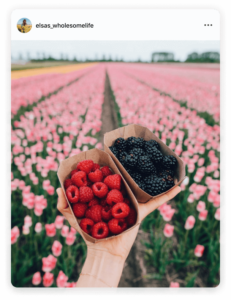 In a sea of foodies, wellness advocates and vegan influencers, what are your tips for standing out from the crowd? 
It's never been a harder time to stand out from the crowd. With all of the noise online I think the most important thing is offering something useful to people. For example, free recipes, healthy lifestyle tips, workout inspiration, travel advice, etc. Pretty pictures are nice, but there are so many accounts that have great content. It's about creating meaningful and unique content in your own voice and building a connection with your community. 
"It's never been a harder time to stand out from the crowd. With all of the noise online I think the most important thing is offering something useful to people." 
What's your advice for others wanting to follow their passion on Instagram?
Be persistent, have realistic goals and make sure it's something you are passionate about, because it's going to take a lot of hard work. But when you're passionate about it, the hard work is worth it. Then you get to enjoy all the perks of running your own business!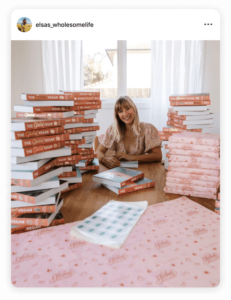 What do you wish you could tell yourself when you were just starting out?
The only thing I would tell myself is to start a YouTube channel sooner. It's a great platform and one that I am only just starting to build.
What's next for you and @elsas_wholesomelife?
For now, I'm still enjoying the release of my new vegan cookbook. It was such a big task, and I am happy to be concentrating on promoting it as much as possible. I have a couple of overseas trips coming up and am focusing on creating some more videos for YouTube and of course building our online store, The Wholesome Store.